GOP Chances of Beating Democrats for Senate Control With 50 Days to Midterm
Democrats lead in five key Senate races Republicans hope to flip just 50 days out from the midterm elections in November, giving them hope to hold control of Congress' upper chamber despite President Joe Biden's approval rating floundering for much of the summer.
Democrats currently hold a majority in the Senate, which is split between 50 Republicans, 48 Democrats, and two independent senators who caucus with the Democrats. One-third of the Senate is up for grabs come November, when voters will determine which party will ultimately win control.
Republicans hoped to make the midterms a referendum against Biden, who suffered from struggling poll numbers—largely fueled by economic concerns including high gas prices, inflation and recession fears—throughout the summer. However, a series of legislative wins, as well as the Supreme Court's overturning of Roe v. Wade in June, have given Democrats hope that they could hold onto a majority of Senate seats.
Of the 35 seats up for grabs, 14 seats are held by Democrats, while 21 are held by Republicans. Republicans are aiming to flip Democratic-held seats in Arizona, Colorado, Georgia, Nevada and New Hampshire. Meanwhile, they are on the defense in North Carolina, Pennsylvania, Ohio and Wisconsin.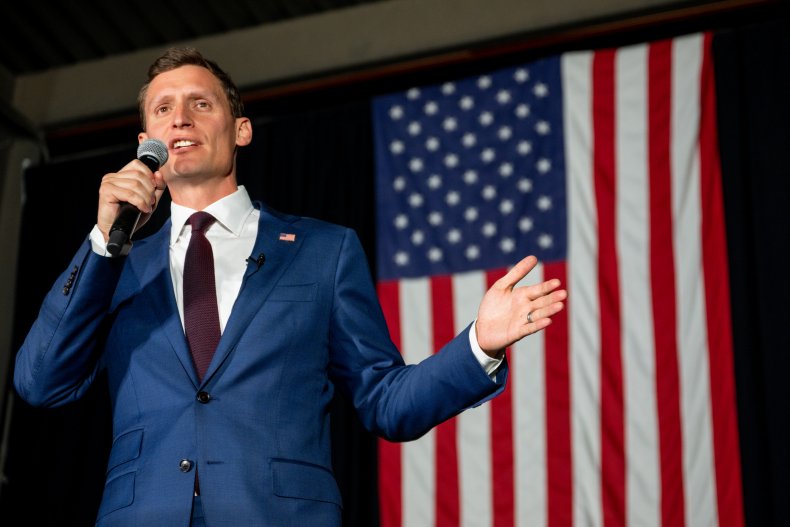 Here is a look at the five Democratic-held Senate races Republicans hope to flip in November.
Arizona
Democratic Senator Mark Kelly was first elected in the state's special election in 2020 to serve out the remainder of the late Senator John McCain's term. Kelly defeated former Senator Martha McSally by 2.4 percentage points and is expected to be in for another competitive race during the midterms. Arizona is one of the states most evenly divided between Democrats and Republicans.
Now, Kelly, a former astronaut who is married to former Representative Gabrielle Giffords, is running for his first full Senate term.
Although the race remains competitive, Kelly is seen as having a narrow lead against venture capitalist Blake Masters, who won the support of former President Donald Trump during the Republican primary and has faced backlash for some controversial remarks.
Kelly holds an 8.1 point lead against Masters in an aggregate of recent polling from FiveThirtyEight. An Emerson College poll conducted from September 6 to 7 found Kelly with a 2 point lead among likely voters. In the poll, 47 percent of respondents backed Kelly, while 45 backed Masters.
Colorado
Colorado, once viewed as a swing state, has become a Democratic-leaning state in recent years, with Democrats sweeping statewide office elections in 2020. But Republicans view the state as potentially being competitive during the midterms because of businessman Joe O'Dea, a moderate who party leaders believe can appeal to independents and centrist Democrats.
As abortion becomes a major issue during the midterms, O'Dea has staked out a more moderate position than other GOP candidates. He also condemned the January 6, 2021, riot at the U.S. Capitol and has not shied away from the fact that Trump did not endorse his campaign. He defeated a pro-Trump candidate who attended the riot during the primary.
However, polls show O'Dea still has an uphill battle in Colorado, which backed Biden by double digits in 2020. FiveThirtyEight's polling aggregate shows incumbent Democratic Senator Michael Bennet with an 8.6 point lead. In addition, a survey conducted by Public Policy Polling from August 30 to 31 showed Bennet with an 11 point lead over O'Dea.
Georgia
Georgia, a former Republican stronghold that broke for Biden in 2020, is set to be one of the closest Senate races in the midterms. Republicans are betting on former football star Herschel Walker to take on Senator Raphael Warnock, who was elected in 2020 to finish the remainder of the late Senator Johnny Isakson's term.
Walker, endorsed by Trump, has faced a number of scandals throughout the campaign, including his false claim that he served as an FBI agent. While Republicans are favored in other statewide races in the state, Warnock holds a 2.7 point lead, according to FiveThirtyEight.
A Quinnipiac University poll conducted from September 8 to 12 found Warnock holding a 6 point lead among likely voters, with 52 percent of respondents saying they planned to vote for Warnock. Meanwhile, 46 percent of likely voters are expected to vote for Walker.
Nevada
Republicans hope former Attorney General Adam Laxalt will be able to unseat Democratic Senator Catherine Cortez Masto in Nevada, a state that has consistently voted for Democrats by very narrow margins in recent years.
FiveThiryEight's polling aggregate shows Cortez Masto, first elected in 2016, with a 2.9 point lead against Laxalt, who served as the attorney general from 2015 to 2019. Laxalt ran for governor in 2018, losing to Democrat Steve Sisolak by about 4 points. Republicans are hoping that Hispanic voters shifting toward Republicans, as well as economic concerns that affected the tourism-dependent Las Vegas area, will boost them in the state.
Republicans view the seat as one of their top pickup opportunities, as Laxalt has previously won tight elections. Democrats, however, point to Cortez Masto as a strong fundraiser.
An Emerson College poll conducted from September 8 to 10 showed Laxalt with just a 1 point lead over Cortez Masto. The poll found Laxalt winning the support of 42 percent of respondents, while 41 percent backed Cortez Masto.
New Hampshire
Last Tuesday, Don Bolduc, who has aligned himself with Trump, won the Republican Party's primary to challenge Democratic Senator Maggie Hassan, who was first elected in 2016. Republicans have pledged to spend money on the race, but Democrats feel confident about their odds due to Bolduc's right-wing policies, which could alienate moderate voters in the state that voted for Biden by more than 7 points in 2020.
Bolduc defeated New Hampshire's Senate President Chuck Morse, who was seen as the more moderate option who polled better against Hassan than Bolduc. Hassan currently has a 6.1 point lead, according to FiveThirtyEight. Hassan previously served as New Hampshire's governor from 2013 to 2017.
An Emerson College poll from September 14 to 15 found Hassan with an 11 point lead. In the poll, she received 51 percent of support, while 40 percent of respondents said they planned to vote for Bolduc.
Newsweek reached out to the Democratic National Committee and Republican National Committee for comment.
Correction 9/19/2022 3:30 p.m. ET: The original article contained a misspelling of Cortez Masto's name.