Gas Prices Have Fallen for 2 Months, but Other Key Costs Steadily Rise
Gas prices in the U.S. have decreased every day since mid-June, slowly coming down from record highs that strained consumers at the pump.
But other key costs, including food and housing prices, continue to rise consistently, the latest data from the Bureau of Labor Statistics shows.
The average national gas price hit a historic high of $5.01 per gallon on June 14. Every day since then, the U.S. has seen a slight decrease in the average, marking 60 straight days of dropping gasoline prices.
The annual rate of inflation in July dropped to 8.5 percent—a dip from 9.1 percent in June—thanks in part to the falling gas prices. But federal data shows that food and housing prices are continuing to increase at a consistent rate.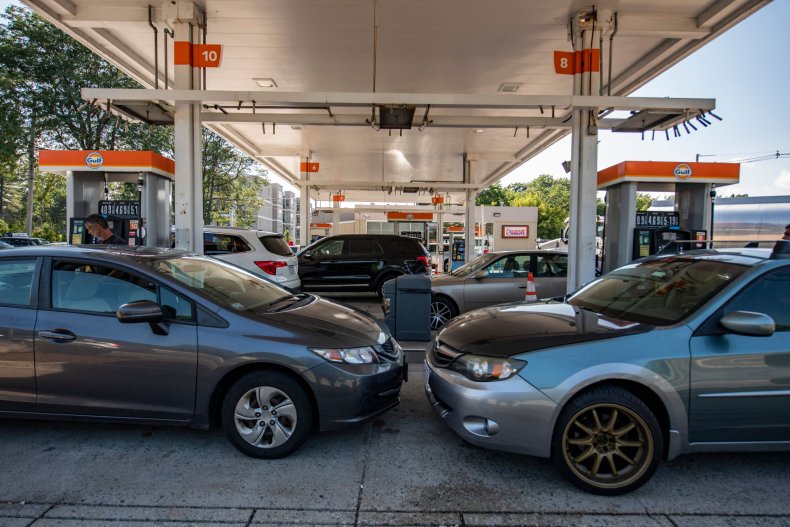 In July, the price of food at home increased by 1.3 percent, according to the Consumer Price Index (CPI). The cost of food in July was 13.1 percent higher than it was a year ago, "the largest 12-month increase since the period ending March 1979," according to the Bureau of Labor Statistics. The price of shelter also increased .5 percent in July, and according to the CPI, housing prices are 5.7 percent more expensive than they were a year ago.
In an interview with Newsweek on Friday, Andrew Gross, a spokesperson for AAA, said that one major contributor to the decreasing cost of gasoline is lower oil prices. After Russia invaded Ukraine in February, Gross noted that "the oil market kind of freaked out," with the price of oil spiking to more than $120 a barrel. "And since that time, it's kind of slowly been drifting down," Gross said.
He also said that to "cope" with the high gas prices, Americans are driving less. "And that's really reflected in the demand numbers, meaning the number of people fueling up." Gross also noted that the Biden administration tapped the Strategic Petroleum Reserve to release oil onto the market in an effort to combat gas prices, which had some impact.
Gross said that while costs in other sectors have yet to come down, other goods, such as food, are "lagging indicators."
"People have to remember everything in our country moves around using gasoline, particularly diesel gas...and so the prices that they're seeing now, the price of the fuel has already been factored in and that was the higher price," Gross said.
Victor Claar, an associate professor of economics at Florida Gulf Coast University, said in an interview with Newsweek that despite the reprieve in gas prices, in other key sectors of the economy—food and housing—costs are increasing, which can have a large impact on young families.
"Prices on average are up, gasoline happens to be down and some isolated other products and services happen to be down, but it doesn't seem like things are getting significantly better anytime soon," Claar said.
"If you look at the three categories that have been the most brutal...housing and food and gasoline, those are the ones that can potentially destroy young and working families," he continued. "Those are bills that you cannot skip in a given month. You've got to feed your kids, if you commute to work, you've got to put gasoline in that car, and if you don't want to be evicted, you've got to make that rent payment."
Joann Weiner, an associate professor of economics at George Washington University, told Newsweek that factors that lead to fluctuations in gas prices, such as wars, "don't necessarily affect prices of food, which are affected by things like weather, and hospitality services, which are affected by seasonal changes."
"It's good that the annual rate of inflation fell last month, although it's still high by recent levels. I'd say that the combination of COVID and the government stimulus payments have made it difficult to gauge the direction of prices," Weiner wrote in an email.
"We all hope that inflation will fall, but it may take a bit to return to levels of 2-3 years ago," she added.