Average gasoline prices have dropped below $4 per gallon in nine states amid the gradual ongoing decline in fuel costs nationwide.
U.S. averages have been dipping consistently for six straight weeks, reaching a nationwide average of $4.35 a gallon as of Monday, according to Small Business Trends. This is down from $4.52 last week, and down from the historic high of $5.01 on June 14.
As of Monday, the nine states include Texas ($3.85), South Carolina ($3.86), Georgia ($3.88), Mississippi ($3.89), Alabama ($3.92), Tennessee ($3.93), Arkansas ($3.93), Louisiana ($3.94) and Oklahoma ($3.96), according to GasBuddy. The national average in the U.S. has not been below $4 since March.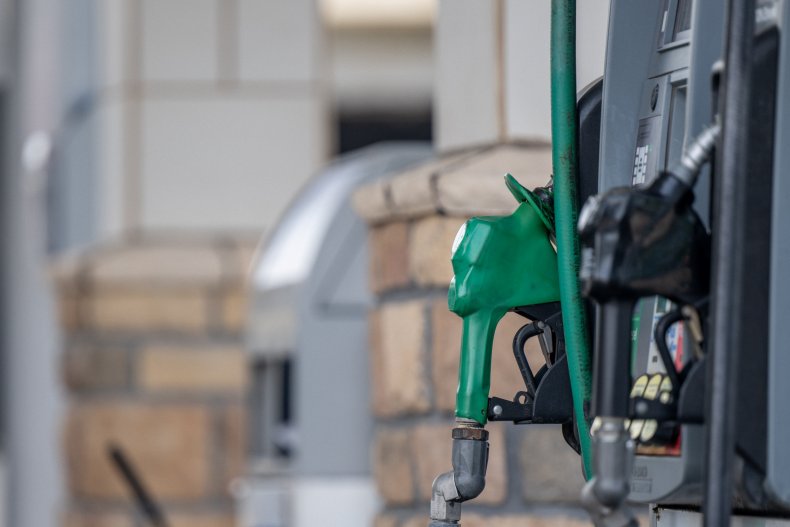 A common thread among the nine states is their historically low costs of living. All rank in the lower half out of all 50 states and the District of Columbia, as Mississippi, Oklahoma, Alabama, Tennessee and Arkansas rank in the bottom 10, according to data compiled by the Missouri Economic Research and Information Center this year.
Gas rices remain the highest in California, a state with a traditionally high cost of living, at around $5.71 on average. Other Western states like Oregon ($5.16), Nevada ($5.10), Washington ($5.09) and Idaho ($5.01) also show average prices of more than $5 a gallon.
"I have no reason yet to expect the decline won't reach seven straight weeks, as gas stations still have plenty of room to decline as oil prices remain under $100 per barrel," Patrick De Haan, head of petroleum analysis at GasBuddy, told WXIN News. "However, should the tropics become more active, the decline could eventually reverse. In addition, this week we'll see GDP [gross domestic product] data for the second quarter, and if it's better than expected, we may see oil rally, slowing the descent."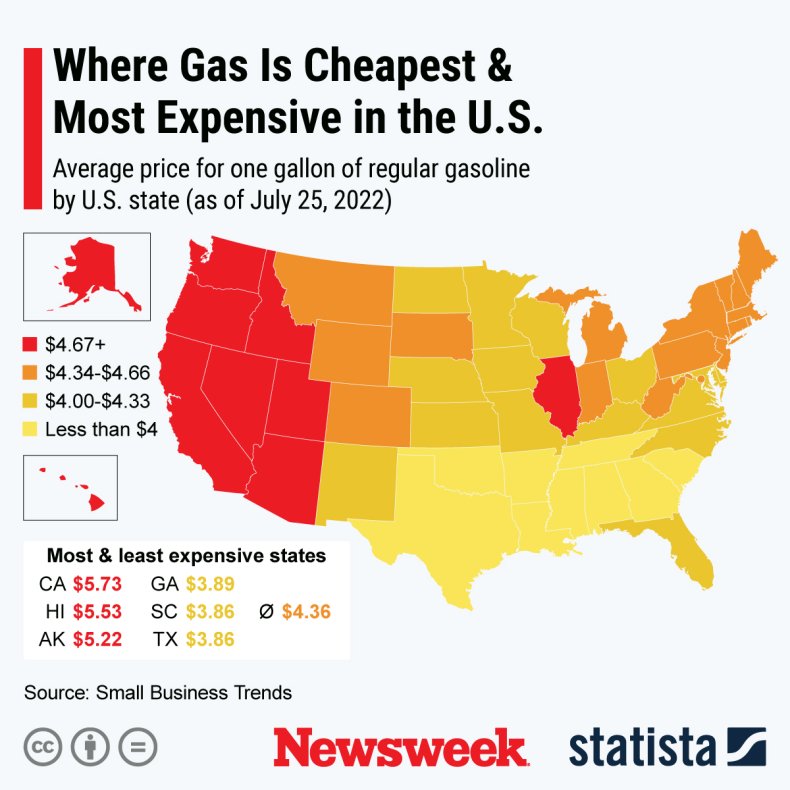 This chart, provided by Statista, shows the average price for one gallon of regular gasoline by U.S. state as of July 25, 2022.
A report published by AAA on Monday found that the leading causes for the steady dip in gas prices are lower demand from consumers and the global cost of oil-per-barrel remaining steadily in the mid-$90 range. Gas prices began to reach historic levels around Memorial Day weekend, a time when prices traditionally spike due to an uptick in Americans traveling for the holiday.
"Consumers appear to be taking the pressure off their wallets by fueling up less," AAA spokesman Andrew Gross said, according to the Monday report. "And there's reason to be cautiously optimistic that pump prices will continue to fall, particularly if the global price for oil does not spike. But the overall situation remains very volatile."
Newsweek has reached out to GasBuddy for comment.