President Joe Biden spent the weekend touting falling gas prices across the country, reassuring many budget-conscious Americans that his efforts toward the "meaningful" decline would continue "in the days and weeks ahead."
After surpassing $5 a gallon, the national average for a gallon of gas has fallen for more than a month. As of Monday, Americans are paying an average of $4.35 for a gallon—down 66 cents from AAA's highest recorded average in June.
"I know those extra dollars and cents mean something," Biden, whose approval ratings have plummeted over inflation fears, tweeted on Sunday.
As the Biden administration continues to remind the nation of the daily declines at the pump, experts are cautioning people from extrapolating from a single economic indicator.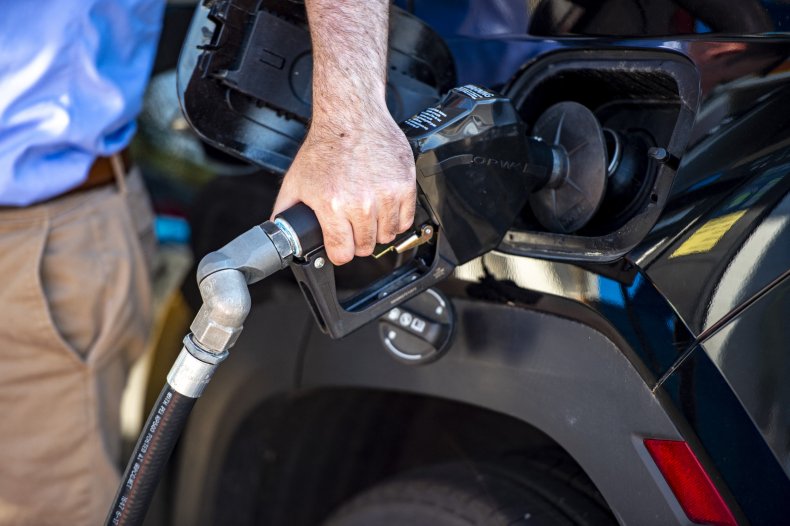 Joann Weiner, an economics professor at George Washington University, explained to Newsweek that because gas makes up about 4.8 percent of the Consumer Price Index (CPI), mathematically, the relatively large declines in the price of gas should bring down the rate of inflation.
Thus, if things continue to trend the way that they have for 41 consecutive days, the falling gas prices should drive down the CPI.
Weiner said that the Fed's plans to raise interest rates again this week could further help combat inflation but warned that the central bank will have to walk a fine line when tightening policy in order not to tip the economy into a recession.
But while gas prices are a driving force for inflation, it is also a measure that notoriously fluctuates based on factors outside of Biden's and the Fed's control.
For example, David Fiorenza, an economics professor at Villanova University, pointed out that the decline in gas prices could be due to the timing of the summer season, which has worked in Biden's favor these last few weeks.
"Demand has fallen off since we have had two major holiday weekends pass, Memorial Day and July 4," Fiorenza told Newsweek, adding that while he expects gas prices to continue to decrease for the rest of July and into August, they may rise again once the Labor Day long weekend rolls around.
Weiner said that the drop in demand could also be the result of the costly consumer prices that have been enough to convince some Americans to curtail their driving plans or skip a summer vacation altogether.
"For Americans who are out picnicking and enjoying their summertime treats, things just seem more expensive than otherwise," she said.
However, James Devine, an economics professor at Loyola Marymount University, said that while falling gas prices will help reduce CPI inflation, it won't impact the core inflation rate, which is what the Fed uses to set monetary policy.
Core inflation excludes food and fuel prices because it's typical that these prices vary widely from month to month. So, last month's soaring gas prices never raised core inflation significantly, and in turn, the current declines won't bring it down substantially either.
"It's very hard to wait until gas prices fall again while it's very unlikely that money income will rise enough to pay these prices," Devine said. "It's hard to have a long-term perspective on such matters."
"On the other hand, the politicians who focus on this issue are most likely to be opportunistic," he added.
While inflation won't come down right away, Fiorenza said that when paired with the anticipated interest rate increases, falling gas prices should help level off inflation before it begins to decrease.
He expects most Americans to see the beginning of that economic recovery around the end of the third quarter this year.