Fed at Risk of Crashing U.S. Economy: Expert
The Federal Reserve needs to act with caution or it could cause the U.S. economy to crash, according to one expert.
Jeremy Siegel, a finance professor at the University of Pennsylvania's Wharton School, said in a clip shared by CNBC's Squawk Box Wednesday that "the Fed has just got to be careful not to slam on the brakes and just crash this economy."
"They have to realize that most of the inflation now is behind us, even though it's going to be going through the official statistics over the next six to 12 months," he said.
Siegel's warning that the Fed needs to be careful about "slamming the brakes" refers to raising interest rates "too far and too fast," he told Newsweek.
In June, the Fed announced its largest interest rate hike in 28 years as it tries to control inflation, which hit a 40-year high in May. The move spurred discussions among experts on whether the hike will increase the likelihood that the U.S. will head into a recession, which some have warned is already on the horizon.
Siegel told Newsweek that the Fed's interest rate hike in June was "appropriate" but "very late," adding, "We should have started much earlier."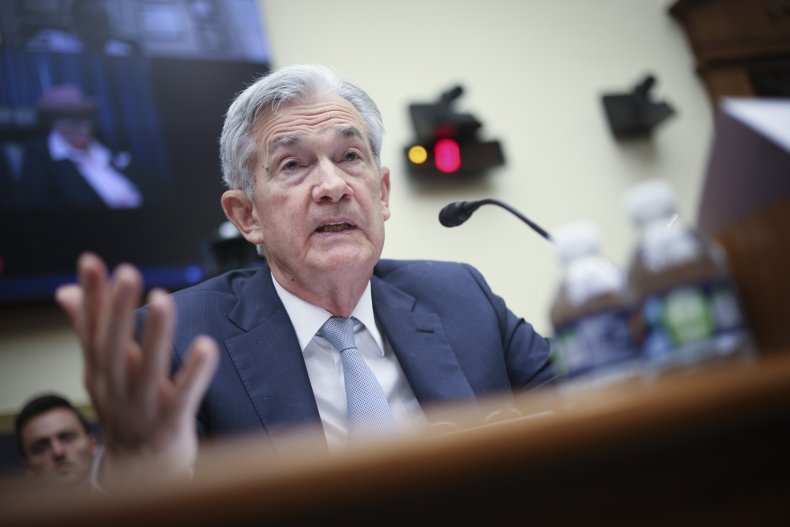 Asked how likely it is for the Fed to cause an economic downturn, Siegel said he thinks the economy will plunge into a "very severe" recession if the central bank continues to hike rates by 75 basis points at each meeting.
"I think the economy is already slowing down. They've got to be careful," Siegel said. "My reading of the indicators [is] that the market, its anticipation of the Fed's move, has almost done the Fed's work for it. [That] doesn't mean they shouldn't do some more hikes, but they have to realize that a lot of the inflation is behind us."
He said wages still have to "go up" in order to "catch up," but "the economy is slowing down and I would hate them to overreact and send us into a severe recession."
He added, "I would say that they should signal that they're going to do one or two more hikes and that they think that the hiking cycle is near the end."
Speaking last week at a panel at the ECB Forum on Central Banking, Federal Reserve Chair Jerome Powell was asked if it was possible that the Fed might "overdo it" as it acts to curb inflation.
Powell responded that the central bank "would certainly welcome inflation coming down more quickly than expected and we would take that into account in our policy."
He added that the Fed is "very strongly committed to using our tools to get inflation to come down."
"The way to do that is to slow down growth, ideally keep it positive, and, as I mentioned, supply and demand get back into balance," he continued. "That's what we're trying to accomplish.
"Is there a risk that we would go too far? Certainly, there's a risk, but I wouldn't agree that it's the biggest risk to the economy. I think that the bigger mistake to make, let's put it that way, would be to fail to restore price stability," Powell said.