Biden Is Less Popular Than Trump Was at the Height of Russia Investigation
President Joe Biden's approval rating has taken a significant hit amid an economic downturn, and he's now less popular than former President Donald Trump was during the Russia investigation.
Biden lost his majority approval rating in mid-August 2021 as the American withdrawal of troops from Afghanistan gave way to the Taliban's takeover. He's continued to see a decline over the last year and the president is struggling significantly to win Americans over as the U.S. faces a 40-year high in inflation, people struggle to buy homes and threats of a recession loom.
After seeing a declining approval rating, Biden's popularity sank to its lowest point of his presidency, reaching an average of 37.2 percent, according to RealClearPolitics. Biden regularly enjoyed a higher approval rating than his predecessor.
But his most recent rating dropped below Trump's December 2017 average approval rating of 37.3 percent, an all-time average low for his administration that occurred after his former national security adviser Michael Flynn pleaded guilty to lying to the FBI. Flynn admitted that he made false statements to the FBI about his contacts with the Russian ambassador during Trump's transition.
The first Trump official to face criminal charges, Flynn's guilty plea was viewed as a major development in special counsel Robert Mueller's investigation into whether the Trump team colluded with Russia to interfere in the 2016 election.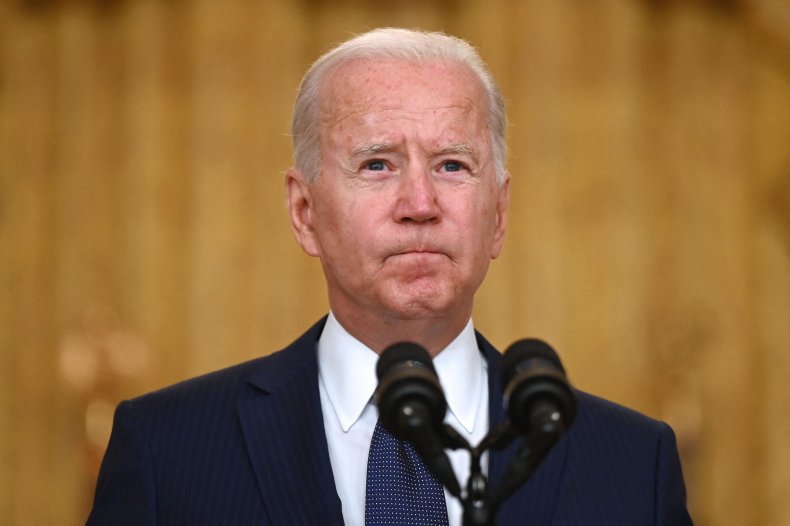 The possibility that Trump's campaign worked with a foreign entity to sway the election in his favor plagued his administration and fueled beliefs that he was an illegitimate president. Trump maintained from the outset that his campaign did nothing improper and the entire investigation was part of a "witch hunt" to discredit him and oust him from office.
Just as the Russia probe plagued Trump's presidency, the fallout of the end of a 20-year war in Afghanistan cast a massive shadow over Biden's first term.
In 2017, Trump's first year in office, Democrats, including Representative Maxine Waters, called for Trump to be impeached over his possible collusion with Russia. Months into Biden's first term in office, Republicans started pushing for him and other officials to resign over his handling of Afghanistan. Representative Marjorie Taylor Greene filed articles of impeachment against Biden, her second attempt to oust him from office, and she gained a co-sponsor after an August 26 bombing near the airport killed 13 service members.
Nearly a year later, Biden's facing another crisis, albeit a domestic one this time around. Americans are being forced to pay more for necessities like gas and food and polls indicate the majority of Americans aren't feeling positive about the economy. The Biden administration has tried to put the blame on Russian President Vladimir Putin's war on Ukraine, as well as, oil moguls for profiting off the invasion.
However, Americans don't seem to be buying the excuses from the Biden administration and the president faces a critical week ahead. The latest Consumer Confidence Index is expected to be released on Tuesday, potentially showing Americans' grim outlook on the economy and it's possible the Federal Reserve could raise interest rates yet again.
A report on the gross domestic product is expected for Thursday, and talk of the United States being in a recession is already starting. While the unemployment rate is very low, rising costs of goods and housing affordability has denigrated Biden's ability to earn high marks on unemployment and his low approval rating threatens Democrats' ability to maintain control of Congress in November.