Democrats' Chances of Beating Oz, Mastriano as Trump Visits Pennsylvania
As former President Donald Trump is slated to arrive for a rally in Pennsylvania on Saturday to drum up support for Republican Senate candidate Dr. Mehmet Oz and GOP gubernatorial candidate state Senator Doug Mastriano, polling shows Democrats leading in both races.
The latest polling average in the Senate race compiled by FiveThirtyEight shows Oz's Democratic opponent, Lieutenant Governor John Fetterman, with support from 48.3 percent of voters, while Oz has 40.2 percent.
In the governor's race, FiveThirtyEight shows the Democratic candidate, Pennsylvania Attorney General Josh Shapiro, leading Mastriano 48.3 percent to 41 percent.
The most recent survey in the race, which came from Susquehanna Polling and Research, found Fetterman with 49 percent and Oz with 44 percent. The poll had a margin of error of 3.7 percent.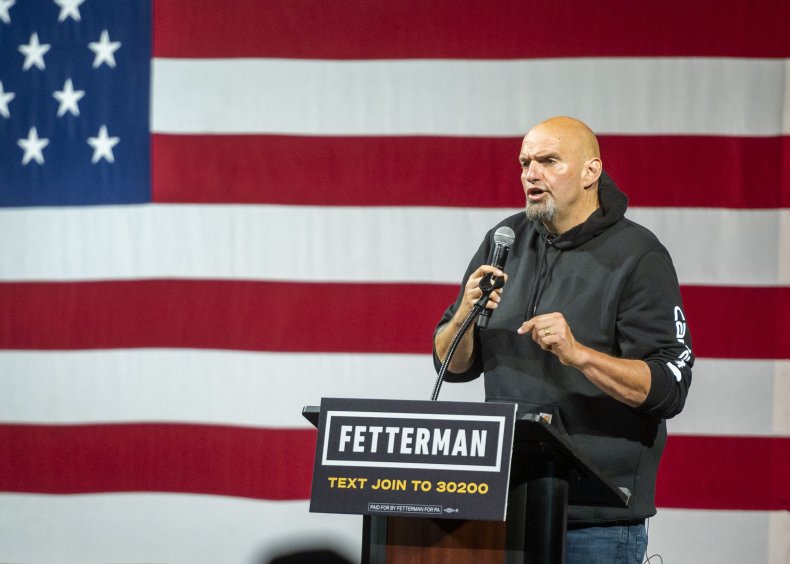 Meanwhile, a poll released by Emerson College last week found Fetterman leading Oz 48 percent to 44 percent.
"Three out of four urban voters support Fetterman whereas 59% of rural voters support Oz. Suburban voters are the battleground for this election, they are split 47% support Fetterman and 47% support Oz," Spencer Kimball, the executive director of Emerson College Polling, said in a statement at the time.
The same poll, which had a margin of error of 3 percent, found Shapiro ahead of Mastriano: 47 percent to 44 percent.
Another poll from the Trafalgar Group released in mid-August, which also surveyed voters about both races, showed Fetterman leading Oz 48.4 percent to 43.5 percent, and Shapiro leading Mastriano 48.6 percent to 44.7 percent. That poll had a margin of error of 2.9 percent.
A poll from Public Opinion Strategies (POS) released on August 17 found Shapiro had a 15-point lead over Mastriano with 50 percent of the vote compared to the senator's 35 percent. The margin of error was 4 percent.
While recent polling has shown Fetterman up in the Senate race, voter registration shows that the lieutenant governor should not count Oz out of the race: nine times more Republicans than Democrats have been registered to vote in the period between the May 17 primary and August 29.
Newsweek has reached out to the Pennsylvania Republican Party and the Pennsylvania Democratic Party for comment.
Last month, Trump announced he would be holding rally supporting the GOP candidates he has backed in the Pennsylvania races.
In recent weeks, some prominent Republicans have said that the party may not perform as well as previously expected in the upcoming November midterms.
In an interview published last Sunday, GOP Representative Fred Upton predicted his party would only win a "narrow majority" in the House, while Senate Minority Leader Mitch McConnell said he believes there's a greater likelihood the House flips to Republican control than the Senate.