Mitch McConnell's Midterm Forecast Moves From Cautious to Grim
Senate Minority Leader Mitch McConnell's hopes for a red wave this midterm election are continuing to dim as the Republican's forecast reflected the faltering poll numbers for GOP candidates in a number of key Senate races.
On Thursday, McConnell predicted there will be a "greater likelihood" that the House would flip Republican than the Senate would—a departure from his once-optimistic outlook for his party.
"Senate races are just different," he said from Kentucky, according to NBC News. "They're statewide, candidate quality has a lot to do with the outcome."
Less than a year ago, the Republican leader said that the GOP would have a "very good election" in the fall of 2022, implying that the party would take control of both the House and Senate.
"I'm very optimistic," McConnell told reporters in November 2021. "We have 50 Republican senators. I know what a real minority looks like. We had 40 after President Obama got elected. And so I think the wind is going to be at our back in both the House and Senate. I think there's a great likelihood of a pretty good election next year."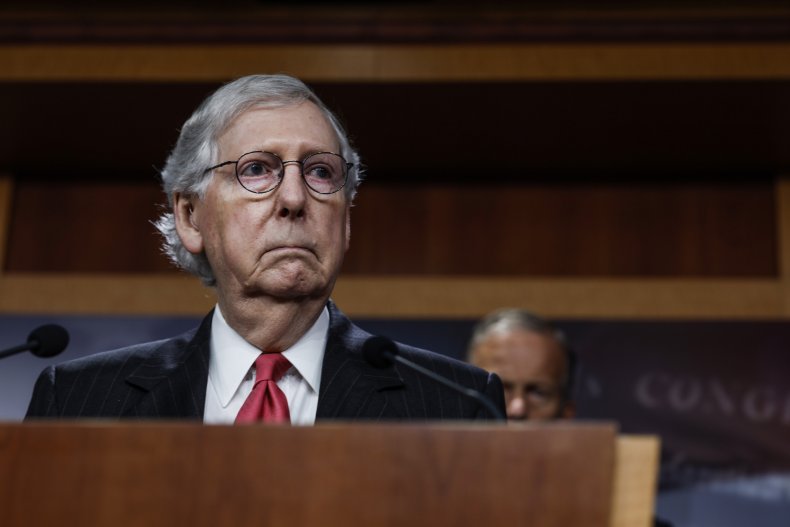 Even in January, the Kentucky senator said that the November election would be "a referendum on this all-Democratic government."
Republicans had been poised to face an easy midterm election this year, with history favoring the minority power in midterm races. Rising economic fears and record-high inflation also bolstered the GOP's chances of defeating Democrats in the fall.
But a series of new obstacles has popped up against the GOP in recent months and threatened their chances of flipping both congressional chambers, so much so that even McConnell's optimism has soured.
For example, while the Supreme Court's decision to overturn Roe v. Wade was praised by Republicans, a referendum vote in Kansas, where elections typically lean Republican, showed that more voters were in favor of protecting abortion rights.
Democrats have also scored with a number of policy wins that are likely to sway voters in the fall.
Earlier this month, McConnell maintained that the Senate would be "very tight" in the November elections and that "when this Senate race smoke clears, we're likely to have a very, very close Senate still."
But with new polling showing that Senate Republican candidates, all endorsed by former President Donald Trump, in three key states—Pennsylvania, Ohio and Georgia—are trailing their Democratic challengers, the minority leader's hopes for a Republican Senate seemed to move further away.
On Thursday, the Cook Political Report switched its prediction of a "toss up" in Pennsylvania to "lean Democrat" as GOP candidate Mehmet Oz's poll numbers were down by double digits against his opponent. It was also announced this week that the Senate Leadership Fund is planning to spend $28 million in Ohio to help J.D. Vance against his Democratic rival.
With less than three months before the general election, McConnell told reporters on Friday, "I think there's probably a greater likelihood the House flips than the Senate."