How to Watch Donald Trump's Pennsylvania Rally for His Endorsed Candidates
Donald Trump is set to hold a rally in Pennsylvania to campaign for his endorsed midterm candidates in the state.
The former president is due to speak starting at 7 p.m. ET at the Mohegan Sun Arena at Casey Plaza, in Wilkes-Barre, Pennsylvania on Saturday, September 3.
State Senator Doug Mastriano, who is running for governor of Pennsylvania, Dr. Mehmet Oz, the Republican Senate nominee for Pennsylvania and Jim Bognet, who is running for Pennsylvania's 8th Congressional district, are all also set to speak at the rally.
Trump's Save America PAC described the event as a continuation of the former president's "unprecedented effort to advance the MAGA agenda by energizing voters and highlighting America First candidates and causes."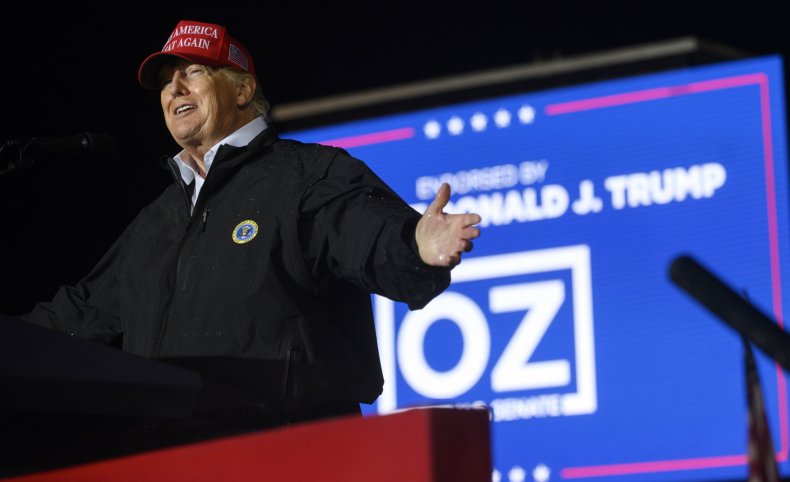 How to Watch Donald Trump's Rally in Pennsylvania
It is unclear if any television channels will be broadcasting the event live.
As with all Trump rallies, Saturday's rally will be streamed live on Right Side Broadcasting Network's YouTube channel.
There will also be a live stream of the rally in Wilkes-Barre on Trump's Rumble channel, the video-sharing platform similar to YouTube frequented by right-wing and Republican figures.
Trump's appearance in Pennsylvania will arrive as his endorsed candidates in the state are struggling in the polls with just two months until November's midterms.
As noted by Real Clear Politics' collection of surveys, celebrity heart surgeon Oz has not led in any of the past 16 polls that have been conducted, with his Democratic rival John Fetterman beating the GOP candidate by between four and 13 percentage points each time.
In the Pennsylvania gubernatorial race, far-right candidate Mastriano has also been behind in several of the most recent polls to Democrat Josh Shapiro, with Shapiro enjoying an 11-point lead over Mastriano in a Franklin and Marshall College poll from mid- August, and a 15-point lead in a Public Opinion Strategies survey conducted from earlier that month.
However, the race for Pennsylvania's 8th Congressional District appears to be closer.
An internal Cygnal poll, commissioned by Bognet's team, gave the Republican a narrow 46 to 45 lead over incumbent congressman Matt Cartwright.
One week later, another internal survey conducted by GQR Research gave Cartwright a 52-46 lead over Bognet.
Trump's appearance in Pennsylvania will be his first rally since the FBI searched his Mar-a-Lago resort for classified documents as part of an investigation into his alleged mishandling of sensitive materials.
The rally will also take place two days after Joe Biden gave a scathing speech at the Independence National Historical Park in Philadelphia. During his speech, Biden accused Trump and his MAGA movement of being "extremism that threatens the very foundations of our republic."
In response to the address, Trump said on his Truth Social platform the 79-year-old president is "insane" and suggested he is suffering from "late stage dementia."