Trump Could Face 'Multiple' Felonies in Classified Documents Probe
According to legal experts, there is enough evidence for Donald Trump to be criminally charged as part of the investigation into whether he mishandled classified documents and then allegedly attempted to obstruct the FBI's search for them.
There is once again renewed speculation as to whether Trump could become the first U.S president to be charged with a crime following revelations made in court documents submitted by the Department of Justice regarding the federal search of his Mar-a-Lago home for sensitive and top secret documents.
In the legal argument against a special master being brought in to review the materials seized by the FBI, the Department of Justice said it has evidence that classified documents were "likely concealed and removed" from a storage room in Trump's Florida home and as part of attempts to "obstruct" the government's investigation.
Prosecutors added that Trump's legal team "explicitly prohibited" FBI agents from allowing them to search boxes kept in the storage room in June, before appearing to mislead the investigation by claiming all the classified documents were then handed over to federal authorities in June.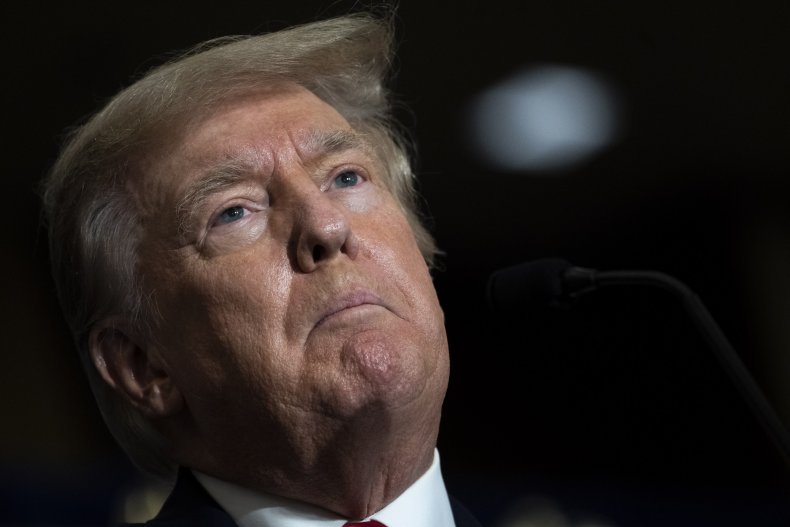 When the FBI carried out the raid on Mar-a-Lago on August 8, they recovered a further 76 documents from the storage room, as well from a desk drawer in Trump's office where the former president also kept his passports.
While the court filings were not submitted as part of a criminal investigation, Neama Rahmani, a trial lawyer and a former federal prosecutor, told Newsweek the details revealed show there is "plenty of evidence" to suggest Trump has "committed multiple federal crimes."
Rahmani said that it is also crucial to know if the former president's legal team who tried to stop the FBI searching the Mar-a-Lago storage room and then claimed all required classified materials had been turned over—believed to be lawyer Evan Corcoran and custodian of records, Christina Bobb—were acting on behalf of Trump.
"Prosecutors want to get inside Trump's head, so this is very damaging for him," Rahmani told Newsweek. "They like to show intent, and if he was intentionally violating the law and intentionally lying to federal prosecutors, FBI agents, and other officials from the Department of Justice, that's really helpful if you are considering prosecuting the case."
Barbara McQuade, a University of Michigan law professor and former U.S attorney for the Eastern District of Michigan, also believes the Department of Justice may be set to charge Trump.
McQuade said that when then-FBI director James Comey announced there would be no criminal charges against Hillary Clinton over her handling of classified information via a personal email account while she was secretary of state, he listed the "aggravating factors" that were missing which would warrant a prosecution.
"Among those aggravating factors were clearly intentional and willful mishandling of classified information, vast quantities of materials exposed in such a way as to support an inference of intentional misconduct or efforts to obstruct justice," McQuade told Newsweek. "It appears that all of those factors are present here. It would be difficult for DOJ to rationalize a decision to decline charges against Trump."
Rahmani added that while there is evidence against Trump, the question remains whether the Department of Justice and Attorney General Merrick Garland will take the unprecedented step of charging the former president.
"Is Merrick Garland going to go to the grand jury and get an indictment, or will he think it is bad public policy to indict a former president? The only person who knows what comes next is Merrick Garland," Rahmani said.
The Department of Justice and Garland have previously been criticized for so far failing to bring forward criminal charges against Trump in relation to attempts to overturn the 2020 election results, as well as the insurrection on January 6, that some have accused the former president of inciting.
Garland has insisted that his department has not ruled out charging the former president, telling MSNBC in July that he was committed to pursuing "justice without fear or favor."
Speaking to Politico, David Laufman, former chief of the counterespionage section at the Department of Justice's National Security Division, said the Mar-a-Lago investigation appears to show the Justice Department is "moving in the direction" of bringing forward criminal charges against Trump while downplaying suggestions that will be the end result.
"I think [Trump] has significant criminal exposure. Whether they ultimately decide to exercise prosecutorial discretion in favor of prosecuting him is another question," Laufman said.
Newsweek has reached out to Trump and the Department of Justice for comment.