Doug Mastriano Loses Ground in PA Governor Race in Warning Sign to MAGA
A warning shot has been fired to MAGA Republicans as a 2020 election result denier trails his Democrat opponent by 15 points in the race to become Pennsylvania's next Governor.
An August 17 poll carried out by Public Opinion Strategies (POS) for Pittsburgh Works Together found Democrat Josh Shapiro has a commanding 35 to 50 percent lead over Trump-endorsed candidate Doug Mastriano.
Pennsylvania State Senator Mastriano previously claimed the 2020 Presidential Election was "compromised" and the Republican indicated he wanted to overrule voters in the Keystone State.
Mastriano's campaign against supposed election irregularities in Pennsylvania resulted in positive remarks from Donald Trump, who has continued to allege widespread voter fraud.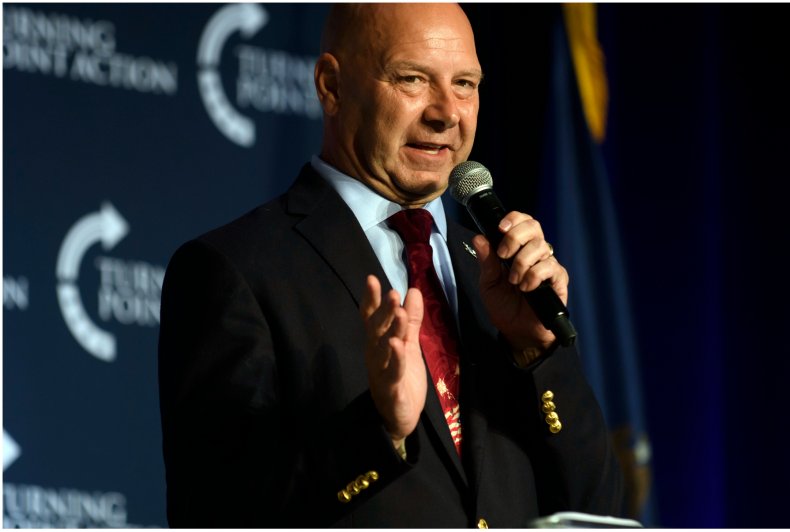 Despite a lack of evidence to support the claim, the belief that the 2020 election was somehow stolen is now a shared belief among many Republicans who vocally support Trump.
In the 2018 Pennsylvania gubernatorial race, Democrat Tom Wolf beat his Republican challenger Scott Wagner by about 17 points, underlining the scale of the challenge for Mastriano this time round.
While Mastriano has won Trump's praise, poll tracker FiveThirtyEight shows five previous surveys found rival Shapiro has opened a solid lead over the GOP candidate.
However, only the POS poll and one in July by Beacon Research/ Shaw and Company Research for Fox News were surveys with an A-grade or higher.
FiveThirtyEight bases its rating on the historical accuracy and methodology of each polling organization's polls. A higher grade indicates the pollster has correctly called a result in the past and used relevant sample sizes.
While there are months left in the Pennsylvania Governor's race, should the Democrats hold their lead it could bring into question the dominance of the MAGA movement within the GOP and the power of Trump's endorsement in swing states.
The same August 17 POS poll found Democrat U.S. Senate nominee for Pennsylvania John Fetterman holds a commanding lead over Trump-backed Republican Mehmet Oz of 33 to 51 percent.
In Ohio, Democrat Tim Ryan holds a slim overall lead over GOP candidate J.D. Vance, despite an Emerson College poll this week putting the Republican ahead, according to FiveThirtyEight.
In Arizona, Democrat Mark Kelly has consistently held a lead over MAGA candidate Blake Masters, a die-hard Trump supporter.
The polling has tempered establishment Republicans' hopes for what had been forecast to be a bumper midterm election for the GOP.
On Thursday, Senate Minority Leader Mitch McConnell appeared to take a dim view on whether the Republicans would capture the Senate.
He also questioned the quality of GOP candidates going up against their Democrat counterparts.
According to NBC News, McConnell said: "Senate races are just different. They're statewide, candidate quality has a lot to do with the outcome."
Democratic groups across the U.S. have poured tens of millions of dollars into supporting Republican primary candidates who hold hard to Trump's MAGA agenda, in an attempt to give their own candidates vulnerable opponents.
The strategy holds that more right-wing Republicans will turn off moderate voters and give Democrats an edge in what they believe would be more competitive elections.
Analysis by the National Journal found Democrats could have spent at least $20 million as part of the risky election strategy.
Newsweek has contacted Shapiro and Mastriano for comment.
Update 08/22/2022, 11:10 a.m. ET: This article was updated with additional background information on the 2018 gubernatorial election in Pennsylvania.