Trump Picks Dr Oz, Mastriano Both Narrowly Lose Pennsylvania Races: Poll
Pennsylvania's GOP Senate-nominee Dr Mehmet Oz and gubernatorial-nominee Doug Mastriano are both trailing their Democrat rivals, according to the latest polling by the Trafalgar Group.
The poll, conducted between August 15 and August 18 among 1,096 respondents, shows that 48.4 of Pennsylvania's voters back Democratic nominee John Fetterman to take the state's Senate seat, while Oz followed with 43.5 percent of the vote.
Voters also prefer Democratic gubernatorial-nominee Josh Shapiro over the Republican, Trump-backed nominee Doug Mastriano, with the former estimated to receive 48.6 percent of the vote against the GOP candidate's 44.7 percent.
A majority of the respondents (46.7 percent) identified as Democratic voters, 42.7 percent as Republicans and 10.6 percent as independents, and the Trafalgar Group estimates the margin of error in its survey is 2.9 percent.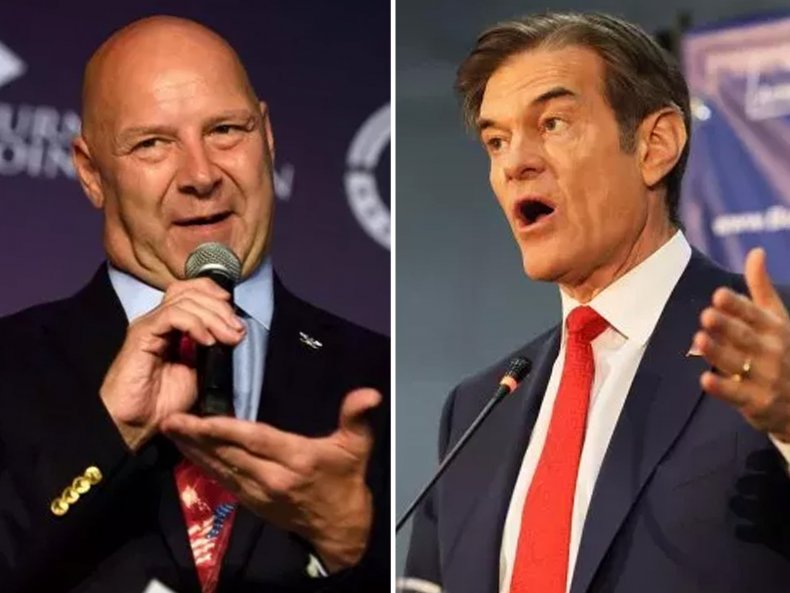 The lead of Democrat nominees over their GOP rivals has been supported by other recent polls, including the latest conducted by Fox News, which puts Fetterman 11 points ahead of Oz and Shapiro at 10 points ahead of Mastriano.
Other polling suggests the difference is greater: according to one by Public Opinion Strategies, Fetterman would be 18 points ahead of Oz and Shapiro 15 ahead of Mastriano.
Fetterman has established a lead over Trump-endorsed Oz since early August, according to various polls, showing that the Democratic candidate's strategy to single out Oz as an outsider for having lived in New Jersey for part of his life has likely appealed to Pennsylvania's voters' strong sense of local identity.
The two candidates have consistently tried to discredit and mock each other during their campaigns, with Fetterman fundraising $500,000 last week after a video of Oz mispronouncing the name of a shop —"Wegners" for "Redner's"— and resenting the increase in the price of "crudité" resurfaced on social media and went viral.
Fetterman targeted his rival with the slogan: "Wegners: Let them eat crudité."
Oz had criticized Fetterman for his liberal policies, including releasing an ad exploring the content of the Democrat nominee's head last week, which claimed Fetterman had some "screws loose."
The gubernatorial race has been just as hard fought, with Shapiro's ads focusing on Mastriano's ties to far-right social media site Gab, which the GOP nominee apparently paid $5,000 for "consulting" services.
Gab has been at the center of several controversies, including the use Robert Bowers—the gunman at Pittsburgh's Tree of Life synagogue—made of the platform, where he shared antisemitic posts before the mass shooting. Recently, a man was arrested for making violent threats against FBI and law enforcement officers on Gab in the aftermath of the Mar-a-Lago raid.
The double-digit leads for the Democrat nominees could potentially translate to a double-defeat for Trump, who endorsed both GOP candidates in the Pennsylvania's race.
Most of the candidates endorsed by the former president in other states—Harriet Hageman in Wyoming, Leora Levy for the Senate race in Connecticut, Tim Michels for the gubernatorial race and Ron Johnson for the Senate in Wisconsin, for example— have been successful, showing that Trump's endorsement holds a significant influence on Republican voters.
But there have been setbacks: in Georgia, Brian Kemp easily defeated Trump's pick David Perdue, and in Alabama, Katie Britt won over Trump loyalist Mo Brooks.
According to sources quoted by Rolling Stone, Trump is said to regret backing Oz in the Senate race in Pennsylvania, saying he's going to "f****** lose."