Senate candidate Blake Masters of Arizona is easing up his claims that the 2020 election was stolen from former President Donald Trump, distancing himself from that election and focusing his platform on election integrity in general.
On Monday night, CNN reported that since winning his primary on August 14, Masters had scrubbed language from his website claiming that a legitimate election would have resulted in Trump still holding office.
This month, a page titled "The Masters Plan" on the Republican's campaign website, read, "We need to get serious about election integrity. The 2020 election was a rotten mess – if we had had a free and fair election, President Trump would be sitting in the Oval Office today and America would be so much better off." As of Friday, only the first sentence remains on the page.
Masters' move away from Trump's rhetoric came just days before the former president went on a rant this week, demanding that a new election be held to determine the "rightful winner" nearly two years after Trump lost to President Joe Biden.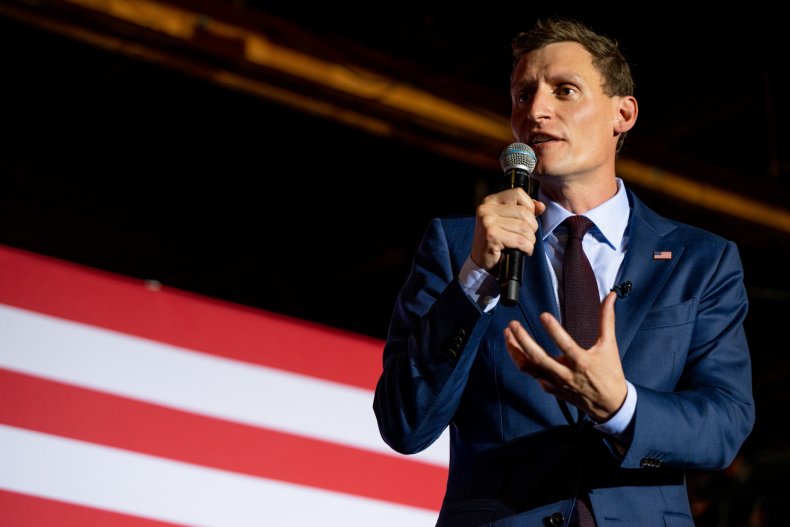 On Monday, Trump posted on his Truth Social account, proposing a "remedy" to the "massive FRAUD & ELECTION INTERFERENCE" of the 2020 election.
"Declare the rightful winner or, and this would be the minimal solution, declare the 2020 Election irreparably compromised and have a new Election, immediately!" the former president wrote.
Masters largely secured his Trump endorsement in June for his contributions to Trump's theory that the 2020 election was stolen from him.
"Arizona is a State where the 2020 Election was Rigged and Stolen, and a very thorough audit proved it," Trump said in his endorsement of Masters. "Blake knows that the 'Crime of the Century' took place, he will expose it and also, never let it happen again."
In the GOP primary, Masters ran against Trump rival Attorney General Mark Brnovich, whom Trump said didn't do enough to investigate allegations of voter fraud in Arizona.
Masters has said that had he been serving in the Senate on January 6, 2021, he would have objected to the certification of the Electoral College. In a leaked audio from March, Masters said, "Don't we suspect that like one-third of the people outside of the Capitol complex on January 6 were actual FBI agents hanging out?"
Masters' new posturing coincides with that of other Republican candidates across the nation scrambling to tone down their positions on topics like the 2020 election and abortion amid the GOP's increasingly grim November outlook.
The Republicans' chances of securing a massive win in this year's midterms has been significantly dimmed by the overturning of Roe v. Wade this summer.
Masters recently softened his anti-abortion stance, removing a line from his website that read "I am 100% pro-life" and his support for a "federal personhood law," which grants the same rights and protections to fetuses as any person.
The website changes, which were first reported by NBC News, followed a recent video Masters posted online in which he said, "I support a ban on very late-term and partial-birth abortion."
Newsweek reached out to Masters' campaign for comment.