Blake Masters Suggests Female, Black and Gay Officials Hurting U.S. Economy
Arizona U.S. Senate candidate Blake Masters appeared to suggest on Twitter that female, Black and gay federal officials are responsible for the difficulties facing the U.S. economy.
On Sunday, Masters, a Republican endorsed by former President Donald Trump, shared a story from the Associated Press on Twitter about diversity at the Federal Reserve. The AP said that the Fed's leadership "has become its most diverse ever. There are more female, Black and gay officials contributing to the central bank's interest-rate decisions than at any time in its 109-year history."
"Finally a compelling explanation for why our economy is doing so well," Masters wrote, likely speaking with sarcasm about problems currently facing the U.S. economy, such as high inflation and concerns about a recession.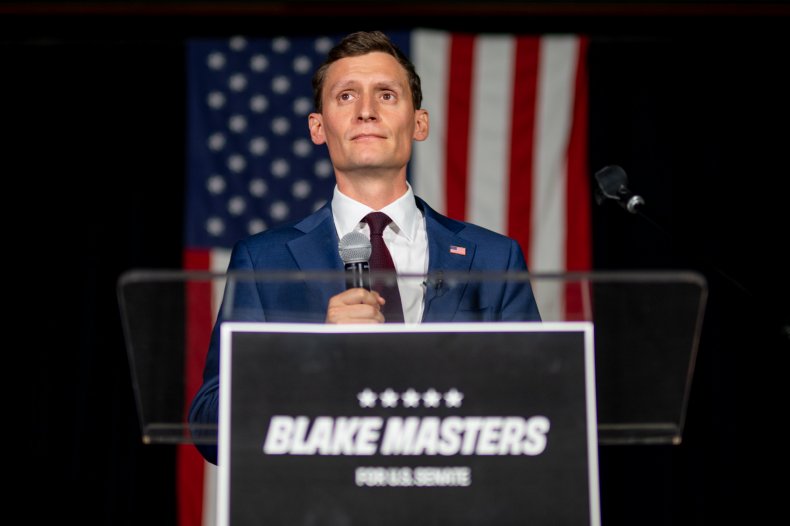 There was mixed reaction to Masters' tweet on the social media site, with some users appearing to agree with his criticism of the Fed, others condemning it.
"Same thing happening to various companies, where they prioritize diversity hiring over skill, qualification and talent," journalist and right-wing Twitter personality Ian Miles Cheong tweeted.
CNN Senior National Correspondent Kyung Lah shared Masters' tweet and added simply: "Blake Masters is Arizona's Republican US Senate nominee."
"Surely Arizona US Senate candidate Blake Masters meant to text this racist, misogynist, anti-LGBTQ hot take to his wife and not actually ... tweet it to the world???" wrote Shannon Watts, the founder of gun safety group Moms Demand Action.
The economy is set to be a major issue in the upcoming midterm elections as inflation has stayed at near 40-year highs.
The annualized rate of inflation was 8.5 percent in July, according to figures from the Bureau of Labor Statistics (BLS), though the price of gas has declined amid concerns about the high cost of living.
In June, the annualized rate of inflation had been 9.1 percent. The average price for a gallon of gas was $3.85 on Monday, according to the American Automobile Association (AAA).
The housing market is another indication of how the economy is performing. Data released this week showed that there are 183 U.S. regions where house prices could drop by as much as 20 percent in the event of a recession.
U.S. Gross Domestic Product (GDP) has declined for two consecutive quarters. Many economists view two-quarters of negative GDP growth as evidence of a recession, but the U.S. will not officially be in a recession unless economists at the National Bureau of Economic Research (NBER) declare it.
The Federal Reserve announced on Friday that inflation had declined in July based on the Personal Consumption Expenditures (PCE) index, which is often seen as the Fed's preferred measure of inflation.
The PCE index showed an annualized rate of inflation of 6.3 percent, down from 6.8 percent in June.
Masters is running against Democratic Senator Mark Kelly in the Arizona U.S. Senate race. The November midterm contest may be of major importance in retaining control of the congressional chamber in an election year where Democrats are expected to struggle against Republicans.
Poll tracker FiveThirtyEight rates Kelly as favored to win the Senate race in Arizona.
Newsweek reached out to the Masters and Kelly campaigns for comment.