Map Shows Nearly 200 Housing Markets That Could See 20 Percent Price Drop
A new map released this week pinpoints 183 regional U.S. housing markets where prices could decline by as much as 20 percent in the event of a recession.
The map was compiled by Fortune based on data from Moody's Analytics. The research company found that 183 of the 413 largest regional housing markets in the U.S. are "overvalued" by more than 25 percent. The map shows that some of those significantly overvalued markets include Boise, Idaho, which is overvalued by 71.7 percent, and Flagstaff, Arizona, which is overvalued by 60.6 percent.
While being overvalued doesn't necessarily indicate that a market's home prices will fall, significantly overvalued markets historically have a higher risk for seeing price declines, which Moody's Analytics chief economist Mark Zandi said was the case now, Fortune reported. The company expects home prices in those 183 markets to fall by 10 to 15 percent. If the U.S. enters a recession, Moody's Analytics predicts that those markets will see steeper declines of 15 to 20 percent, according to Fortune.
Elevated home prices and mortgage costs, as well as persistent consumer inflation, are among the factors spurring fears that the U.S. housing market could crash. Meanwhile, experts and economists have been discussing the possibility of a recession in recent months, with some saying the U.S. is headed for or already in one.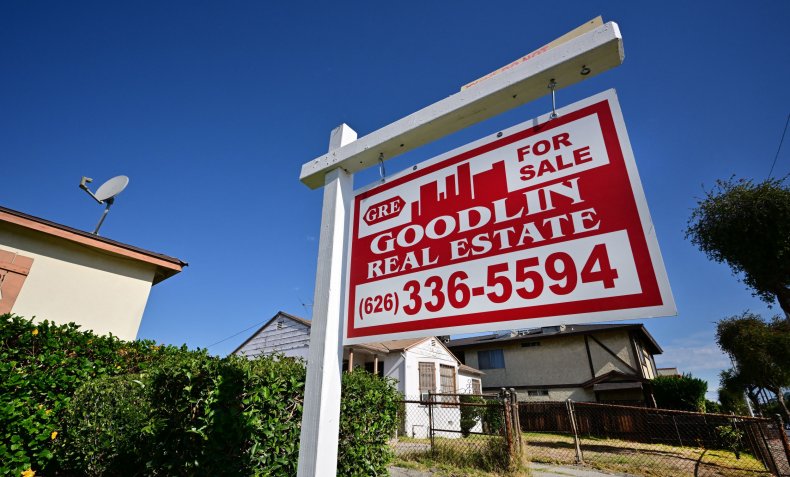 When real gross domestic product (GDP) saw its second consecutive quarter of decline this year, the U.S. technically entered a recession under one commonly held definition. But other factors, like the state of the labor market, may also be considered when considering a potential recession. Only a committee of economists at the National Bureau of Economic Research (NBER) can officially declare that the U.S. is in a recession.
While the NBER has yet to make such a declaration, the prospect that the U.S. is in or moving toward a recession indicates that the 183 significantly overvalued housing markets could see the larger 15 to 20 percent home price declines. And home price drops are regarded as one step in the process of a housing bubble burst.
According to Investopedia, a housing bubble usually begins with a boost in housing demand while inventory is limited, which can cause housing prices to spike. That bubble can burst when demand falls or stagnates even while supply increases because of the earlier jump in demand. This can spur a sharp decrease in home prices when the new supply of homes lacks buyers willing or able to pay the higher costs.
While it remains unclear if the U.S. housing market will crash, consumer confidence in the market reached its lowest level since 2011 in July, according to the Fannie Mae Home Purchase Sentiment Index.
"Surveyed consumers continue to express pessimism about homebuying conditions, with only 17 percent of respondents reporting it's a good time to buy a home," it said in a release. "Meanwhile, the percentage of consumers believing it's a good time to sell has begun ticking downward in recent months, falling from 76 percent in May to 67 percent in July."