U.S. Is Already in a Recession: Billionaire Investor
The combination of decades-high inflation, supply chain snags and astronomical gas prices have driven both economists and members of the public to declare that the economy is on its way to a recession, and one billionaire investor says we have already reached that point.
In an interview Tuesday morning with CNBC's Squawk Box, ARK Invest founder CEO Cathie Wood told Andrew Ross Sorkin she and others were wrong about continuing inflation, in addition to supply chain woes that have become commonplace for over two years, with no discernible end in sight.
"Inflation has been a bigger problem, but I think it has set us up for deflation.... We think we are in a recession, and the real big problem out there is inventories...the increase of which I've never seen this large in my career, and I've been around for 45 years," Wood said.
In addition, few could have predicted the impact or duration of Russia's invasion of Ukraine, a conflict that has now lasted for over four months and led to global problems with energy production and potential crop famine. With inflation at a 40-year high, the Federal Reserve has responded with interest rate hikes, most recently the largest increase in nearly three decades, which some worry could lead to recession instead of an economic "soft landing."
Wood told Sorkin even "well-managed companies" like Walmart and Target, which routinely manage inventory problems, are having their own problems.
"Consumers are railing against these price increases," she said. "Consumer sentiment...is down to record low levels, below 2008-2009, below 1980-1981 [when] I had just started my career, and inflation and interest rates were in the double digits, 15 to 20 percent."
Wood also said reports indicate that consumer sentiment is lower in the highest income groups, compared with the lowest income groups. The latter, she noted, are being "tormented" by energy and food prices, or a "regressive tax increase."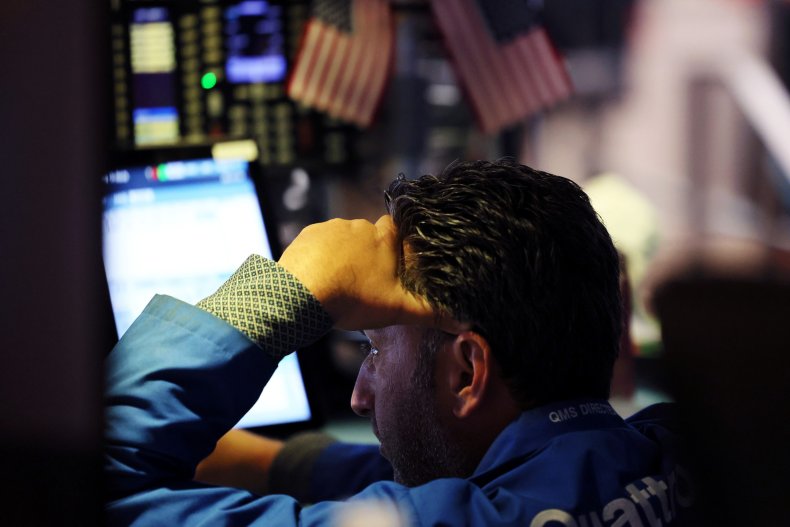 A consumer sentiment index published by the University of Michigan shows June consumer sentiment at 14.4 percent below sentiment from May, "the lowest reading on record," according to Surveys of Consumers Director Joanne Hsu. Sentiment between this June and June 2021 had a steep 41.5 percent decline.
"Consumers across income, age, education, geographic region, political affiliation, stockholding and homeownership status all posted large declines," Hsu wrote.
"About 79 percent of consumers expected bad times in the year ahead for business conditions, the highest since 2009. Inflation continued to be of paramount concern to consumers; 47 percent of consumers blamed inflation for eroding their living standards, just one point shy of the all-time high last reached during the Great Recession," Hsu added.
The University of Michigan expects year-ahead inflation to be 5.3 percent, "little changed from mid-month or the preceding four months," Hsu noted.
Last week, Art Laffer, a former economic adviser in President Ronald Reagan's administration, echoed Wood's perspective on Fox Business Tonight. He said the U.S. economy is already in a recession based on anticipated second-quarter numbers on gross domestic product (GDP).
"We've had two quarters: One and a half percent decline in GDP, that's actually done the first quarter, and this quarter now is estimated by the Atlanta Fed as being very, very close to zero," Laffer said. "If it comes in negative, that will be the two quarters in a row. That would be the definition of recession."
Stockbroker Peter Schiff, the chief economist and global strategist of Euro Pacific Capital, went a step further a couple of weeks ago by tweeting that most citizens have given up on the thought of a soft landing for the economy after the Fed's interest rate hikes and now expect a harder fall.
"The only landing possible is a crash, where everyone on board dies," Schiff tweeted. "That's why the Fed won't even attempt to land and give up its pretend inflation fight."
Allianz chief economic adviser Mohamed El-Erian shared concern days before Schiff's tweet, telling Face the Nation guest host John Dickerson that the initial hope was that inflation was "transitory...and quickly reversible."
"There was hope, as you pointed out, that it had peaked," El-Erian said. "I never shared those hopes. I think you've got to be very modest about what we know about this inflation process. And I fear that it's still going to get worse. We may well get to 9 percent at this rate."
Newsweek reached out to ARK Invest for further comment.