Midterms Forecast for House and Senate With Two Months to Go
Midterm elections are just two months from Thursday and President Joe Biden's agenda may be at risk as Republicans seek to take back the House of Representatives and the Senate.
The serving president's party usually performs poorly in midterms and polls have indicated Democrats are in for losses, though their chances have improved in recent weeks.
A divided Congress now looks increasingly likely with Republicans favored to win a majority in the House, and Democrats with a real opportunity to retain control of the Senate.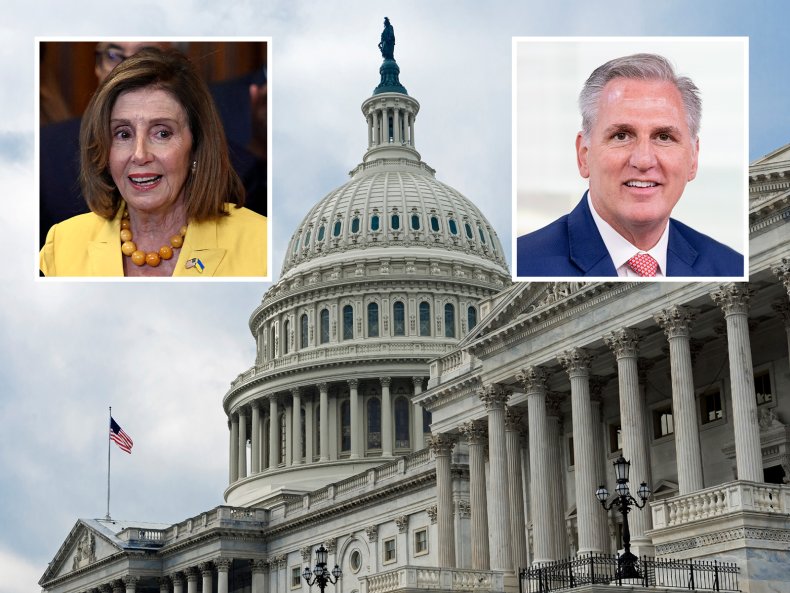 Morning Consult's generic congressional ballot showed Biden's party with a slight edge as of September 4. Democrats had 47 percent support to the GOP's 45 percent.
Though Democrats might take some comfort from those figures, it is not clear whether Democrats' position on the generic ballot will translate into winning more races on November 8.
Poll tracker FiveThirtyEight's analysis currently shows that Republicans are favored to win the House. Their model shows the GOP with a 74 in 100 chance of taking the chamber.
Republicans' positive outlook in House races has been consistent even as Democrats have improved their position on the generic ballot and in the fight for the Senate.
Seat totals are difficult to predict, and FiveThirtyEight gives Republicans an 80 percent chance of holding between 209 and 247 seats. A House majority is 218.
Though the GOP could end up with a slim majority, that would still be enough to see House Minority Leader Kevin McCarthy elected Speaker of the House and allow Republicans to stymie Biden's agenda for the two years leading into the next presidential election.
Current polling suggests Democrats will not keep the House but recent victories in special elections may indicate their chances are better than expected.
Speaker of the House Nancy Pelosi has said she's "absolutely" prepared for the possibility of a renewed House majority.
Democrats are slightly favored to retain control of the Senate. FiveThirtyEight's model gives the party a 70 in 100 chance of winning the chamber in November.
They also have an 80 percent chance of holding between 47 and 54 seats. They will need at least 50 seats plus Vice President Kamala Harris's tie-breaking vote to control the Senate. There is almost no realistic possibility that the president's party will win a filibuster-proof 60 seats.
The University of Virginia (UVA) Crystal Ball election forecast recently moved two key Senate races—Arizona and Pennsylvania—into the lean Democratic category, citing "candidate weaknesses for Republicans in both states and what appears to be a not-as-bleak environment for Democrats."
However, UVA also said the race for overall control of the Senate was a toss-up.
Democrats keeping the Senate would be significant, particularly if Republicans take the House. It would mean GOP senators could not block Biden's potential judicial appointments—including to fill any possible Supreme Court vacancy that might arise.
Based on current projections, it appears the nation is on track for a similar result as the 2010 midterms when Democrats lost the House but retained the Senate.
However, Biden's party is likely to sustain far fewer losses than the 63 House seats lost under former President Barack Obama at the time.