How Joe Biden's Approval Rating Fares With Two Months Until Midterms
President Joe Biden's approval rating has seen steady improvement in recent weeks as Democrats face crucial midterm elections that could decide the fate of his agenda.
The 2022 midterms will take place on November 8—two months from Thursday—and there are signs that President Biden's party is in a better position than it was just two months ago.
Poll tracker FiveThirtyEight found that Biden's approval rating stood at 42.5 percent as of Wednesday, while disapproval of the job he's doing was 53.2 percent. While that's still a net negative, it's a notable improvement over the past month.
On August 7, the president had an approval rating of 39.3 percent in the same analysis and his disapproval stood at 55.6 percent.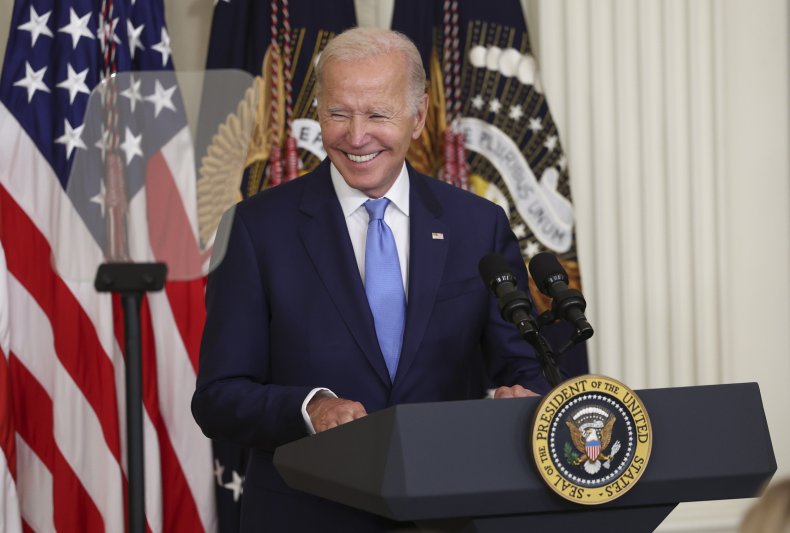 FiveThirtyEight assessed Biden's approval by analyzing a wide variety of polls and using its own system of pollster ratings.
His approval has been relatively steady in the low-40s since August 11, when it stood at 40.1 percent. Though Biden's approval has fluctuated since then, it has been on an upward trend and has not dipped below 40 percent.
The rise in Biden's approval may be due to recent legislative successes. In particular, the Inflation Reduction Act, signed into law on August 16, is seen as reviving Biden's Build Back Better agenda, which had stalled during the earlier part of his presidency.
The $737 billion Inflation Reduction Act is a slimmed down version of the earlier $1.75 trillion Build Back Better Act, which failed in the Senate in October, 2021 when Democratic Senator Joe Manchin rejected it.
There also appears to be good news for Democrats more broadly with just two months to the midterms.
Morning Consult's generic congressional ballot tracker shows Democrats with a slight edge over Republicans as of September 4. The president's party enjoyed 47 percent support to the GOP's 45 percent.
In the House of Representatives, where Republicans are still favored to win overall control.
However, Democrats appear to have improved their chances of keeping control of the Senate, based on analysis from FiveThirtyEight. The poll tracker rates Democrats as "slightly favored" to win the chamber. Republicans had been favored to win as recently as July 25.
The president's party is usually expected to suffer defeats in the midterm elections and, earlier in 2022, polls appeared to indicate that Democrats were about to sustain major losses.
The single worst midterm loss of House seats took place in 2010 when Democrats lost 63 seats under then President Barack Obama. However, Democrats retained control of the Senate until the 2014 midterms.
The recent U.S. Supreme Court decision in Dobbs v. Jackson Women's Health Organization has also brought increased attention to abortion rights and could have an impact on voter turnout and preference, particularly among women concerned about access to the procedure.
Biden has sought to protect abortion access through executive action and he's also taken aim at what he described as MAGA (Make America Great Again) Republicans, describing them as extremists who are opposed to abortion rights and are a threat to democracy.
While Democrats have won some surprise victories in recent special elections that may indicate better chances in the midterms, the real test will of course come on November 8. If Republicans can take back either chamber of Congress, they will be able to effectively stymie Biden's agenda for two years leading into the next presidential election.