Pelosi 'Absolutely' Prepared for Democrat Majority as GOP Hope Diminishes
House Speaker Nancy Pelosi is feeling optimistic about her party's chances of holding on to the House majority this midterm election, despite historical trends and rising inflation that had been working against the Democratic Party.
Asked how "confident" she is about November, Pelosi told reporters on Wednesday that her party has "absolutely every intention of holding the House."
Her comments come amid a tumultuous couple of weeks for the Republican Party, which has been forced to lower its expectations for the midterms that had been anticipated to be a massive "red wave."
On Thursday, the Cook Political Report moved five House races toward Democrats, including a closely watched contest in Alaska that saw a political upset in another special election this week.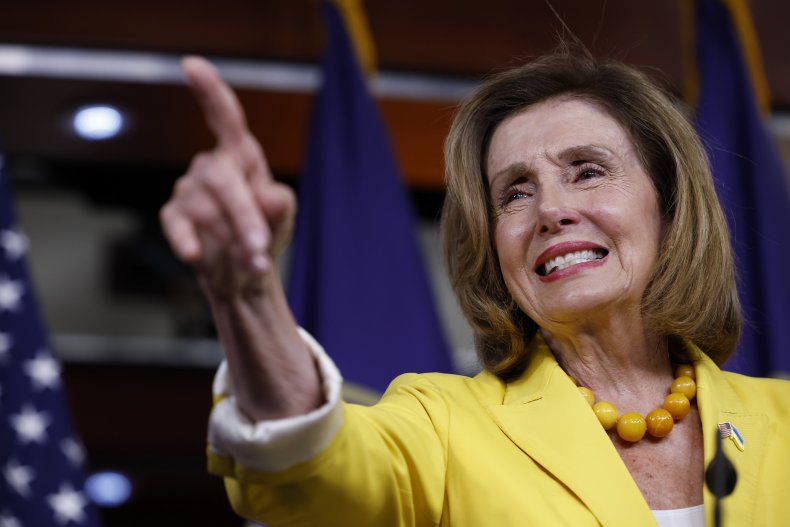 The nonpartisan indicator moved Arizona's 4th Congressional District and Maryland's 6th Congressional District from leaning Democrat to likely Democrat, while New York's 3rd Congressional District and Virginia's 7th Congressional District swung from a toss-up to leaning Democrat.
Alaska's only House seat, which had been forecasted as likely Republican, was changed to a toss-up.
On Wednesday night, the race in the special election to fill the vacancy of Republican Congressman Don Young, who passed away in March, was called for Democrat Mary Peltola after she defeated former Governor Sarah Palin in a political upset. Peltola is one of the four candidates, and sole Democrat, who will appear on the general ballot for the next congressional term.
With nine weeks until Election Day, the GOP forecast has grown increasingly grim amid a spike in Democratic voter enthusiasm that followed the Supreme Court's decision to overturn Roe v. Wade.
While political consultants note that two months is a long time in politics, Republican strategist Alex Patton told Newsweek that the news out of Alaska is a "terrible sign" that the GOP is on a downward trend. Because the GOP "hasn't shown a capacity" to correct the course it's on, Patton said the party "will likely take more losses."
Even Senate Minority Leader Mitch McConnell has shifted his expectations for the Republicans. While he had once been "very optimistic" about the midterms, McConnell predicted earlier this month that the GOP only had a "50-50" chance of flipping the Senate.
A number of Trump-endorsed Senate candidates have trailed behind their Democratic opponents in a number of key battleground states, including Pennsylvania and Ohio.
While McConnell had said the House would have a "greater likelihood" of flipping Republican, a string of Democratic wins in New York and Alaska have cast doubt over whether the GOP could still gain seats in the lower chamber.
On Wednesday, Pelosi, who was stumping for Representative Joe Neguse in Lafayette, said the path to a Democrat victory in the House "comes right through Colorado."
"The leadership of Joe Neguse, very important," Pelosi told reporters. "He's a member of the House Democratic leadership...We want the best for him, and that means serving in the Majority, which we fully intend to do."