Mitch McConnell Isn't Convinced Republicans Will Take Control of Senate
Mitch McConnell is not convinced Republicans will control the Senate after the 2022 midterms.
The Senate minority leader told a number of business leaders in his home state of Kentucky that his party likely has a 50-50 chance of taking control of the Senate in November.
And even if they do, McConnell said the chamber—which is split 50-50 but Democrats control because of Vice President Kamala Harris' tiebreaking vote—is likely to remain closely divided, probably forcing Democratic President Joe Biden to remain moderate on policy during the second half of his term.
"It's a 50-50 proposition," Reuters quoted McConnell as telling the Scott County Chamber of Commerce on Monday. "We've got a 50-50 Senate right now. We've got a 50-50 nation. And I think the outcome is likely to be very, very close either way."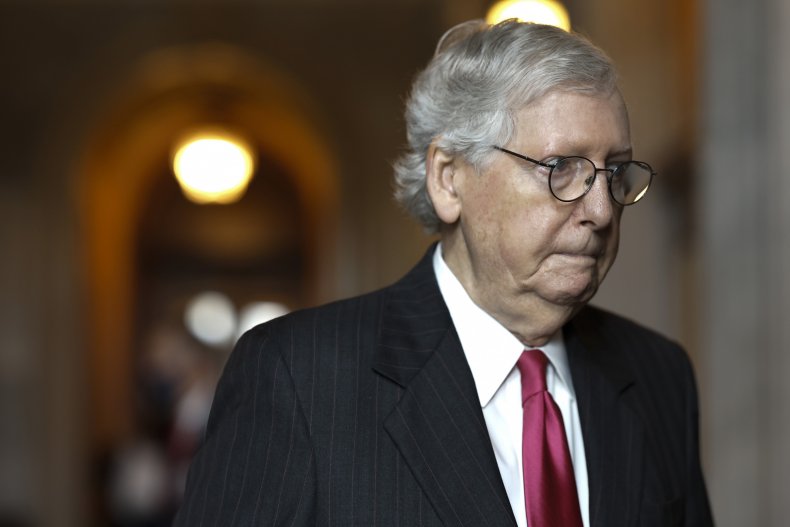 McConnell was seen as an early architect of the 2022 Senate midterm landscape, quietly working at the start of the year to recruit candidates aligned with a more traditional brand of conservatism than that of former President Donald Trump.
However, as Trump-aligned candidates like Pennsylvania's Mehmet Oz and Georgia Republican Herschel Walker have emerged as their party's nominees in recent weeks, McConnell has begun to sour on the GOP's chances for dominance in this year's Senate races, saying last week that the quality of this year's crop of candidates created a "greater likelihood" the House would flip Republican than the Senate would.
McConnell's trepidation comes as analysts with groups like the Cook Political Report have begun downgrading Republicans' chances in several hotly contested Senate races nationwide, citing a plague of "weak, divisive candidates in many key races." Though five Democratically controlled Senate seats are potentially up for grabs under Cook's current Senate ratings, five currently Republican seats are also vulnerable.
Meanwhile one Republican-controlled seat in Pennsylvania is trending toward Democratic nominee John Fetterman against the Republican nominee, Oz.
Polarizing issues like abortion and recent Biden administration successes have also helped Democrats' prospects to retain control of the government improve dramatically from the start of the summer, when the party was at a several-point disadvantage in national polling.
On Monday, Democrats took the lead in FiveThirtyEight's average generic ballot for the first time since November of 2021, while the disparity between Republicans and Democrats in the RealClearPolitics average generic poll was the narrowest it has been entering the fall of any election in the last decade.
Pressure has been building on Senate leadership to do more to bolster Republican candidates in key swing states. On Sunday, The Wall Street Journal published an editorial calling on McConnell to take a more proactive role in supporting Trump-backed Republicans running in Senate races around the country, while the National Republican Senatorial Committee recently rebooked several million dollars in television advertising in several key races after a number of canceled ad spots received scrutiny from donors and the national media.
At the end of the day, Republicans' success in their efforts to retake the Senate is going to come down to the same factor every race does: the voters.
"The issue this fall—the big issue—is if you want Chuck Schumer to be making these decisions, or Mitch McConnell to be making these decisions," McConnell told reporters Monday.