As Midterm Fears Mount, Democrats Seek to Rally on Women's Issues to Win
Hours after the Supreme Court overturned the federal protection for abortion in June, President Joe Biden addressed the nation with a clear statement: "Roe is on the ballot this November."
That message has been a focus point for the Democratic Party heading into midterm elections at a time when Biden faces historically-low approval ratings, even among supporters, sinking to 36% in July according to a poll conducted by CNBC.
But in the wake of overturning Roe, the issues of abortion access and women's health have been pushed to the top of voters' issue lists, offering Democrats a ray of hope for beating their Republican opponents in key state elections in November.
A poll conducted by the The Associated Press and the NORC Center for Public Affairs Research at the University of Chicago (AP-NORC) in the days following the Dobbs vs. Jackson case, in which the Court ended the federal protection for abortion, found that 22% of voters label abortion or women's rights as a top-priority issue for this year's election, nearly triple the percentage the same study found in December 2021.
And a report from the Kaiser Family Foundation on June 9, a few weeks before the decision was handed down, found that 25% of women voters ages 18 to 49 say they would be motivated this fall to only support a candidate who wants to protect access to abortion.
One expert told Newsweek there is a simple formula for gender politics in an election year.
"In general, the strategy for Democrats in a tight year is: win women by more than you lose men by," said Celinda Lake, a leading political strategist in the DNC.
According to the Center for American Women and Politics (CAWP), women voters have turned out in higher numbers than men since the 1980s, including in midterm elections, and are more likely to vote for Democratic candidates. In 2020, women outvoted men 68.4% to 65%.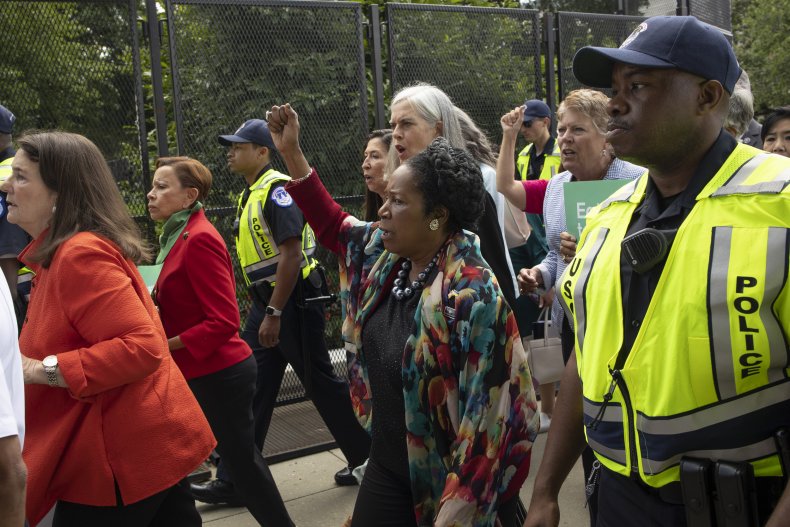 But even with an increased focus on women's health, abortion access still falls behind other voter issues approaching the midterms. A New York Times/Siena College poll conducted in early July found that abortion and women's rights were listed as the sixth-highest problem facing the country today, trailing the economy, inflation and gun policies.
However, Lake told Newsweek that women voters could still prove to be valuable for the DNC, given that inflation typically impacts their market baskets differently than men. For example, women are more likely to look for support this fall for the rising cost of healthcare, groceries and education – issues on which voters typically trust Democrats more than Republicans.
"Men think it's a good day when the government hasn't done anything bad to you," Lake said. "Women think that they and their families might need a safety net program at some time. Many men think, 'I can handle that on my own; I can take care of my family.'"
"That's the area of tackling inflation where Democrats have the biggest advantage," Lake added.
The CAWP found that in 2020, women were more likely than men to support government spending for welfare programs, such as health insurance and aid to the poor. Women are also more likely than men to support gun laws — 55.6% to 43.6% respectfully — giving Democrats another potential winning issue in November.
However, Director of Research for the CAWP Kelly Dittmar told Newsweek that race and ideological differences among women provide Democrats with a different challenge to mobilize voters on abortion rights. In the same 2020 CAWP study, only 23.6% of Republican women said that abortion was always a matter of personal choice, while 72.2% of Democratic women agreed with the statement.
"Women voters are far from monolithic, which is something that both political parties have had to learn in thinking about how to best mobilize women voters," Dittmar told Newsweek.
That theory gained credence in the 2020 presidential election, when Donald Trump narrowed the gender gap by gaining favor with women voters, according to the Pew Research Center. While President Joe Biden still won women by 11 points, Trump increased his favorability from 39% in 2016 to 44% in the 2020 election, in which Republicans won the votes among white women by 7 points.
The issue of abortion does not seem to be stopping the momentum for Republicans either. In the weeks leading up to the 2022 primaries, an analysis from CNN found that even after a leaked draft of the Dobbs v. Jackson's decision, Republicans were doing 13 points better among women compared to the last midterm elections in 2018.
"For Democrats, there is still important work that the Party needs to do to best address the needs and demands of women representing the full range of diversity among them — from racial and ethnic diversity to class and ideological differences, among other layers of experience and identity," Dittmar told Newsweek.
But political strategist Lake argues that with a clear division between the two parties regarding abortion access, even "swing suburban women" consider the harsh abortion bans by Republican-led states "disqualifying."
"You want to ban certain birth control, you want to question women who have miscarriages, you want to arrest women and jail doctors and nurses" Lake said. "You've gone too far, and that's a deal breaker."