Herschel Walker Vs Raphael Warnock: Domestic Violence Claims Explained
Both candidates in the toss-up U.S. Senate race in Georgia have used allegations of domestic violence to attack each other.
Sen. Raphael Warnock, a Democrat who became the state's first Black senator after winning his Georgia seat in a special election last year, and his Republican challenger Herschel Walker, a former football star and businessman, have faced allegations of violence against their former partners.
At an Atlanta Press Club debate that Walker skipped on Sunday night, Warnock denied every being violent towards anyone, but said his challenger has a "well-documented history of violence."
"I have never been violent to anybody for any reason. I have spent my entire life as a citizen, as a pastor of Dr. King's church steeped in the philosophy of nonviolence," Warnock said.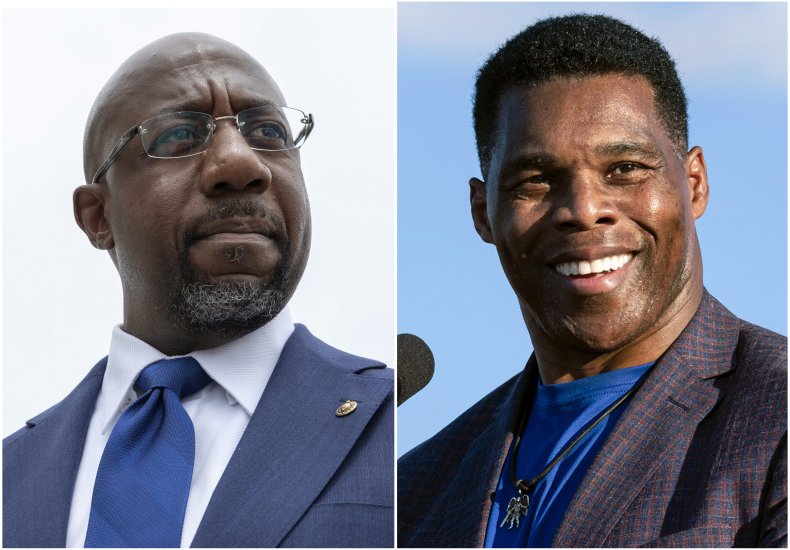 "My opponent, on the other hand, has a well-documented history of violence and he hasn't come clean about it."
Allegations of domestic abuse against Walker were first brought up in Walker's primary race by his opponent, Georgia Agriculture Commissioner Gary Black.
They included claims based on police reports and court records from 2011 to 2008, some involving Walker's ex-wife, Cindy Grossman. They were married from 1983 to 2002. Walker was never arrested or charged.
In a 2008 book, Walker said he had dissociative identity disorder, a mental disorder.
Grossman told ABC News that year that at one point during their marriage, Walker had pointed a gun to her head and threatened to kill her.
She sought a protective order in 2005—years after she had sued for divorce—after Walker repeatedly voiced his desire and intent to kill her and her boyfriend, according to court records obtained by The Associated Press.
In an interview with Axios late last year, Walker said he was "accountable" for past violent behavior toward his ex-wife, but said he had never broken the law.
He was more recently slammed by his son, Christian Walker, after a report published by The Daily Beast earlier in October said Walker had paid for an ex-girlfriend's abortion. Walker has denied the incident took place.
"You're not a 'family man' when you left us to bang a bunch of women, threatened to kill us, and had us move over six times in six months running from your violence," Christian Walker wrote.
Last month, Walker sought to put allegations of domestic violence against Warnock in the spotlight by highlighting them in an ad called "What Else is Warnock Hiding?"
That ad said Warnock "hit his wife with his car after an argument."
Walker's campaign used police body camera footage of Warnock's ex-wife Ouleye Ndoye accusing him of running over her foot following an argument outside her Atlanta home in 2020.
It shows clips of a distressed-looking Ndoye, calling Warnock a "great actor" and saying that she'd tried to hide his behavior from others. Warnock denied the allegations.
According to PolitiFact, police found no evidence that Warnock had ran over his then-estranged wife's foot.
A report by the Atlanta Police Department said Ndoye had been reluctant to show her foot to an office. "I did not see any signs that Ms. Ouleye's foot was ran over," the officer wrote.
According to the repot, when medical personnel arrived at the scene, they were not able to locate "any swelling, redness, or bruising or broken bones on Ms. Ouleye's left foot."
Walker and Warnock's campaigns have been contacted for additional comment.