Herschel Walker Quotes Bible Verse to Dismiss Question About Domestic Abuse
Republican Senate candidate Herschel Walker of Georgia quoted a Bible verse when recently asked about past domestic violence allegations.
Walker, a Republican endorsed by former President Donald Trump, was asked by Atlanta-based magazine Rolling Out about domestic abuse allegations that occurred between 2001 and 2008. He never answered the question and instead attacked his opponent, incumbent Democrat Raphael Warnock.
"You know, he without sin cast the first stone," Walker said, quoting Jesus in John 8:7. "Does my opponent believe in redemption, being a pastor? That's what's so funny.
"And I say that because I'm not gonna get into what happened with him in his past. I want him to do—what's going on with his policy. He's talking about something I was a part of over 15 years ago, maybe even longer."
The allegations were initially brought up in Walker's primary race against Georgia Agriculture Commissioner Gary Black in a March 16 campaign ad posted online, PolitiFact reported. It included claims based on police reports and court records from 2001 to 2008 involving Walker's ex-wife, Cynthia Grossman. They were married from 1983 to 2002.
The ad accused Walker of having "a history of physically abusive and extremely threatening behavior" toward Grossman, going as far as allegedly threatening to kill her.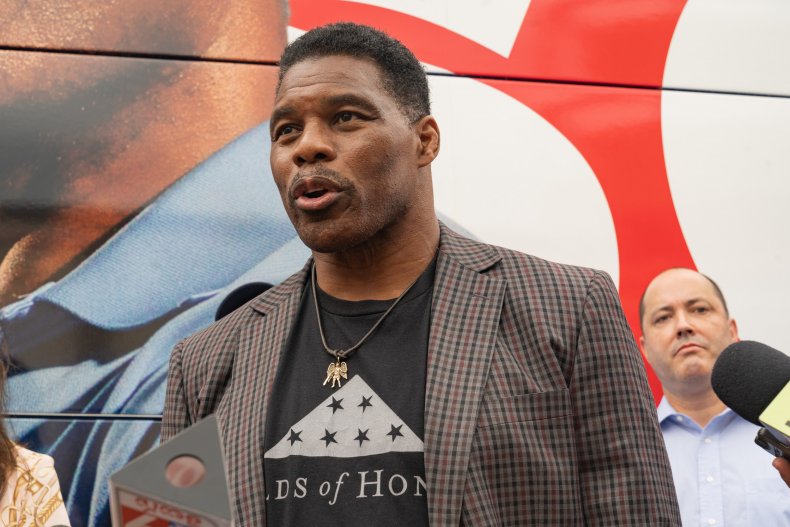 In his book Breaking Free, released in 2008, Walker revealed that he has a mental illness called dissociative identity disorder.
Grossman told CNN upon the book's release that her ex-husband "held a gun to her head a handful of times" and "also threatened her with knives." She said his eyes would get "evil."
"I remember just getting chill bumps when he looked at me," she said.
In a 2008 ABC News interview, Grossman said Walker held a gun to her head and said, "I'm going to blow your f'ing brains out."
Walker claimed to have no memory of it, according to the interview transcript.
In September 2021, the Republican Accountability Project, comprised of Republicans and conservatives who publicly call out extremist candidates, posted an audio conversation between Walker and Howard Stern in which the former University of Georgia football star said he used to play Russian Roulette by his lonesome.
"I've done that over six times," Walker told Stern, "and that's when I was going through this competition that I just love competition so much."
When asked by Stern if he understood how "insane" it was to do that, Walker replied that he never realized that.
"I thought that was the ultimate game of competition," Walker added.
Earlier this month, Walker released a campaign attack ad claiming that Warnock "hit his wife with his car," was "accused of neglecting his small children" and "ran from the process server" who tried to serve him court papers.
Warnock's ex-wife, Ouleye Ndoye, is mentioned in the ad.
PolitiFact reported that no proof exists that Warnock ran over his ex-wife's foot.
The Walker campaign's accusations of neglect stem from a complaint filed by Ndoye regarding Warnock's time spent with his children, as part of a child custody agreement.
Ndoye alleged that Warnock was not adhering to a "parenting time schedule" set in their divorce, PolitiFact reported. It was also alleged that she was not reimbursed by Warnock for child care expenses when the children were supposed to be with him.
A judge issued a temporary order on child custody and support August 19 following mediation, with details sealed.
Georgia Child Protective Services defines child abuse or neglect as injury to a child under 18 by a parent, guardian or caretaker; and failure from such to make sure children are properly housed, clothed, fed and supervised.
Warnock did reportedly drive away when papers were being served to him, according to PolitiFact.
Polls in Georgia remain close, though earlier this month Walker took a minute lead with less than two months until the midterms.
Newsweek has reached out to the Walker campaign for comment. The Warnock campaign declined to comment.
Update 9/28/22, 9:50 p.m. ET: This story has been updated with additional context regarding Warnock's legal issue with his ex-wife.