Hertz Files for Chapter 11 Bankruptcy Due to Pandemic Reducing Demand for Rental Cars
Rental car company Hertz filed for Chapter 11 bankruptcy protection Friday, citing losses caused by the coronavirus pandemic.
Hertz joins other large American companies in filing for COVID-19 related bankruptcy actions, including J.C. Penney and Neiman Marcus. No Hertz locations in the U.S. are expected to close, including subsidiaries such as Dollar, Thrifty and Hertz Car Sales.
"With the severity of the COVID-19 impact on our business, and the uncertainty of when travel and the economy will rebound, we need to take further steps to weather a potentially prolonged recovery," said Hertz President and CEO Paul Stone in a statement Friday.
Hertz's statement referred to the effect of coronavirus on the travel industry as "sudden and dramatic."
Newsweek reached out to Hertz for further comment. This story will be updated with any response.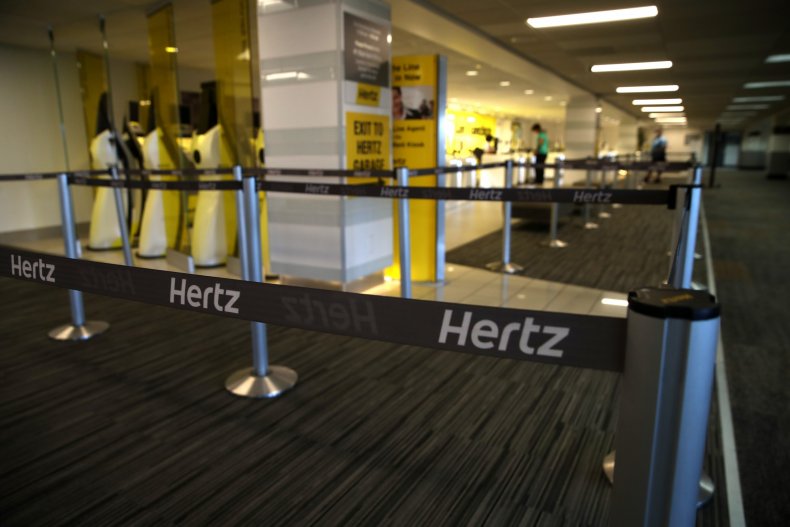 Before the pandemic, Hertz reported total revenues of $9.8 billion for 2019, which represented an increase of 3 percent over 2018. In March 2020, however, Hertz began laying off workers in an attempt to save money after missing lease payments on its rental car fleet.
Hertz was able to negotiate short-term relief from some of its largest creditors, but no long-term deals materialized. "Additionally," the statement from Hertz read, "the Company sought assistance from the U.S. government, but access to funding for the rental car industry did not become available."
Much of Hertz's business came from locations in airports, but orders issued by state governments for Americans to stay at home during the coronavirus pandemic significantly reduced air travel. United Airlines said in an April statement that it had seen a 97 percent drop in passengers. During the first two weeks of April 2019, the airline carried more than 6 million passengers. Less than 200,000 passengers flew United during the first two weeks of April 2020.
Hertz has been in business since 1918 and began offering rental services across the county by 1925. Its first airport location opened at Chicago's Midway Airport in 1932.
The coronavirus pandemic has caused financial losses to the travel industry across the board. In a March study from Oxford Economics, modelers projected a $400 billion decrease in U.S. travel spending in 2020 culminating in a "total economic loss of $910 billion in economic output."
"This is more than seven times the impact of 9/11 on travel sector revenue," the study continued.
Some airlines are requiring passengers to wear face masks in airports and during flights when feasible in an attempt to curb the spread of the virus. Others have canceled international flights for an indeterminate time. Leaving middle seats open to maintain social distancing has been considered by some airlines, but the International Air Transport Association (IATA) does not recommend the practice.
"Mask-wearing by passengers and crew will reduce the already low risk," read a May statement from the IATA, "while avoiding the dramatic cost increases to air travel that onboard social distancing measures would bring."