High Gas Prices Cause 'Fundamental' Shift In How Americans Use Fuel: Expert
American drivers have gone through a "fundamental change" in their gas usage due in large part to increased fuel costs, according to an expert who studies trends in gasoline consumption.
Nick VinZant, a senior research analyst and public relations specialist at insurance comparison platform QuoteWizard, told Newsweek on Thursday that a number of factors seemingly contributed to data that shows gas consumption in the U.S. recently dropped by 4 percent in recent months. He cited high inflation, more people working from home, and increased interest in alternative-fuel vehicles as reasons.
But the trend all comes back to the increased cost of gas. VinZant said that "people are simply driving less because of the price, or they're not going to work because of the price, or they're getting a different car because of the price."
The price of gasoline increased 11.2 percent in June from a month earlier and 59.9 percent over the past 12 months, according to data from the Bureau of Labor Statistics. However, prices have dipped somewhat recently. The American Automobile Association (AAA) reported that the national gas price average on Thursday was $4.605 for regular gas, down from more than $5 a month ago. Even still, that's more than a dollar higher than the $3.147 average at the same time last year.
"I think that as gas prices go back down, we will see fuel consumption pick back up a little bit," VinZant said. "But I also see signs that there is a fundamental change in how we are consuming and how we are driving."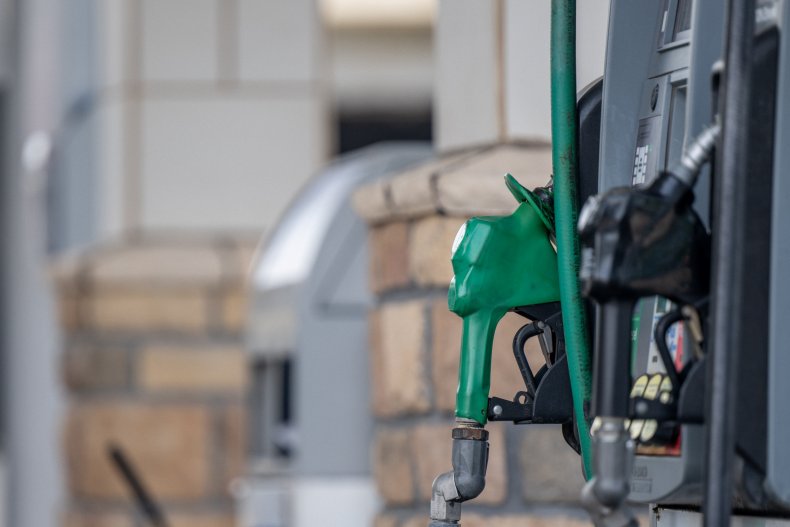 Last month, a detailed report was released and put together by a team of analysts at QuoteWizard, which tracks gas usage because "consumption affects automobiles, [and] automobiles affect insurance," according to VinZant.
The report published on June 27 found that gasoline usage had dropped 4 percent in the six-month period between October 2021 and April 2022, and VinZant told Newsweek that more recent data shows that the trend has continued into the summer.
"We normally consume around 9-and-a-half to 10 million barrels of gasoline a day," VinZant said. Now, "we're consuming about 8.8 million barrels of gasoline a day. That might not sound like a huge decrease, but it's massive. People are now using about 750,000 fewer gallons of gas every single day."
VinZant noted that this isn't the lowest rate of gas consumption that QuoteWizard has recorded in its tracking. During the initial lockdown stages of the coronavirus pandemic in the spring of 2020, he said statistical figures "dropped like a stone off the charts where they don't even have numbers for it." Gas consumption began picking back up later in 2020 but a noticeable shift occurred.
VinZant said an indication of "how low we are right now" in terms of gas usage is that "people are using only about 500,000 gallons of gasoline today more than they were during the height of the pandemic summer driving season."
"Traditionally, gas prices have been inelastic in terms of demand, in that gas prices will go up and people will drive the same. Gas prices go down, people drive the same. That's not the case now," VinZant said.
QuoteWizard has documented noticeable changes in consumption "compared to last year when travel was pretty much back to normal for a lot of places."
QuoteWizard's June report also found that Pennsylvania, New York and Massachusetts were the U.S. states that use the least gas, while Montana, Wyoming and Rhode Island consumed the most. VinZant said he doesn't believe it's coincidental that data showed there is higher interest among drivers in alternative-fuel vehicles, such as hybrids and electric cars, in states where gas was consumed at lower levels.
"I think it really has changed from 'Why would I get an alternative-fuel vehicle?' to 'Why wouldn't I?'" he said.