High-Ranking Republican Cheney Calls GOP Representative Steve King's Comments 'Racist' and 'Abhorrent'
Republican Representative Liz Cheney, of Wyoming—the third-ranking GOP House member—said on Thursday that comments on white supremacy from Republican Representative Steve King, of Iowa, were "abhorrent and racist."
King was quoted in an interview published in The New York Times Thursday wondering when language like "white supremacist" or "white nationalist" became offensive.
"White nationalist, white supremacist, Western civilization—how did that language become offensive?" King told the Times. "Why did I sit in classes teaching me about the merits of our history and our civilization?"
King has a long history of accusations of racism—and after the Times story hit on Thursday, a leader from his own party lobbed that allegation.
Reacting to a story about King's comments, Cheney posted on Twitter: "These comments are abhorrent and racist and should have no place in our national discourse."
Cheney wasn't the only Republican congressperson to condemn King's comments.
"This is an embrace of racism, and it has no place in Congress or anywhere," Representative Justin Amash, the Republican from Michigan, tweeted.
King claimed that he did not embrace racism. "Today, The New York Times is suggesting that I am an advocate for white nationalism and white supremacy," King said in a statement on Thursday. "I want to make one thing abundantly clear: I reject those labels and the evil ideology that they define."
King added in the statement that he was "simply a Nationalist."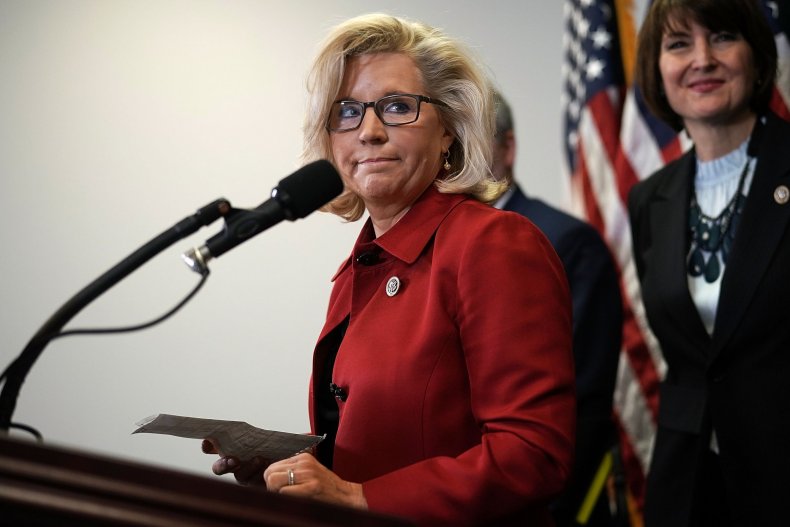 While King has pushed back against claims that he's racist, the congressman hasn't stopped doing things like retweeting British neo-Nazi Mark Collett or posting on social media in March 2017 that "we can't restore our civilization with somebody else's babies."
That quote from King inspired Andrew Anglin, the founder of neo-Nazi news and commentary site Daily Stormer, to write: "Steve King is basically an open white nationalist at this point."
Iowa's largest newspaper, The Des Moines Register pushed hard against King ahead of the 2018 election, though the congressman ultimately won re-election.
"In his almost 16 years in Congress, King has passed exactly one bill as primary sponsor, redesignating a post office," the paper's editorial board wrote. "He won't debate his opponent and rarely holds public town halls. Instead, he spends his time meeting with fascist leaders in Europe and retweeting neo-Nazis."