Republican Steve King Wonders How 'White Supremacist' and 'White Nationalist' Became Offensive
Updated | Controversial Representative Steve King, the Republican from Iowa, wondered in an interview published on Thursday how language like "white nationalist" and "white supremacist" became offensive.
King has long been labeled by his critics as a racist—which he denied—and in an interview with The New York Times he said race wasn't what mattered to him but rather the culture carried to "United States by whites from Europe."
"White nationalist, white supremacist, Western civilization—how did that language become offensive?" King told the Times. "Why did I sit in classes teaching me about the merits of our history and our civilization?"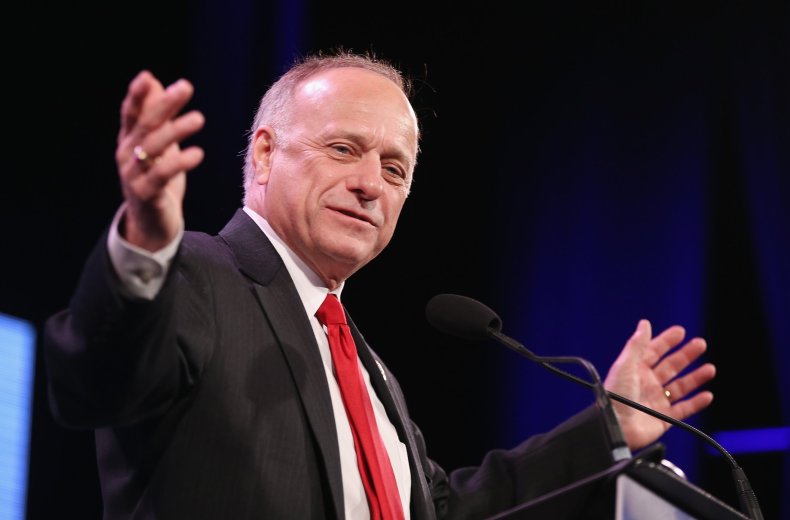 King has served in Congress since 2003 and has long been accused of espousing racist views, noted Vox. He has, for instance, retweeted British neo-Nazi Mark Collett (and refused to apologize) or posted tweets like "[Dutch politician Geert] Wilders understands that culture and demographics are our destiny. We can't restore our civilization with somebody else's babies."
In a statement responding to the Times story, King said he was a "Nationalist" but did not "advocate for white nationalism and white supremacy."
The Times story also revealed that King lamented the diversity of the House of Representatives as new members were sworn in. Many people of color and women were elected on the Democratic side, compared with Republican representatives, 90 percent of whom are white males. "You could look over there and think the Democratic Party is no country for white men," King said, according to the Times.
The largest paper in Iowa, The Des Moines Register, spoke out harshly against King while endorsing his opponent ahead of the 2018 election, which King went on to win.
"This one's a no-brainer for any Iowan who has cringed at eight-term incumbent King's increasing obsession with being a cultural provocateur," an editorial from the paper read. "In his almost 16 years in Congress, King has passed exactly one bill as primary sponsor, redesignating a post office. He won't debate his opponent and rarely holds public town halls. Instead, he spends his time meeting with fascist leaders in Europe and retweeting neo-Nazis."
The piece from the Times explored King's growing influence in the Republican Party and his relationship with Trump, including him once telling the president that he had "market-tested" his winning 2016 message on immigration.
Update: This story was updated to include King's statement.