People Are Calling Out Republicans for This Photo Comparing Newly Elected House Members
As equality advocates celebrated a historic rise in the number of women and minorities elected to Congress in the 2018 midterms, photos of the House of Representatives members-elect highlighted the contrast between incoming Democrats and Republicans.
A yearbook-style collection of headshots of the 116th Congress members-elect had social media users pointing out the lack of diversity among incoming Republicans.
"This portrait of newly elected members of Congress is striking," New York Times congressional correspondent Sheryl Gay Stolberg noted, sharing a handout of the members-elect photos on Twitter. "Of 31 new Republicans, just one is a woman," she said, pointing out that "nearly all the men are white."
Pointing out the disparities between the group, social media user Inma Vega asked: "Which one reflects better the social reality in the States?"
There may be a second woman joining the GOP group if Young Kim, who is locked in a California House race that is too close to call, wins. If she's declared the winner, she will be the first Korean-American woman elected to Congress.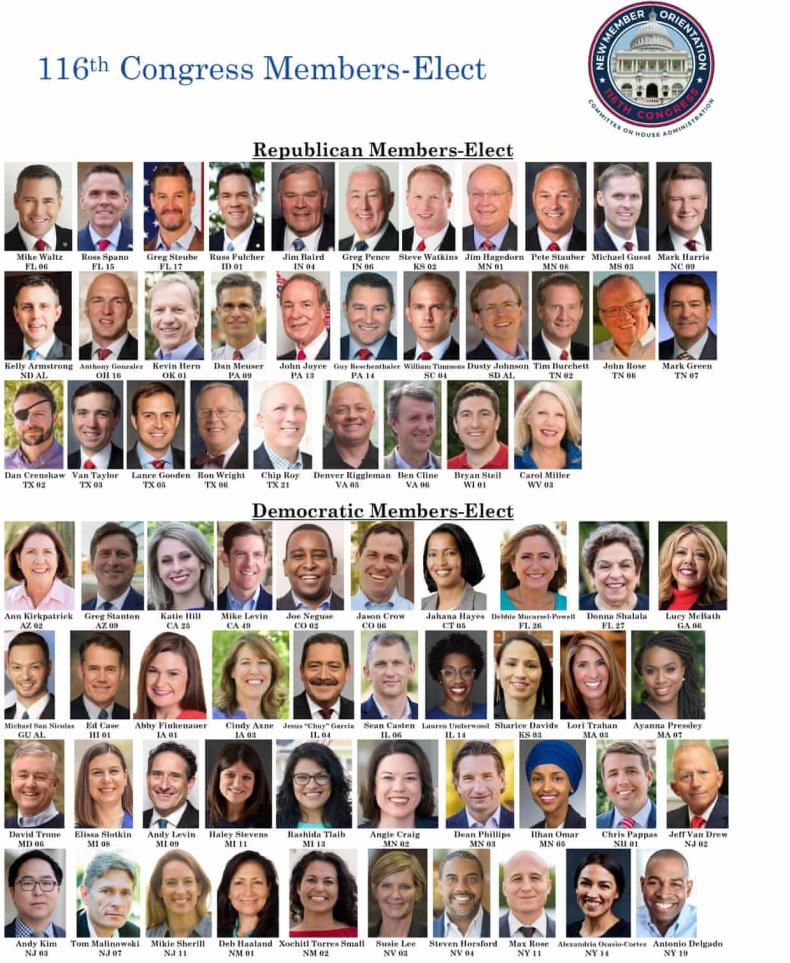 A scan of the 40 Democratic members-elect reveals a more diverse group, with 22 women and only a handful of white men.
The Democratic group includes a number of members-elect who scored historic victories for diversity in the U.S., including Rashida Tlaib and Ilhan Omar, who became the first Muslim women elected to Congress, and Sharice Davids and Deb Haaland, who became the first Native American women to join Congress.
Democrat members-elect have also raised LGBT representation in Congress, including Davids, who made history as the first openly LGBT Kansan elected to Congress, and Katie Hill, who became California's first openly bisexual candidate elected to Congress.
An analysis shared online by the Cook Political Report's Dave Wasserman on November 11 anticipated that the proportion of white men within the Democratic caucus would drop from 41 percent to 38 percent next year, while representation of the same group was expected to rise among Republicans from 86 percent to 90 percent. Part of the drop in female members could be attributed to a string of retirements.
Those numbers could change, with some races still too close to call, including Young Kim's.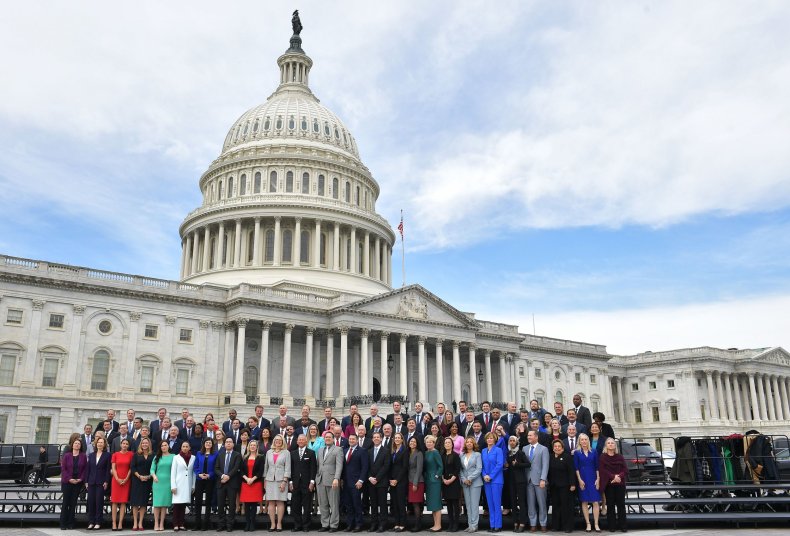 While the Republican Party did make some progress toward gender parity, with GOP Representative Kristi Noem set to become South Dakota's first female governor after defeating Democrat Billie Sutton in a tight election race, it did not see the same level of historic firsts that the Democratic Party enjoyed.
Read more: From Alexandria Ocasio-Cortez to Ilhan Omar: 10 Women Who Will Change America
In addition to Tlaib, Omar, Davids and Halland's historic victories, the Democratic Party also saw a number of other wins for diversity in government.
Among them is Ayanna Pressley in the Massachusetts 7th District, who was the first black woman elected to Congress from her state.
Democratic Representative Kyrsten Sinema also made history, winning her bid to replace GOP Senator Jeff Flake in an incredibly tight Arizona Senate race and becoming the first woman to represent her state in Senate, as well as the first openly bisexual candidate to serve in the U.S. Senate.
Texas voters also saw former El Paso County Judge Veronica Escobar and state Senator Sylvia Garcia of Houston defeat their Republican opponents, making history as the first Latinas elected to represent the state in the U.S. House.
While Latinos make up nearly 40 percent of the state's population, according to the U.S. Census Bureau, until now no Latino woman had been elected to Congress from Texas.