High Schoolers in Washington, D.C. Stage 'Lie-In' As Student Cry for Gun Reform Grows Louder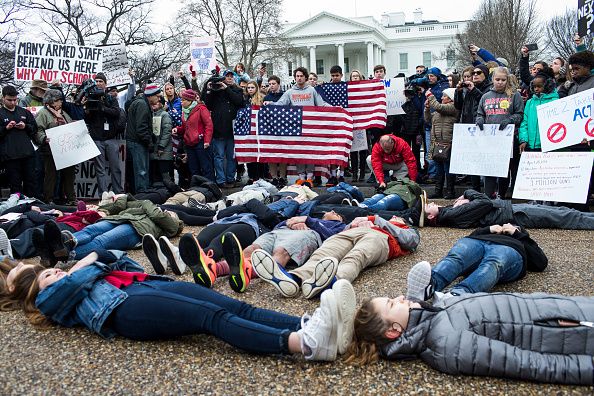 Local high school students and protesters descended on the White House Monday to protest gun violence and inaction from Congress in the wake of another deadly mass shooting in Florida last week.
Early in the protest, D.C. high schoolers participated in a "lie-in"—laying down on the ground motionless for three minutes at a time—to make "a statement on the atrocities that have been committed due to the lack of gun control," according to the Teens for Gun Reform Facebook group that publicized the protest. In a Facebook Live video, a reporter for BuzzFeed News estimated that 50 to 75 students were part of that demonstration.
Last Wednesday's shooting at Marjory Stoneman Douglas High School in Parkland, Florida, left 17 people dead—14 students and three staff members—and was at least the eighth school shooting in 2018, according to CNN.
Many protesters stayed into the afternoon, holding signs that largely espoused anti-NRA and anti-gun sentiments, according to Facebook Live footage from BuzzFeed News. A few read: "Love your kids, not your guns," "We call B.S." and "NRA there is blood on your hands."
Conversely, a few attendees held pro-gun signs such as "American freedom is NOT the enemy" and, "Many armed staff behind us here. Why not schools."
BuzzFeed News asked various students about their motivations for attending. Answers included feeling "fed-up" with only receiving "thoughts and prayers," anger at inaction by Congress and concern for their own safety in school moving forward.
"It was high school students being killed, and so many of us in the nation are high school students," one student at the protest said. "We can all relate to this." Her friend next to her added, "Enough is enough."
President Donald Trump's address to the nation last Thursday was void of any mention of guns or gun policy, though the White House said in a statement Sunday that Trump intends to host a "listening session" with students and teachers from Marjory Stoneman Douglas High School on Thursday. Recent reports added Trump is now open to bolstering the federal background check system, despite running as a pro-gun candidate and receiving about $30.3 million from the NRA during his campaign.
In addition to Monday's activism, high school students and teachers across the country are planning future walkouts to spur Congress to pass gun control legislation—including an #April20Walkout on the 19th anniversary of the Columbine High School shooting and a March 14 #NationalSchoolWalkout that the Women's March Twitter account is promoting.
Five survivors of last week's Florida shooting also announced on Sunday a larger "March for Our Lives" demonstration in Washington, slated for March 24.
"People are saying that it's not time to talk about gun control. And we can respect that," said Cameron Kasky, an 11th-grader. "Here's a time. March 24th in every single city. We are going to be marching together as students, begging for our lives."
SaveSave
SaveSaveSaveSave