High School Student's Mom Says Son Was Refused Lunch for Not Wearing Mask
A woman in Pennsylvania has said her son was denied his school lunch because he was not wearing a mask, as the state-mandated COVID measure, which came into force this week, continues to face some opposition.
From Tuesday, all students, teachers, staff, and visitors aged two years or older have to wear the mask and no exemptions are granted for those who are fully vaccinated.
Mandi Stewart said that two teachers at Armstrong Central High School asked her son, sophomore Colton Stewart, to wear a mask but he still managed to remain without a mask between 7.30 a.m. and 10.30 a.m. on Tuesday, TribLive reported.
However, a cafeteria worker who asked him to wear a mask did not give him his meal when he refused to put the covering on, she said. She picked him up from school after he contacted her from the principal's office.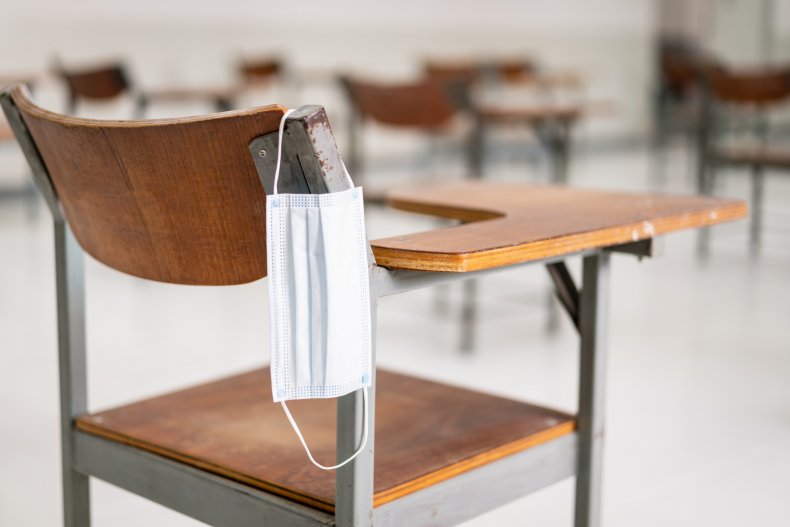 TribLive said that she would investigate about the legality of declining food for a student.
Josh Williams, assistant superintendent for the Armstrong School District told Newsweek in an emailed statement: "We will not discuss individual students and/or parents. No student was or will be denied a lunch for not wearing a mask."
In an earlier statement on September 3, Armstrong School District had said that students were not required to wear masks during lunch. The coverings are also not required for physical education class, or when taking part in sports or activities like music.
However, it did warn that "ignoring or choosing not to follow this mandate is currently not an option for schools in our School District or any other district."
The statement by Superintendent of Schools, Chris DeVivo, acknowledged social media posts had been encouraging students to protest the mandate by walking out on Tuesday, but warned it would "result in more lost instructional time for our students."
Tuesday did see protests and a flouting of the rules in other parts of Pennsylvania amid anger from some Republicans, with GOP lawmakers in the state House planning to come back to Harrisburg to mount a legislative response.
In the Derry Area School District, students reported for school and left, carrying signs opposing the mandate in an action that required a police presence, TribLive reported.
The Hamburg Area School District in Berks County said masks would be optional pending a board meeting to discuss the measure, while the Tamaqua Area School Board in Schuylkill County voted to keep the coverings optional, the Associated Press reported. Regarding the former, the board would vote 5-3 late Tuesday to require masks, said the AP, citing WFMZ.
The governor's order says non-compliance with the mask mandate could lead to criminal sanctions and civil lawsuits, although it was not clear how or if the administration would enforce this.
School officials who do not follow the order "could lose the protection of sovereign immunity and may personally face lawsuits from those who may be affected by any official's attempt to ignore the order," said Mark O'Neill, a Department of Health spokesperson, according to the AP.