'Highly Offended': Woman Supported for Flipping Script on Invasive In-Laws
Members of a popular internet forum were quick to offer advice to one woman who detailed the contentious relationship she shares with her soon to be in-laws.
In a viral Reddit post published on r/AmITheA**hole, Redditor u/Backyard-Block97 (otherwise referred to as the original poster, or OP) said she has long been the subject of personal, hurtful interrogations by her in-laws and explained how she recently began firing the same queries back in their direction.
Titled, "[Am I the a**hole] for asking my [in-laws] the same questions they ask me?" the post has received nearly 9,000 votes and 800 comments in the last 10 hours.
Writing that she became engaged just last month, the original poster said that her fiancé's family members constantly ask about everything happening in her life, but added that their repeated inquiries have gotten out of control.
Instead of wilting underneath their aggressive lines of questioning, however, the original poster said she devised a plan to stand up for herself, while shutting down her in-laws in the process.
"Whenever my fiancé and I are visiting. My [sister-in-law] would ask 'hey when are you going to lose those pounds?'" OP wrote. "[So] I go 'when are YOU going to lose those pounds[?] you've put up a lot of weight recently.'"
"[Father-in-law] would ask 'when are you going to get your own house[?]'" OP continued. "I [asked] 'when are YOU going to get your own house...aren't you 73 and still paying rent?'"
Noting that her fiancé's family was "highly offended" by her new deflection method, the original poster said her in-laws picked up on what she was doing, but were completely blindsided when the original poster took issue with her future mother-in-law.
"The blowup occurred last night when my fiancé and I were at their house for dinner," OP prefaced. "[Mother-in-law] looked at me [while] I was eating and...asked 'when are you going to start giving us babies?'"
"I felt no hesitation," OP continued. "I looked at her and said 'when are YOU going to start giving us babies, that's what I wanna know!'"
"I got scolded by my fiancé on the way home telling me I was being rude with the way I talk back and respond to his [family's] innocent questions," OP added. "He yelled at me...saying I'm driving him crazy and called me childish and immature."
Though tales of unruly stepchildren and Disney World debacles have dominated Reddit's r/AmITheA**hole forum this summer, there is no shortage of in-law horror stories.
From one mother-in-law who repeatedly triggered her daughter-in-law's obsessive-compulsive disorder by rearranging her home to another who demanded her daughter-in-law "work a bit harder in the bedroom," the internet is rife with anecdotes of poor treatment at the hands of a romantic partner's family.
And while a majority of threads on forums like Reddit and Quora focus on mothers-in-law, toxic behavior is not contained to just one family member.
In 2020, relationships website Your Tango published an article authored by Brittany Webb, a woman who knew her husband's family didn't like her, but simply did not care.
Explaining that her fiancé's parents refused to get to know her, and claimed that she had transformed their son into a complete stranger, Webb revealed that the couple implemented an overarching no contact policy and asserted that no person should be forced to endure disrespect just to appease a partner's toxic family members.
"No one should be forced to tie themselves to a fractured, possibly toxic relationship for the sake of tradition," Webb wrote.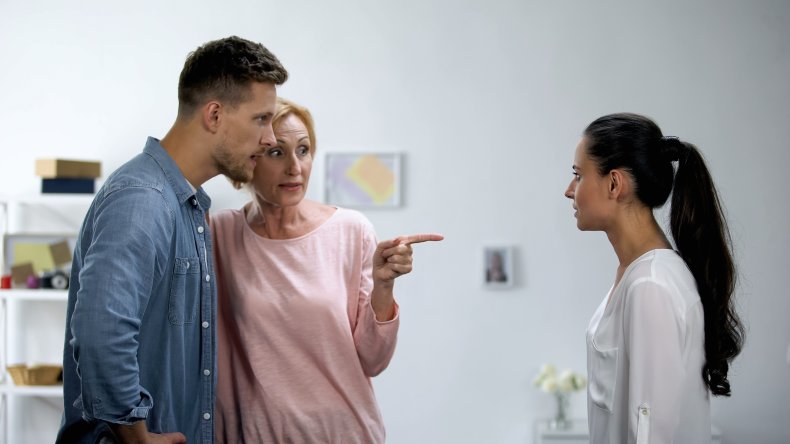 Throughout the comment section of the viral Reddit post, Redditors echoed this sentiment, and advised the original poster to reevaluate her relationship before moving forward with antagonistic in-laws and a fiancé who enables their behavior.
"[Not the a**hole]," Redditor u/weaselpoof wrote in the post's top comment, which has received nearly 14,000 votes. "Your in-laws are being rude, and at this point should be able to predict how you'll answer these questions.
"Does your fiancé really not think they're being invasive?" they added. "Maybe talk about this before you get married."
Redditor u/kawaiijudochop, whose comment has received more than 4,000 votes, pushed the further.
"They don't have a family problem," they wrote. "They have a fiancé problem."
"Are you sure you're excited to become a party of this family?" Redditor u/crunchyleafs_ questioned, receiving nearly 3,500 votes. "They kinda treat you like s**t... And your fiancé doesn't have your back."
Newsweek reached out to u/Backyard-Block97 for comment.