Highway Toll Workers Searching for Owner of Lost Wedding Dress
During a routine roadside cleanup in North Texas, a crew member found a piece of debris that wasn't really debris at all: a wedding dress. Now, the North Texas Tollway Authority (NTTA), the agency that oversees the maintenance of the region's toll roads, bridges and tunnels, is trying to track down its rightful owner.
The advent of the pandemic sent the wedding industry into an immediate downward spiral. More than a third of engaged couples who had been planning to tie the knot in 2020 postponed their big day until 2021 or later, causing a massive backlog in flower supplies, venue bookings, and catering services. With roughly half of the national population fully vaccinated against COVID-19, the industry is beginning to recover, and prices are skyrocketing as vendors try to recoup their losses.
On Friday, the dress was discovered in a white box along the Dallas North Tollway in Frisco, Texas. It is being stored in what KTVT describes as a "safe place" until someone comes forward to claim it. However, the clock is ticking. If the dress is not claimed within 90 days of its discovery date, it could be sold at auction, according to the local news station.
Documents included in the box indicated that the dress was packaged more than 20 years ago, meaning that it was likely not worn recently. It was "dry-cleaned" and is "very well-preserved," Michael Rey, the media relations manager for the NTTA, told the local news outlet WFAA.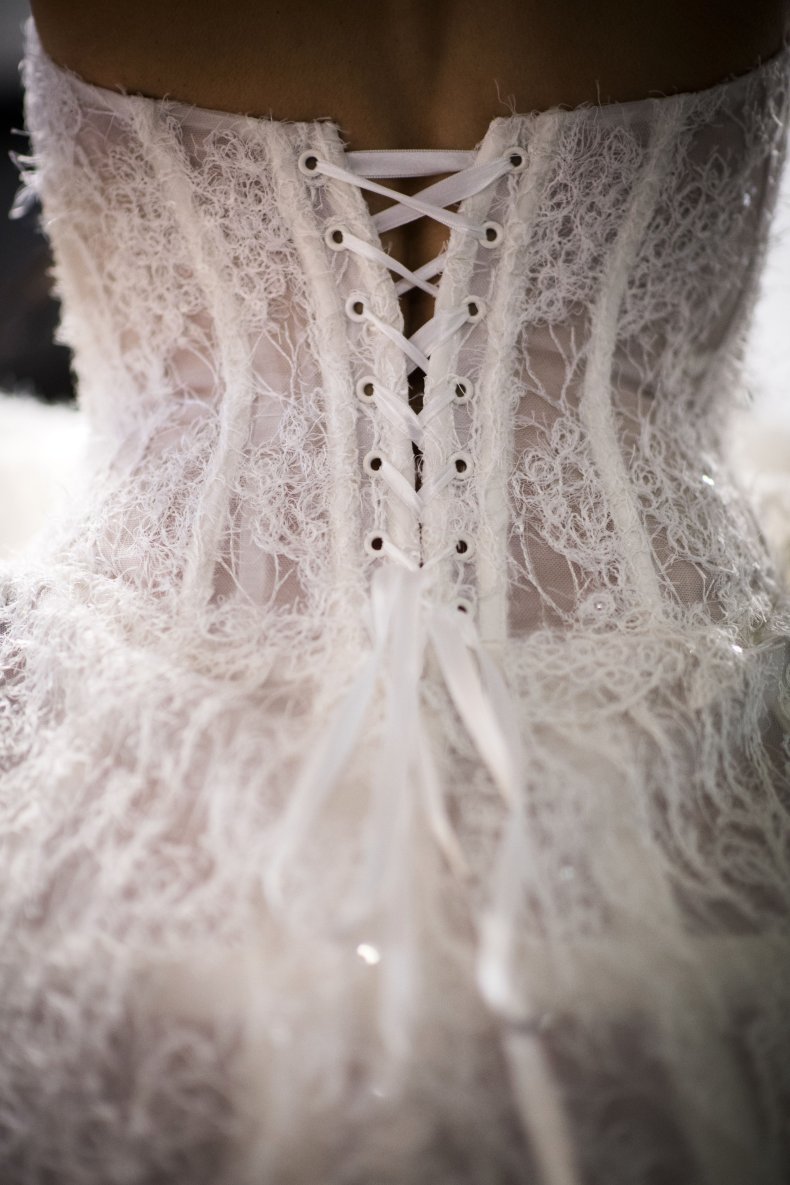 "This is not a Sally Field, Smokey and the Bandit deal. It didn't go flying out of a vehicle per se," Rey told CBS-DFW, referring to a scene in the 1977 movie in which Field's character Carrie throws her wedding veil and shoes out of her car window. Rather, Rey said, "it's clearly somebody's memory. Somewhere along the way, they lost track with [sic] it and we'd like to reunite them."
While the NTTA has cameras stationed along the Dallas North Tollway, the recovered footage hasn't yielded any clues, so the agency turned to social media for help tracking down the onetime bride. On Tuesday, the NTTA posted a full-length picture of the dress on Facebook with the caption, "We need your help! Did you lose your wedding dress on DNT in Frisco? If this is your dress, or you know who it belongs to, reach out to us at TalkToNTTA@ntta.org."
More than 500 accounts have commented on the post and more than 2,000 accounts have shared it so far. "So, just so am [sic] clear, you can find a wedding dress NTTA but you can't tell me why you are charging me $40 every three days AND sending me a $400 bill...?" one wrote. Multiple people have identified the dress as their own, but none have been able to describe it accurately, the NTTA wrote in a follow-up post. For now, it remains in the NTTA's custody.
Rey said that the agency has been down this road at least once before.
"This is not our first wedding dress," he told D Magazine, a publication that serves the Dallas area. "It was before my time, but I'm told we reunited somebody with a wedding dress years ago. We've done class rings, we've done luggage."
Judging by photos the NTTA shared on Twitter and Facebook, the white dress is sleeveless and has a full tulle skirt lined with lace trim.
In a similar recent missing-property case, newlyweds heading to their honeymoon location had to enlist the help of Transportation Security Administration (TSA) officials at New York's John F. Kennedy International Airport after the wife realized that the diamond in her engagement ring had fallen out of its setting. A TSA official eventually found the stone after five hours of searching.