TSA Searches for 5 Hours to Find Diamond That Fell off Woman's Engagement Ring
A blushing bride can breathe a sigh of relief now that her engagement ring diamond has been recovered.
A couple flying through a New York airport for their honeymoon got off on a rocky start to their trip, after the woman realized the diamond on her engagement ring had fallen out of its setting. Fortunately, after five hours of searching the airport, a Transportation Security Administration (TSA) agent found the jewel unharmed and returned it to the couple.
According to a press release issued by the TSA on Monday, Amir Khan Durrani and his wife were scheduled to fly out of John F. Kennedy International Airport for a trip to Guam for their honeymoon, which had been delayed due to the COVID-19 pandemic and related travel restrictions. While grabbing a cup of coffee prior to boarding, the couple from Flushing, Queens was horrified to realize the "newly purchased" engagement ring was missing its diamond.
"My wife was crying hysterically as we did not know what happened, nor did we know how to approach the situation," Durrani said in a written statement to the TSA.
Durrani immediately alerted the TSA officers at their checkpoint of the situation. "Everyone was extremely kind and helped me as much as they could to locate the lost diamond," he said in his statement to the TSA. "I told them that I knew this was not their job...[but] everyone present helped look for the diamond to no avail."
The missing diamond is far from the strangest item the TSA has been tasked with taking care of. In June, TSA agents at LaGuardia Airport in New York stopped a man after they found 50 bullets in his carry-on bag. The man, according to the TSA, told agents he was "unaware" the bullets were in his bag.
In April, one traveler had their morning meal confiscated after TSA officers reportedly found crystal meth stuffed inside of their breakfast burrito. Agents at the William P. Hobby Airport in Houston noticed an "unidentified lump" that made the wrap an odd size and shape.
Some officers even got a sense of déjà vu when a Florida man was arrested for allegedly bringing a loaded gun twice in a month at two separate upstate New York airports.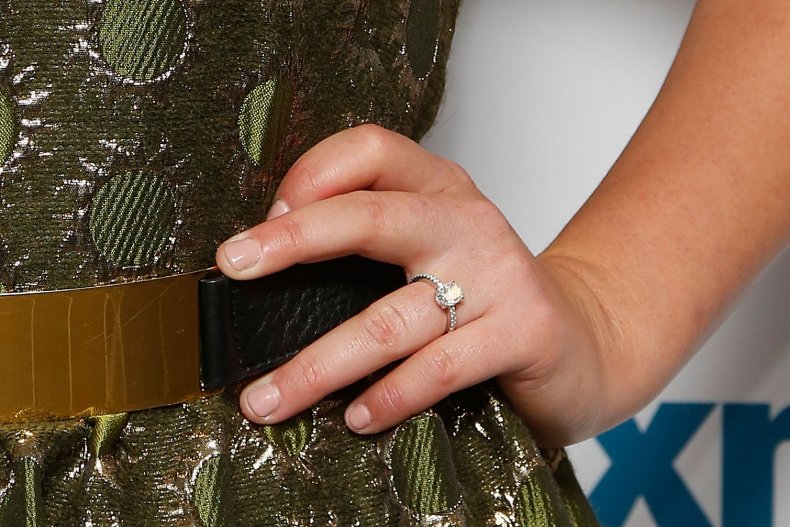 Fortunately, after five hours of searching, lead TSA Officer John Killian reportedly found the jewel after his break. He "spotted the sparkle" near a busy checkpoint line, and realized he had found the missing diamond.
"I...thought to myself, 'No way that could really be it,'" he recalled in the TSA press release. "I walked over and picked it up." The stone was on the floor between the metal detector and the X-ray machine. "The shine caught my eye. I was like, 'wow, I just found this diamond!'"
Upon landing in Guam, the Durranis received a text message and phone call saying that a diamond had been found at the airport. A photo was sent, and they confirmed it was indeed their missing jewel.
"Our trip went from a chaotic moment to one at peace," Durrani wrote in an email to the TSA team. He expressed his appreciation for the effort that went into finding the jewel, and thanked the TSA for keeping it safe until the couple got back to New York.
"I want to mention deep down in my heart, that this moment put us in relief," he added. "I hope everyone understands how much this meant to my wife and me."
Jewelers recommend that those in the market for an engagement ring use a reputable shop to ensure a higher quality piece. While big names like Tiffany's are often out of most people's budgets, locations verified on the Jewelers of America list or the Better Business Bureau are also great options. Experts also recommend getting a loose stone certified by the American Gem Society or the Gemological Institute of America.
One "secret engagement ring buyer" who assists in jewelry purchases for novice buyers noted that knowing where and how a diamond, gemstone and metals are sourced can ethically be very important to some. She also reported that between traditional jewelry shop visits, stopping in at antique dealers and creating an original piece, the options for the perfect engagement ring are endless.
Newsweek reached out to the TSA for additional comment on the incident, but did not hear back in time for publication.