Hilarious Moment Dog 'Doesn't Get' That Cat Sister Dislikes Play Fighting
A dog and a cat named Widget and Olive have delighted viewers on social media after a video of them playing together went viral on TikTok last week.
The viral clip was shared on the platform on Sunday by the pets' owner, under the username Widget.mas. In it, the Aussie shepherd and its cat sibling can be seen sitting together on their living room table, before a different shot shows them playing with each other a little bit too hard, with Widget fitting Olive's entire head in its mouth, thinking its sister doesn't mind when her face clearly says it all.
The hilarious post comes with the caption: "Stop playing with the cat like she's a dog," and "Sometimes you have to be a little bit naughty." Followed by: "Dogs and cats have different play styles but Widget doesn't get it. Your sister does not play like how dogs play. Maybe try offering her a box instead."
The pets' owner, Carly, told Newsweek that at first when they brought little 8-week old Widget home, Olive wasn't too sure what to think about her little brother but they slowly gained each other's trust.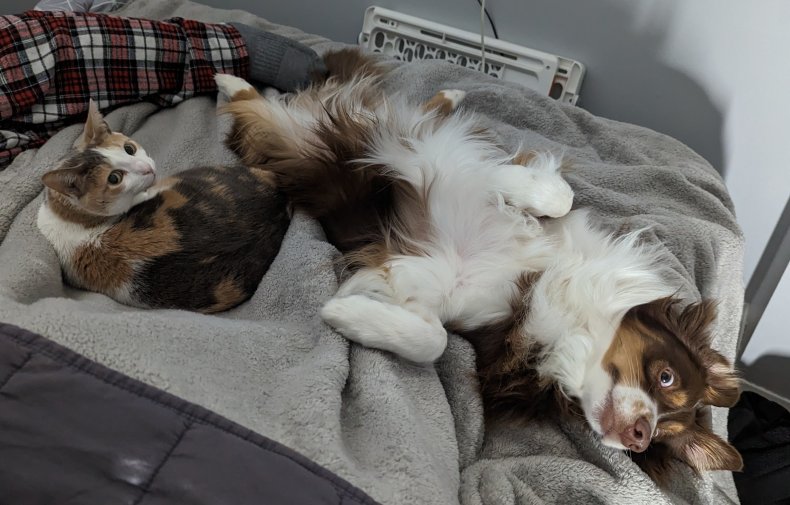 She added: "You can often find them curled up on the couch when it's sunny and sleeping together, or sometimes they will both cuddle up with me in bed. Olive will eat cat nip I sprinkle down for her and Widget thinks it's also for him so he eats the cat nip too.
"At the end of the day they have a typical big sister-little brother bond, sometimes he just likes to bug and annoy her, and other times he just wants to be beside or hang out with her around the house."
According to the American Kennel Club, (AKC) even though they've always been portrayed as each other's worst enemies, dogs and cats don't actually hate each other. In fact, when socialized properly from a young age, they can become very close friends, and even share naps together!
Because of their hunting origins, dogs love to chase things, whether they're balls, toys or cats. So, they like to chase cats not because they hate them, but because they trigger their instincts.
But sometimes the two can still be affected by miscommunication issues. Because cats and dogs also communicate differently, and a wagging tail has a different meaning in cats' behavior than it has in dogs' behavior, signals between the two can get confused and tension can arise.
The video quickly went viral on social media, attracting animal lovers from across the platform, and it has so far received over 430,200 views and more than 63,900 likes.
One user, black.rocco, commented: "Is it just me or they look alike?" And Emily said: "They look like twins." Nothing added: "I can hear it now... 'get your sisters head out of your mouth! What have I told you!?"
Cloudy wrote: "It almost seems like she doesn't mind lol." And Rebecca said: "Sister sure does love Widget. or she would take an eye out." mrsdowd1 added: "They are so freaking cute."
Another user, Tasha, commented: "Mine love each other but can go wrong cause cat wants to play with her 10" claws and dog those fangs." And Jodie Chadbourn said: "My dog and cat do this all the time." Loz added: "haha my frenchie with my cat. she doesn't understand she's not a dog."
Update: 2/23/23 3:25 a.m. This article has been updated with a picture of Olive and Widget and comment from the original poster.
Do you have funny and adorable videos or pictures of your pet you want to share? Send them to life@newsweek.com with some details about your best friend and they could appear in our Pet of the Week lineup.