Secret Alliance Between Corgi and Cat Leaves Internet in Stitches: 'Chaos'
An unlikely alliance between a cat and corgi has left the internet in hysterics.
In a viral TikTok clip shared by @hammyandolivia, a British shorthair cat called Theodore can be seen pushing treats off the kitchen worktop for six-year-old Hammy, the Pembroke Welsh Corgi.
Their owner, Chris Equale, 35, from Las Vegas, spoke to Newsweek about the comical video, which had over 4 million views and 624,800 likes at the time of writing.
During the clip, Theodore is referred to as a "doggy door dash" that doesn't require a tip as the "feline Robin Hood" notices when Hammy is waiting near the counter so he jumps up, "hand delivers the treat, and then does his own thing."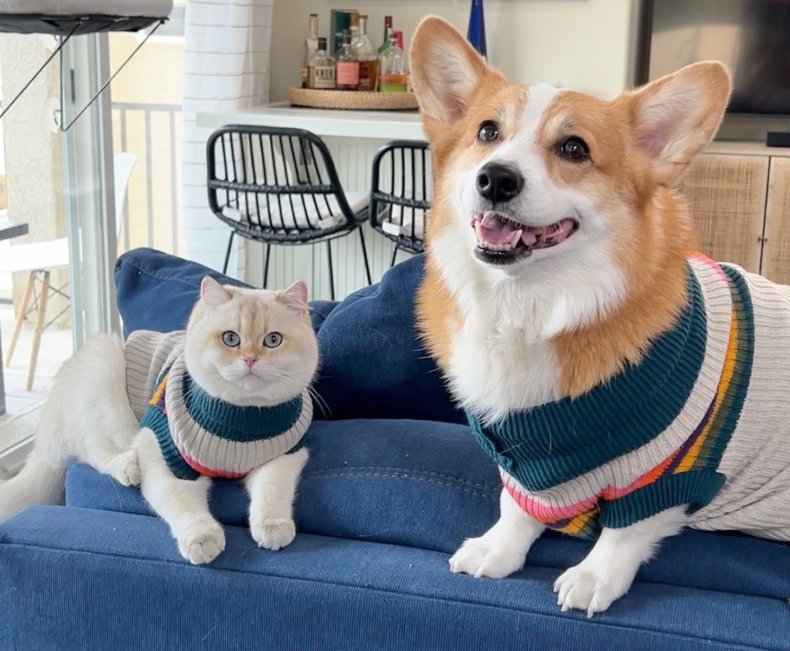 This video may not surprise corgi owners as they are known for almost always needing a job, according to The American Kennel Club. While Hammy isn't carrying out the manual work in this case, he is somehow ordering his feline friend to do his dirty work for him.
Equale, a content creator, told Newsweek: "The two of them are very close friends. They wear matching outfits and snuggle in bed together. Hamilton has always had a crush on the neighborhood cat when he would get walked in the morning, so we decided to get him a pet cat that he could play with full-time. Theodore has embraced Hammy as his doggy brother.
"We learned of their bond when we would hear items falling from the kitchen counter in the other room. We thought Theodore was just knocking off things for us to clean up, but every time we would go into the kitchen, we would see that he kept knocking off dog and cat treats.
"Soon after, we'd find Hammy waiting in the kitchen for Theodore to knock more treats off the counter for him, even when Theodore wasn't on the counter!
"Initially, we were nervous that Theodore was knocking off items that would be harmful to Hammy, but over time, we saw that the only items he would knock off were the treats, so we became less concerned."
Making the Job Harder
Now, the treat bins have been placed on top of the refrigerator so that Theodore can't access them.
"We have to be mindful of Hammy's weight gain since corgis need to stay lean so that he doesn't put any added weight on his short legs. Theodore has been trying to figure out how to get there ever since!"
Over 2,280 TikTok users have commented on the viral clip and the top comment has 31,200 likes.
It said: "The cat dropped chocolate, that's attempted homicide lol."
"I think you've misunderstood the situation... that cat isn't a doggy door dash, the dog is now the CAT'S PET," said another person.
Another TikTok user said: "Cats don't need pay- chaos is their compensation."
Do you have funny and adorable videos or pictures of your pet you want to share? Send them to life@newsweek.com with some details about your best friend and they could appear in our Pet of the Week lineup.