Hillary Clinton Booed, Called a War Criminal By Crowd While Accepting Chancellorship
Hillary Clinton was heckled and booed by a crowd outside of Queen's University in Belfast on Friday as she attended a ceremony installing her as the college's first female chancellor.
A 40-second clip posted on Twitter showed Clinton dressed in robes as a child follows behind her, holding the garment up to prevent it from dragging on the ground. As she steps into the roadway, toward the university, members of the crowd begin yelling at the former U.S. Secretary of State.
One person can be heard screaming "war criminal!" at least a dozen times while another individual yells for Clinton "to go f**k" herself. Someone else in the group shouted, "shame on Queen's" before an inaudible chant briefly starts.
The group is anti-war and was protesting against the United States' foreign policy, according to British media.
Clinton appeared to be unphased by the taunting and gave a quick wave before ascending the college's steps.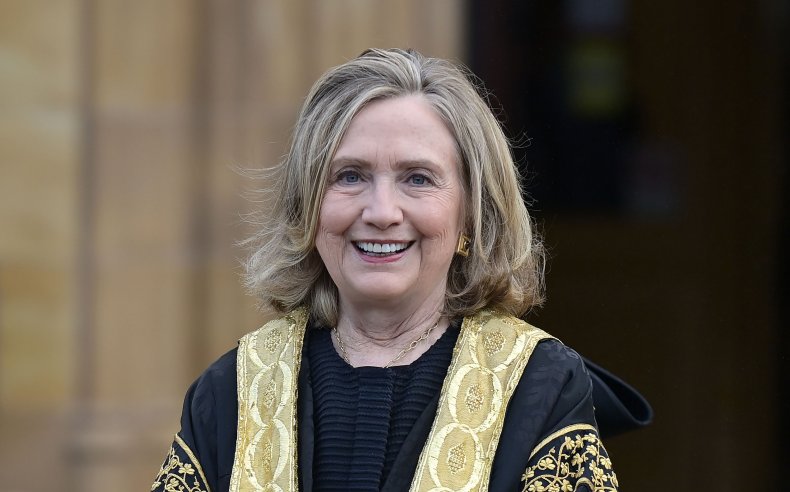 The politician was originally appointed as chancellor in January 2020 but her installation was delayed because of COVID. She is the university's 11th chancellor and the first woman to hold the title.
"Secretary Clinton is an internationally recognized public servant who has demonstrated a longstanding commitment to Northern Ireland. She has an enormous amount to offer the University and will continue to work as a key advocate for Queen's on the international stage," Professor Ian Greer, the president and vice-chancellor of Queen's University, said in a statement.
The term is for five years and will be largely ceremonial, however, Clinton will oversee graduation ceremonies, serve as the university's ambassador and offer advice to senior management.
Prior to the ceremony, Clinton said she was happy to be in Northern Ireland and is proud of her "longstanding connection" with the country. In her acceptance speech, she said the decision to take on the role was easy as she's always enjoyed being on campuses and talking with students.
But she also cited the country's recent history as part of her reason.
"Northern Ireland has become a symbol of democracy's power to transcend divisions and deliver peace, and we need that beacon of hope now more than ever," Clinton said during her inauguration ceremony.
"But with hope comes responsibilities, the responsibility to be a citizen, to be willing to discuss and learn from people unlike yourselves," she added. "To debate and compromise in search of common ground to participate in our shared institutions, to respect the rights, dignity and needs of all people, and to uphold the rule of law."
Fourteen other individuals from areas like business, politics, sports, the arts and education were awarded honorary degrees during Clinton's installation. Among them include Derry Girls creator Lisa McGee and international field hockey player Shirley McCay.
In 2018, Clinton received an honorary doctor of law degree from Queen's University Belfast. She was also awarded an honorary doctorate in civil law at Oxford—which former President Bill Clinton attended between 1968 and 1970—the day before her 2021 ceremony in Belfast. Their daughter, Chelsea, graduated with a doctorate from the school in 2014.