Hillary Clinton Book 'What Happened' Shows She is Official Grief Counselor for Dems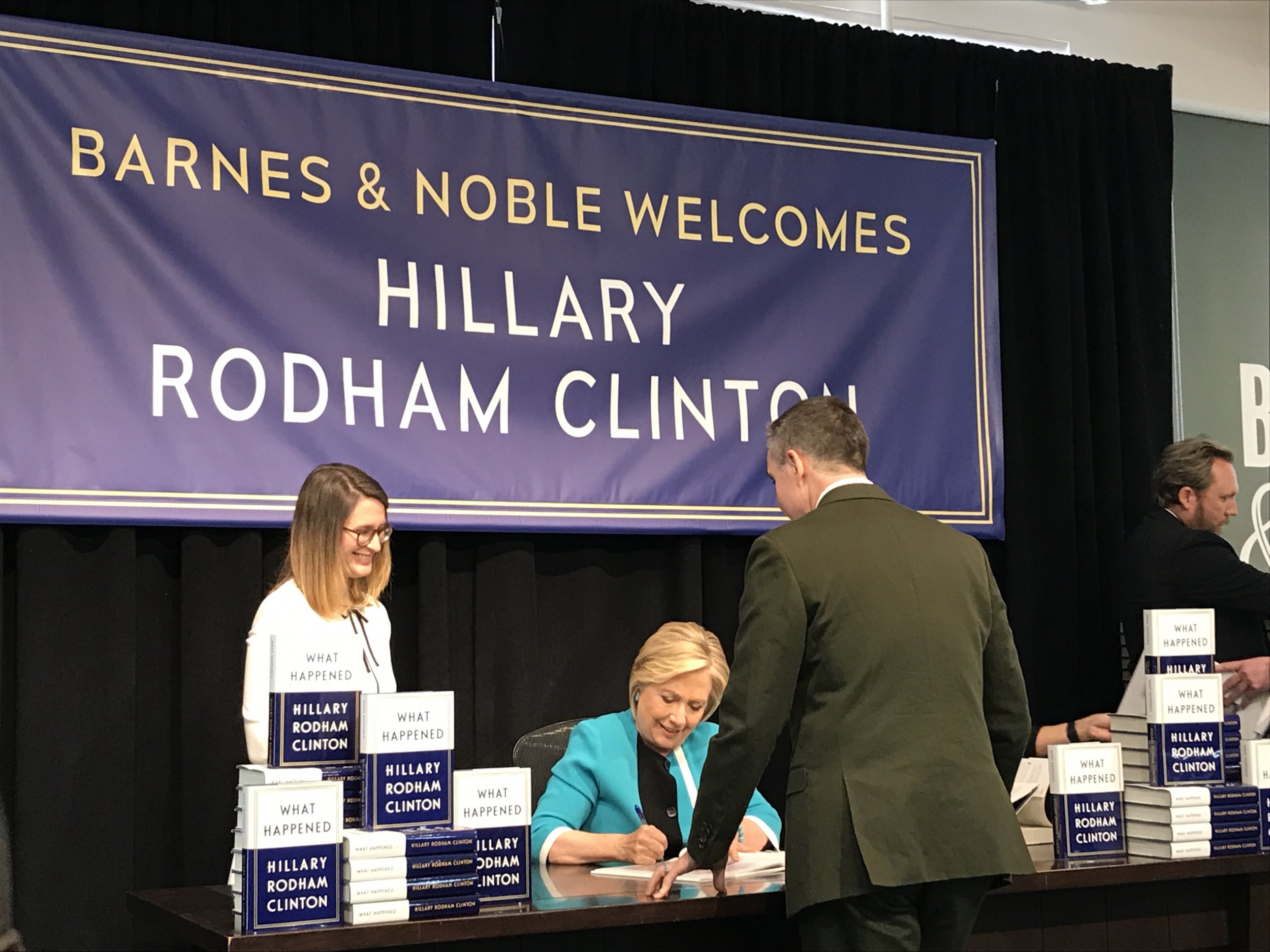 As Hillary Clinton arrived at a book signing for her memoir "What Happened" on Tuesday, the crowd breathed a collective sigh of relief. Their grief counselor was finally there.
Indeed, Clinton is no longer wandering the woods of Chappaqua, and her proudest supporters couldn't be happier—they need her. Some of them spent the entire night outside a Manhattan Barnes & Noble to be certain they would meet their hero.
Months after the election, the Democratic party hasn't overcome the heated primary battles between Clinton and her former Democratic opponent, Senator Bernie Sanders, let alone processed Clinton's subsequent loss to Donald Trump in an election that, polls showed, was hers for the taking.
But the more Clinton takes on Trump—and the more Sanders tells her to move on—the more Clinton loyalists lash out at criticism of their hero.
"I think it's BS," said Kristen Blush, 36, a New Yorker who wore a denim jacket adorned with pro-Clinton buttons—mementos of the campaign that will never end.
Others near Blush joined the Bernie bashing. When asked whether they blamed Sanders for Clinton's loss, multiple members of the group shouted, "Yes!" as if at a campaign rally.
Clinton's victimhood can function as a mirror for her fans' own battles with the sexism they feel Clinton faced during the presidential campaign.
"There's disproportionate anger toward Clinton. It seems so slanted against her," said Ava Paloma, 33, who lives in the West Village.
Paloma said the coverage of Clinton's book so far has been "horrible."
"I do think there's a lot of misogyny," she added.
To be fair to Clinton, she also blames herself in the book, citing her "boneheaded" use of a private email service and the poor optics brought about by Wall Street speeches.
But "What Happened" is not all about her own mistakes. Sure, it hits on all the five stages of grief —denial, anger, bargaining, depression and acceptance—but it's the anger that Clinton and her fans keep coming back to.
"It must've been cathartic to write, and I hope it's cathartic to read," said Cat Guido, 28, of Philadelphia, who arrived at the bookstore at 3 a.m. to ensure that her copy of the book would get signed. "I hope she stays in public service.... I want her to run again. Her tenacity and dedication is really inspiring."
Clinton didn't say anything before getting behind the signing table, but she did give supporters brief sessions on the counseling couch.
"I (told) her to just take easy, you've done a lot," said Brandon Powell, 24, of Brooklyn. He added that if he ever has a daughter, he'll point to Clinton as a role model.
"That's a strong woman right there," he said of Clinton.
Strong, but still not loved. A new poll Tuesday revealed that 61 percent of voters want Clinton to retire from public service. And she starts her book tour with an approval rating lower than Trump's—a historically unpopular president.
And outside the Barnes & Noble on Union Square, Clinton haters gathered with signs and screams.
But the loyalists inside remained "with her."
People need to "lay off" Clinton, said Bettina Bilger of New Jersey, who campaigned for the former secretary of state last year. "I think it's ridiculous. She's speaking her truth. Anything she does, there's backlash."