Hillary Clinton Debate Aide Says Attacking Bernie Sanders on Stage Is Risky, Debates Become 'Production Studio' for Trump Ads
A debate aide to Hillary Clinton said there was "a lot of risk" in attacking Bernie Sanders on the primary debate stage, which he argued had become a "production studio" for President Donald Trump's re-election campaign.
The Williams & Connoly law firm partner Robert Barnett told MSNBC on Tuesday night that attacks on the Vermont senator could be to the "detriment" of the Democratic party's 2020 ticket, and argued supporters of Sanders did not take criticism of him well.
He also said pretending to be the congressman in mock debates was the "easiest" of the roles he had played over the years, adding that Sanders' adherence to talking points had been "successful" for him in the 2020 race.
It was reported by Politico in September 2016 that Barnett played the Vermont Independent in mock debates with Hillary Clinton, and also played Vice President Mike Pence in prep performances with her running mate Tim Kaine.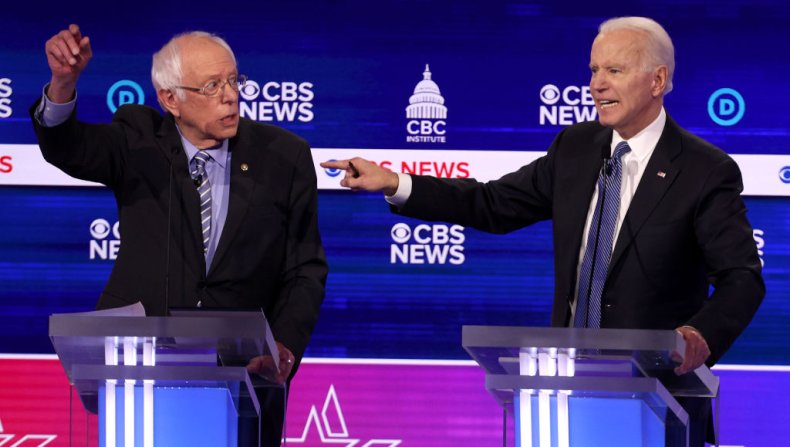 The lawyer has taken on the roles of Dick Cheney and George Bush in practice debates with past Democratic candidates, according to Politico.
Speaking on The Beat with Ari Melber last night about what he learned from playing Sanders in mock debates, Barnett said: "I've played… a lot of Republicans, a lot of Democrats in these rehearsals over ten campaigns. He was, interestingly, the easiest one to play.
"Why? Because he always came back to his talking points. Get a question, he'll give you a couple sentences and then he'll go back to corporate corruption and healthcare as a universal right, and the pharma and the oil companies.
"It's pretty predictable and it's been succesful for him this time around."
Asked if it was harder to attack the Vermont senator "when some voters in the primary feel he's just offering more of what other Democrats say their for," the longstanding debate aide said there was "a lot of risk inherent" in attacks on Sanders.
"Really this whole process is a production studio for Donald Trump's ultimate commercials let me say," Barnett said.
"I think that if you attack Bernie Sanders, he could end up being the nominee. So it will inure to the detriment of the ultimate ticket."
He added: "Second, there are a lot of Bernie supporters out there, and we saw this with Hillary in 2016, who don't take that well, and conduct themselves in a way that to his credit he's condemned, but still goes on."
Newsweek has contacted the Sanders 2020 campaign for comment and will update this article with any response.
The Vermont senator was the focus of attacks during the Democratic primary debate in South Carolina last night, with rival candidates taking aim at his past comments on Fidel Castro's Cuba and questioning his electability.
The jabs eventually led the primary frontrunner to jokingly say: "I'm hearing my name mentioned a little bit. I wonder why."
At the time of writing, the FiveThirtyEight average of South Carolina primary polls shows Sanders in second place and eight points behind former Vice President Joe Biden ahead of the Saturday contest.
But the Vermont senator is the clear frontrunner in the Real Clear Politics average of national Democratic primary polls, which puts him 11 points ahead of second-place Biden.
Below is a graphic from Statista showing how much speaking time each candidate received at the South Carolina primary debate.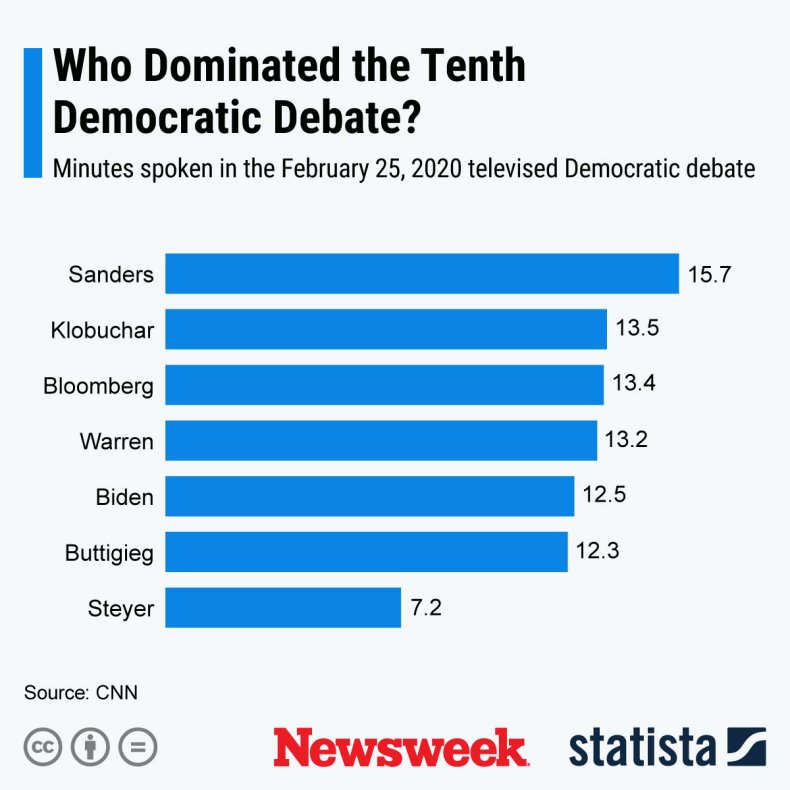 Hillary Clinton Debate Aide Says Attacking Bernie Sanders on Stage Is Risky, Debates Become 'Production Studio' for Trump Ads | U.S.