Who Won the Tenth Democratic Debate in South Carolina? Analysis of the Winners, Losers and Highlights
The Democratic debate in South Carolina on Tuesday came at a pivotal moment for every candidate that took the stage. The entire field is now playing catch up to Bernie Sanders, who secured the popular vote in all three early states and won decisively in the Nevada caucuses. The others needed to take him down on the stage. And they all went for it. Mayhem ensued.
Sanders' campaign has momentum, money and an extensive volunteer operation across multiple states. He earned center stage tonight and fended off heated attacks from all directions. The two-hour debate was chaotic. With the moderators unable to keep the candidates to their speaking times, unable to stop them from speaking over each other and unable to keep control of the conversation, they are the clear losers tonight.
The exchanges that took place were fiery, however, nothing that was said will likely change the dynamics of the race, a situation that will benefit frontrunner Sanders. The Vermont senator stuck to his usual billionaire-bashing talking points and made no apology for his work towards wealth equality. With these considerations in play, Sanders narrowly emerged as the winner of the South Carolina debate. Mayhem came in a close second—or, as Biden said, "I guess the only way you do this is jump in and speak twice as long as you should!"—while Elizabeth Warren and Joe Biden tied for third.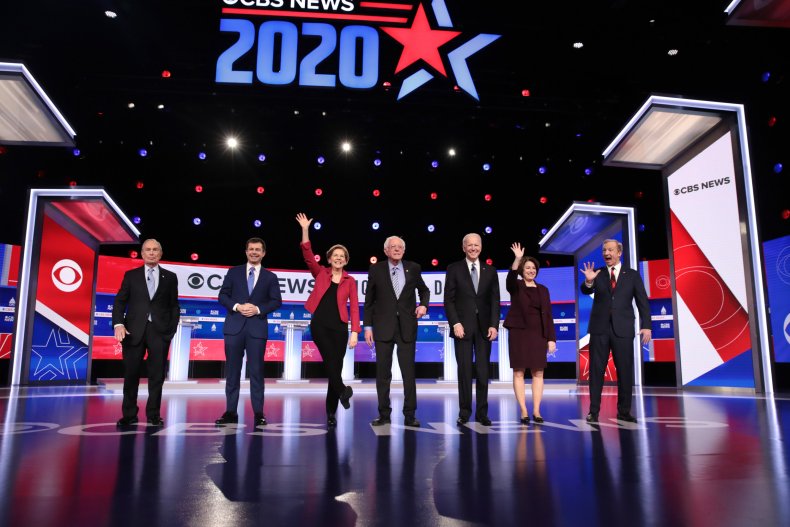 Sanders took heat early as his rivals piled on. Mike Bloomberg told the progressive senator that "Russia is helping you get elected," Tom Steyer praised his analysis but said he doesn't "like his solutions," Biden pointed to his shady voting history on the Brady Bill gun control legislation and Warren announced she would "make a better president than Bernie." Midway through the debate, Sanders said, "I'm hearing my name mentioned a little bit; I wonder why."
Not only did Sanders shake off much of the attacks, he managed to hit Bloomberg hard for denying China as a dictatorship. "I have opposed authoritarianism all over the world and I was amazed at what Mayor Bloomberg said a moment ago," he said. "He said that the Chinese government is responsive to the Politburo, but who are they responsive to? Who elects the Politburo? You have a real dictatorship there."
Sanders was also able to deflect the heat around his controversial comments on Fidel Castro's regime. "Of course you have a dictatorship in Cuba. I said what Barack Obama said in terms of Cuba, that Cuba made progress on education," the senator said. "Occasionally, it might be a good idea to be honest about American foreign policy, and that includes the fact that America has overthrown governments all over the world."
Bloomberg was sharper on stage compared to his abysmal inaugural debate performance in Nevada last Wednesday, but still not good. He had more space to breathe tonight with Pete Buttigieg standing between him and Warren, his tormentor from last week's debate. He needed to demonstrate that he's capable of going head-to-head against President Donald Trump, capable of uniting the moderate wing of the Democratic party, but he spent too much time questioning Sanders' electability and did little to tout his own.
He also downplayed—again—the harassment lawsuits against his company. Bloomberg apologized and admitted he was "probably wrong" to make jokes that offended women who worked for him, but then went on to say, "We could only find three cases where women said they were uncomfortable." Not something to boast about.
Warren had another strong performance tonight after coming out the undeniable winner in the Nevada debate. Last week, she was the most effective in holding Bloomberg to account, calling out his company's record of non-disclosure agreements to muzzle former employees over harassment allegations. Tonight, she continued to target the billionaire, questioning whether he can even be considered a Democrat considering his past financial support for Republicans such as Senator Lindsey Graham and Senator Scott Brown, who she defeated in 2012. She also picked up where she left off last week in humiliating the billionaire on his history of sexism, accusing the candidate of demanding a pregnant woman abort her unborn child. He denied it.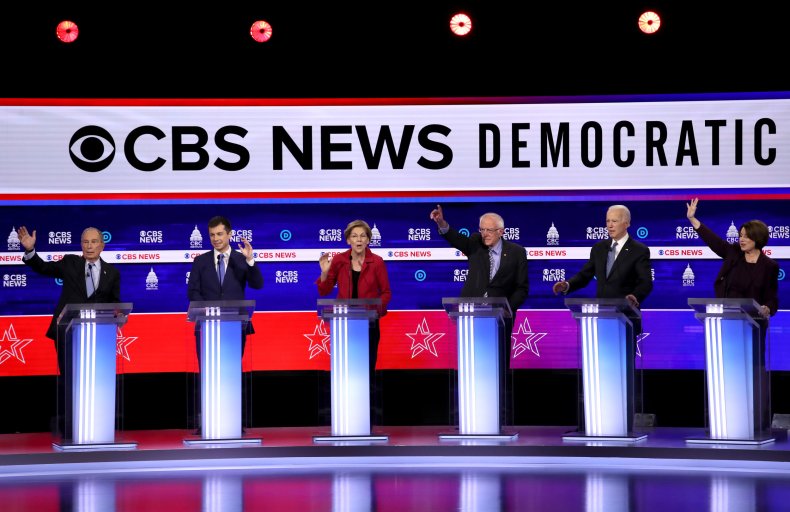 Biden, the leading South Carolina candidate, scored some wins tonight with his effective appeal to African American voters, his discussion on gentrification and sharp criticisms of Sanders on gun control. "A hundred and fifty million people have been killed since 2007 when Bernie voted to exempt the gun manufacturers from liability," he said, an attack that resulted in Sanders admitting "that was a bad vote." But again, Biden went too heavily on his lengthy record, rather than articulating his case for the future.
Buttigieg had another middle-of-the-road debate as he tried and failed several times to recapture the momentum lost in the much more diverse Nevada caucuses after a strong finish in Iowa and New Hampshire. His path to victory is narrowing quickly in the still-crowded field and tonight he seemed desperate to stand out, often interrupting other candidates without being called on. His attempts to get attention were mostly unsuccessful and only resulted in disruption, causing numerous candidates to pile on and cancel each other out.
Klobuchar and Steyer, both candidates with fading campaigns, were barely there tonight. Steyer continued his long run in not seeming like a committed presidential candidate. He spoke the least, only a little over seven minutes, compared to Sanders, the candidate with the most speaking time of 15:43. This was a pivotal moment for his nonstarter campaign as he has invested heavily in North Carolina.
Klobuchar spent most of the last debate on the backfoot, catching a series of challenging questions from moderators and attacks from Buttigieg. She stayed on message and continued her plea for a more empathetic style of governance tonight, but her sentiments were lost amid the heated interruptions and arguments that took place on stage. "I'd say the biggest misconception is that I'm boring, because I'm not," she said in the final moments of the evening.
The loudest applause went to Biden's complaint about the chaotic debate.. "Why am I stopping? No one else stops!" he said, to laughs and cheers. At several points during the debate, viewers were unable to hear anything intelligible from the candidates as they all kept shouting over each other, making it impossible to hear any actual policy arguments. This didn't settle any fears that the Democratic party will not be able to coalesce around one candidate. Perhaps moderators at the next debate can invest in some air horns to keep candidates in check.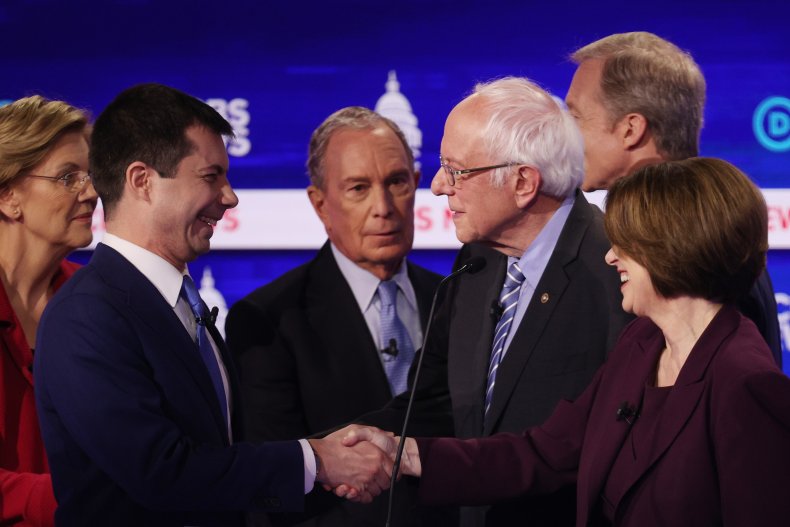 Candidates Get Sanders In Their Sights Over Guns
The Gaillard Center, where the debate was held, is across the street from the Mother Emmanuel Church, where white supremacist Dylann Roof killed nine people in a mass shooting, and it was the impetus to ask the candidates about gun legislation.
Though Biden promised to bring it up in the previous debate, it was this week where he really went after Sanders over his gun record. Biden said that 150 million people have been killed since 2007—"more than all the wars, including Vietnam, from that point on." Biden overstated that number by orders of magnitude; according to Politifact, only 1.4 million firearm deaths from between 1968 and 2011 occured. However, Biden was correct in stating that more died from guns than in wars; an estimated total of 1.2 million Americans have died in every war from the War of Independence to the Iraq War.
Sanders addressed his past votes to protect gun manufacturers as "bad votes," and instead touted his current D-minus voting grade from the NRA.
Bloomberg and Warren both blamed Congress for inaction on gun legislation, with Warren saying the issue lied with the filibuster, which gives a minority a "veto" on legislation.
Biden Steals Sanders' Catchphrase
Sanders' catchphrase "I wrote the bill!" made a few appearances—but from the mouth of Biden. While Klobuchar was talking about her bill to close the "boyfriend loophole," allowing domestic abusers to get guns, Biden claimed he wrote it. Klobuchar laughed and requested a fact check. In retrospect, Biden was clearly referring to an earlier bill, as he talked about how he tried to close the boyfriend loophole but failed to.
Biden again invoked the catchphrase at the end of the question about marijuana legalization, asking to respond to Sanders, because "I wrote the bill to set up drug courts." However, his request was denied as the debates went into a commercial break.
"A Huge Risk for the Democratic Party"
In the first half of the debate, Steyer pointed out what some pundits have wondered about as well: The diverse range between the platforms of the progressive candidates Sanders and Warren and the moderates.
"This conversation shows a huge risk for the Democratic Party. We are looking at a party that has decided we're either going to support a Democratic Socialist or somebody who has a long history of being a Republican," Steyer said. "I am scared if we cannot pull this party together, if we go to one of those extremes, we take a terrible risk of re-electing Donald Trump. ... And that is a risk that will hurt the American people in a way that none of us on this stage should be willing to risk."
The graphic below, provided by Statista, illustrates the number of minutes spoken by each candidate during the debate.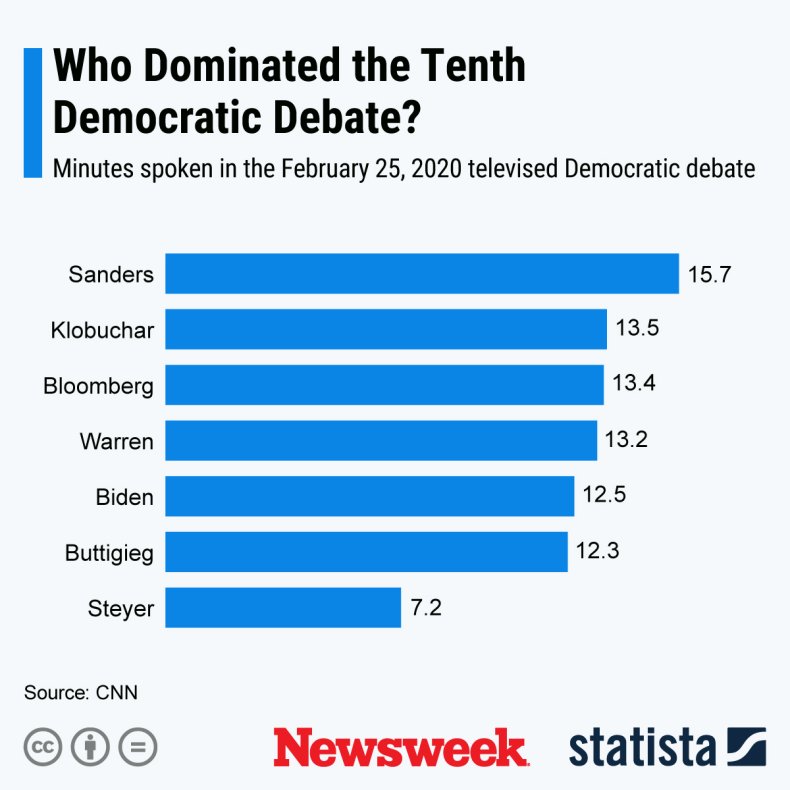 This article was updated to include an infographic.