Hillary Clinton Defends Harvey Weinstein Association: 'How Could We Have Known?'
Hillary Clinton has defended her years-long association with disgraced movie producer Harvey Weinstein, saying it was "something that everybody thought made sense."
Weinstein has long been a major donor and fundraiser for the Democratic Party and reportedly brought in over $1.4 million to Clinton's 2016 presidential campaign.
Clinton has since disavowed Weinstein, saying she was "shocked and appalled" following the publication of numerous claims of sexual assault and harassment against him in 2017 that led to his fall and the rise of the #MeToo movement.
Now, she has once again addressed her ties to Weinstein in an interview with The Hollywood Reporter ahead of the premiere of Hillary, a four-part Hulu docuseries, at the Sundance Film Festival later this week.
Asked if she had any regrets about her "lengthy" association with Weinstein, Clinton insisted that she and her aides had no idea about the allegations against the Miramax co-founder.
"How could we have known?" Clinton said. "He raised money for me, for the Obamas, for Democrats in general. And that at the time was something that everybody thought made sense."
As well as helping to pull in donations for Democrats, Weinstein and his family have given more than $1.4 million in political contributions since the 1992 election cycle, according to the Associated Press.
The Weinstein family donated $46,350 to Hillary Clinton and to HILLPAC, a committee Clinton used to support other Democrats while senator.
But Clinton now says her relationship with Weinstein would have been very different had the allegations against him come out earlier. "Of course, if all of us had known what we know now, it would have affected our behavior," she said.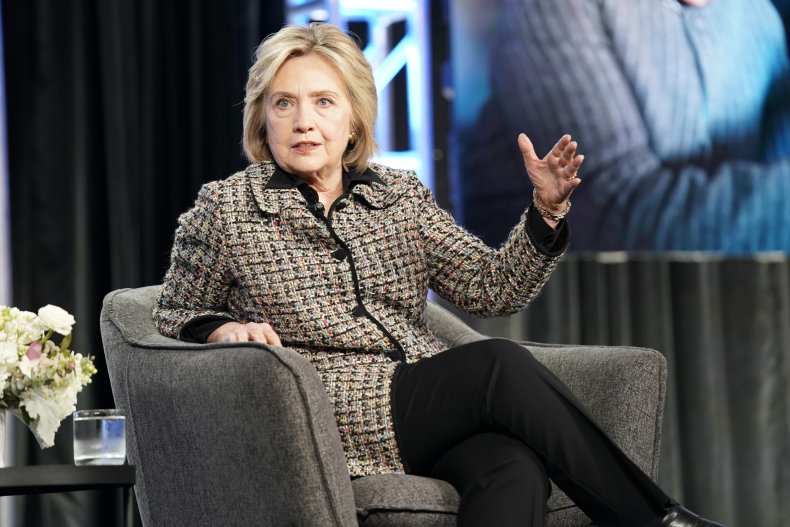 Weinstein's trial in New York City on rape and assault charges is due to begin in the coming days after two weeks of jury selection.
He is accused of raping a woman in a hotel room in New York City in 2013 and performing a forcible sex act on another woman in 2006. If convicted, he could be sentenced to life in prison. He has denied all allegations of non-consensual sex.
Earlier this month, Los Angeles prosecutors charged Weinstein with sexually assaulting two women on successive nights during Oscars week in 2013.
In her interview with The Hollywood Reporter, Clinton also briefly touched on the allegations against former NBC anchor Matt Lauer.
Clinton said she was "gobsmacked" to learn of the allegations about Lauer after the interviewer noted it was "wild" that Lauer had interviewed Clinton about the "sanctity" of her marriage on the Today show in 1998.
Lauer was fired in 2017 after a woman who worked at NBC News claimed he raped her at a hotel while on assignment for the Sochi Olympics. Lauer, who was married at the time, claimed the encounter was entirely consensual.
"I love this word 'gobsmacked' because, yes, look, hypocrisy is everywhere," Clinton said. "Look at the current occupant of the White House for Lesson A," she added.
Clinton also said that she believes the #MeToo movement had changed things "mostly for the good."
"I do think the culture has changed, and mostly for the good, but I also think you still have to look at every situation on its own facts and merits to make a decision."