Hillary, the new four-part documentary about former Presidential candidate Hillary Clinton streaming now on Hulu, features the best of more than 30 hours of interviews between director Nanette Burstein, during which time she shared her opinions on President Donald Trump, Monica Lewinski, Benghazi, and many other topics from her decades in politics.
She saves one of her rare moments of anger, however, for Bernie Sanders, who in 2016 she battled for the Democratic Presidential nomination and whose public persona she criticizes.
In Episode 2 of Hillary, we hear the former Secretary of State and First Lady say: "Bernie just drove me crazy. He was in Congress for years—for years he had one senator support him. Nobody likes him. Nobody wants to work with him. He got nothing done. He was a career politician.
"He did not work until he was 41 and then he got elected to something. It was all just baloney and I feel so bad that people got sucked into it."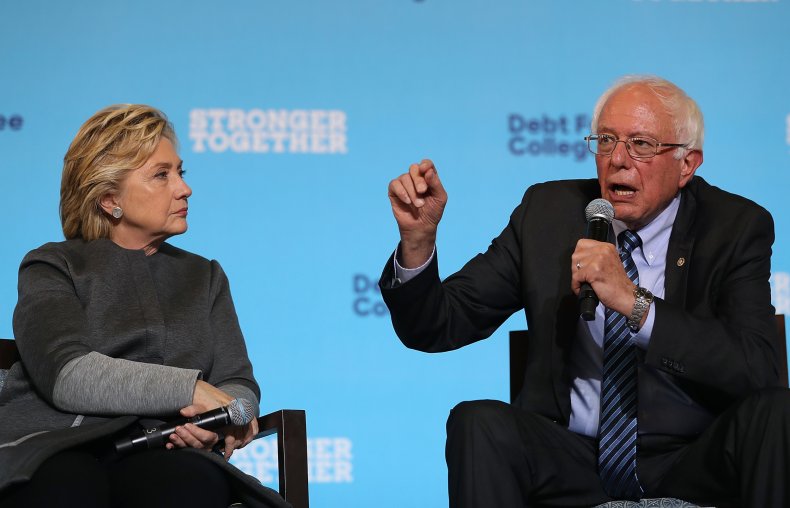 Clinton's claim that Bernie "did not work" before reaching political office is not entirely accurate. He worked as an aide in a psychiatric hospital, as a Head Start teacher, and as the co-owner of a carpentry business before he got elected as the Mayor of Burlington at the age of 39, according to a New Yorker profile.
On his resume from that time, obtained by CNBC Make It, he listed his job between 1964 to 1976 as "freelance writer, carpenter, youth counselor, state employee," and from 1976 to 1981 as the director of the American People's Historical Society, for whom he "wrote and produced educational filmstrips on historical issues concentrating primarily on New England states."
Asked by Newsweek about the context of former Secretary Clinton's comments in Hillary, Burstein said, "I think she was just being herself and decided, 'Look, I'm not running for office, I can share my real feelings, I'm not afraid to share these feelings.' So she certainly shared them."
In another candid moment in the documentary, filmed during the 2016 primary campaign, Clinton and her campaign manager Robby Mook are seen discussing Bernie's supporters and their "vitriol"—a complaint shared by some candidates during the 2020 primaries.
Viewers hear Mook say, "I worry that there's an underlying vitriol in some percentage of Bernie supporters," to which Clinton replies, "I agree with that."
She later continues, "There is a level of vitriol. There's some similarities back to '08, but this is... this is different."
In another scene, she jokes with her campaign team after one of them questions her shoe choice backstage, saying, "Do you think anybody talked to Bernie Sanders about his shoes?"
Newsweek has reached out to a Hillary Clinton representative about her comments and will update this article when we get a response.
Hillary is streaming now on Hulu.