Hillary Clinton Condemns White Supremacist Groups For Inciting Violence, Trumps Says It's Coming From 'Many Sides'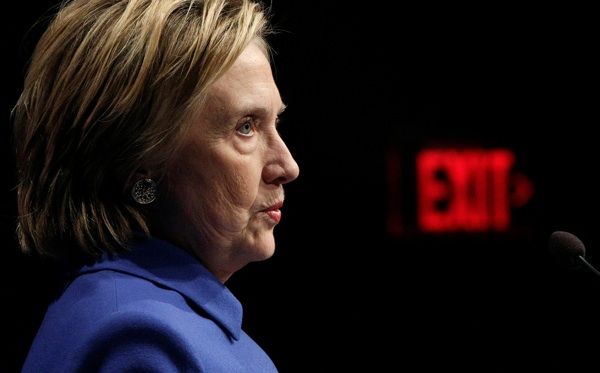 Following a white nationalists rally that turned violent on Saturday in Charlottesville, former Democratic presidential nominee Hillary Clinton issued a statement on Twitter condemning white supremacists for inciting violence that may have led to the death of one person.
In a string of tweets, Clinton expressed empathy for residents of the Virginia town, home of the University of Virginia, writing: "My heart is in Charlottesville today, and with everyone made to feel unsafe in their country."
Unlike President Donald Trump, who refused to pin responsibility of the violent exchanges between white nationalist groups and counter-protesters, Hillary blatantly blamed white supremacy for the spread of hatred in America.
"But the incitement of hatred that got us here is as real and condemnable as the white supremacists in our streets. Every minute we allow this to persist through tacit encouragement or inaction is a disgrace & corrosive to our values," she wrote, adding, "Now is the time for leaders to be strong in their words & deliberate in their actions."
Trump offered an official statement in regards to the altercations that ensued in Charlottesville on Saturday, writing on Twitter that there was "no place for this kind of violence in America" hours after Virginia's Governor Terry McAuliffe declared a state of emergency in the town, putting an end to the rally. However, Trump failed to acknowledge white nationalists' role in the savagery that resulted in the injuries of multiple people in the small town.
Instead, during a press conference, the president said he condemns "in the strongest possible terms this egregious display of hatred, bigotry and violence on many sides." The comment and Trump's refusal to directly name white supremacist groups for inciting violence in Charlottesville--where a person drove a vehicle into a crowd of people injuring 19 people and killing one person--has resulted in a wave of criticism from all sides regarding his inability to stand up to racist white hate groups.
"No matter our color, creed, religion or political party we are all Americans first. We love our country, we love our God, we love our flag, we're proud of our country, we're proud of who we are," Trump said. "so we want to get the situation straightened out in Charlottesville and want to study it and see what we're doing wrong in this country. We have to respect each other, ideally we have to love each other."
Following Trump's comments, a number of people took to social media to point out that the president has been vocally tougher on his Attorney General Jeff Sessions, Senate Majority Leader Mitch McConnell and a number of other people than what he has been on white supremacists and neo-nazi groups.
Check out a few reactions below: