Hillary Clinton Sent Pizza to Overworked Doctors Tackling Coronavirus Pandemic in New York: 'We Need Leaders Like You'
Hillary Clinton took to Twitter on Wednesday to thank all the people working to "save lives and keep us all going" during the coronavirus pandemic.
"Thank you to the medical professionals, grocery store employees, delivery drivers, pharmacy workers, mail carriers, firefighters, police, nursing home employees, and everyone else who is working to save lives and keep us all going right now," the former Secretary of State and presidential hopeful wrote. "Thank you, thank you, thank you."
And it appears Clinton, who lives in Chappaqua, New York, wanted to do more than just say thank you — and sent pizza to overworked doctors dealing with the rising number of COVID-19 cases in the state.
New York is the worst-hit state and has more than 33,000 confirmed cases and 325 deaths as of Thursday, according to The New York Times.
Angela Cirilli, an ER doctor at St. John's Riverside Hospital-Dobbs Ferry, responded to Clinton's tweet to thank her for sending pizza. "I am an ER doctor at Dobbs Ferry NY and just received pizza from the Clintons," she wrote.
"Thank you !!!! We NEED LEADERS LIKE YOU in this tough time. So much gratitude I didn't know how else to reach you to say thank you."
Clinton's daughter Chelsea Clinton shared a tweet from Jenna Lowenstein, a former Clinton campaign staffer, about the gesture. "My first thought was gratitude for hospital staff everywhere. My second was, of course she did," she wrote on Twitter. "My third, I admit, was the pizzagate folks are going to go into overdrive to fit this into their conspiracy theory. And, I love my mom @HillaryClinton."
Representatives for Hillary and Chelsea Clinton have been contacted for additional comment.
Earlier this week, Hillary Clinton hit back at President Donald Trump after he expressed frustration with the economy being shut down due to the pandemic and suggested that people should return to work soon.
"We're opening up this incredible country. Because we have to do that. I would love to have it open by Easter," Trump said during a Fox News town hall on Monday.
Clinton criticized the idea on Twitter, writing, "It's incredible that this has to be said: Letting thousands of people needlessly suffer and die is wrong. It's also not a recipe for rescuing the economy," she wrote.
In a follow-up tweet, she added, "Please do not take medical advice from a man who looked directly at a solar eclipse."
That comment appeared to reference Trump's touting of anti-malaria drug chloroquine as a treatment for COVID-19, the disease caused by the novel coronavirus. An Arizona man died and his wife was left in critical condition after the couple ingested chloroquine phosphate, an additive used to clean fish tanks that is also found in the anti-malaria medication.
"I saw it sitting on the back shelf and thought, 'Hey, isn't that the stuff they're talking about on TV?'" the woman told NBC. "Trump kept saying it was basically pretty much a cure," she added.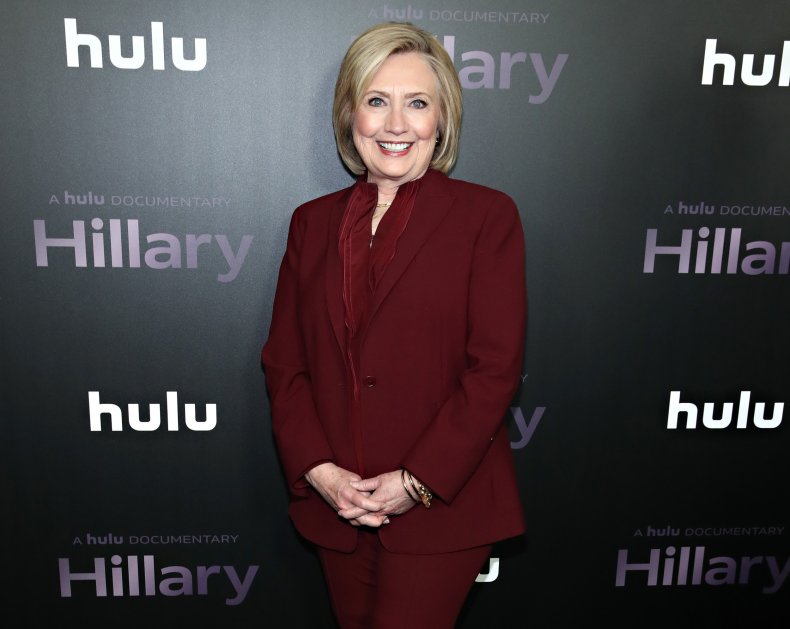 World Health Organization advice for avoiding spread of coronavirus disease (COVID-19)
Hygiene advice
Clean hands frequently with soap and water, or alcohol-based hand rub.
Wash hands after coughing or sneezing; when caring for the sick; before, during and after food preparation; before eating; after using the toilet; when hands are visibly dirty; and after handling animals or waste.
Maintain at least 1 meter (3 feet) distance from anyone who is coughing or sneezing.
Avoid touching your hands, nose and mouth. Do not spit in public.
Cover your mouth and nose with a tissue or bent elbow when coughing or sneezing. Discard the tissue immediately and clean your hands.
Medical advice
If you feel unwell (fever, cough, difficulty breathing) seek medical care early and call local health authorities in advance.
Stay up to date on COVID-19 developments issued by health authorities and follow their guidance.
Mask usage
Healthy individuals only need to wear a mask if taking care of a sick person.
Wear a mask if you are coughing or sneezing.
Masks are effective when used in combination with frequent hand cleaning.
Do not touch the mask while wearing it. Clean hands if you touch the mask.
Learn how to properly put on, remove and dispose of masks. Clean hands after disposing of mask.
Do not reuse single-use masks.