Meet the Czech Donald Trump Supporter Whose 9/11 Video Likely Swayed the Election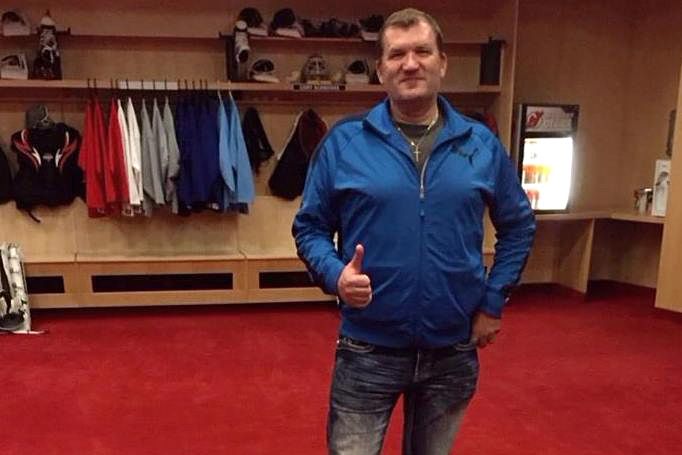 Hillary Clinton supporters will no doubt blame certain people for contributing to her election loss: James Comey, Anthony Weiner, Gary Johnson and Jill Stein among them. Another person who played a role in helping hand Donald Trump the White House is named Zdenek Gazda, and until now he hasn't spoken with the American press. The Czech immigrant filmed Clinton swaying and stumbling as she left an event to mark September 11, prompting widespread concerns about her health and rumors that she might need to drop out of the race.
Gazda, 50, says he attends the annual memorial event in New York City each year because he was a fireman in the Czech Republic before moving to the United States 23 years ago, and he wants to honor the firemen and other first responders who died. This year, he says, he took several photos with his iPhone and then after about half an hour went to leave. On his way out, he says, he saw a motorcade preparing to leave and decided to stick around. About 10 minutes later, Clinton appeared, he says.
"I had never seen Hillary Clinton very close to me," says Gazda, who works as a building manager. "I love to take a lot of pictures and video, and all the time I put them on Facebook or Twitter." At first, he says, nothing about the Democratic candidate seemed unusual. "She looked very good, there's nothing too wrong. And the car is not ready [t]here. She's waiting maybe two, three minutes for the car."
He decided to start filming Clinton, and that's when, he says, "after a couple of seconds, I see she is shaking, and she has a problem [standing], and a couple of guys hold her."
Twenty seconds later, he decided to stop recording. "I got a little scared because I see what's going on, and I turn off the video, but still I'm watching," he says. He adds that he can't find the words to describe what scared him, just that "she is a big, huge politic[ian], and now you see she has a problem."
After Clinton left, Gazda stayed at the event and took some photos and videos of Trump, who was also there. He posted the Clinton video on Twitter before heading home to New Jersey. Within minutes, he says, thousands of tweets started flooding in, including from television producers asking him for the right to air the footage. By the end of the day, he had also received thousands of phone calls, he says, since he posted his phone number online.
Yet he never could have imagined the video would make headlines and, according to some political commentators, help influence the outcome of the election. The video of her swaying as aides tried to steady her, and of Secret Service agents lifting her into the vehicle as her feet dragged on the ground, for some seemed to confirm right-wing conspiracy theories that she was in poor health. When she emerged hours later and appeared in good spirits, conspiracy theorists suggested she was using a body double. Trump's poll numbers shot up. Political reporters published stories about what would happen if she had to drop out. One reporter quoted a Democratic National Committee delegate as saying that the party planned to replace her on the ticket with Vice President Joe Biden if necessary.
The original video has 75,000 Twitter likes and retweets, and additional versions on YouTube have more than 2 million views. Numerous news publications featured it in broadcasts. Clinton would blame the incident on pneumonia and dehydration.
"Hillary's health was the most important story this election," Mike Cernovich, a conservative author and blogger who wrote often about the rumors, says by email. While people had long accused her of being "corrupt," he says, "the health story was fresh and thus far more impactful."
Not all political analysts are so sure. "I don't think it had any impact," says Mo Elleithee, founding executive director of Georgetown University's Institute of Politics and Public Service and a senior spokesman and traveling press secretary for Clinton's 2008 campaign. "Trump won more because he was able to ride this populist wave that is sort of sweeping the globe right now."
Gazda says he supported Trump's candidacy (citing privacy concerns, he asked that Newsweek not say whether he is a U.S. citizen or whether he voted for Trump), but he insists that if he saw Trump stumbling the way Clinton did, he would have filmed and posted that too. "I just wanted everybody to see what's going on, what happened to her," he says. "[If I didn't] show the video, nobody [would] know." He says he signed a contract with a company to distribute the footage but hasn't yet received a penny.
On Tuesday night, people used Twitter to congratulate Gazda for his part in pushing Trump to victory. "Everybody calls me now the hero, that I changed history," he says. He does take some credit: "I give him the small step to go to [the] White House."