Hillary Clinton attended her first Met Gala in 20 years on Monday night, and she wore a Bordeaux-colored dress that was embroidered with names of pioneering women in American history through the hem and waistline of her dress
After telling two reporters during a red carpet interview that she was glad people could congregate once again to celebrate the Metropolitan Museum of Art's Costume Institute in New York City, she described the meaning behind her dress designed by Joseph Altuzarra.
"When I was thinking about my dress I talked with Joseph Altuzarra, who's a wonderful young designer as you know. He suggested some embroidery of meaningful words," the former secretary of state and 2016 presidential candidate said. "I said 'What about American women in the past who inspired me?'"
Clinton strayed from any political talk during her brief interview, and Newsweek hasn't verified if former President Bill Clinton was in attendance. She also stayed away from listing any living American women to her dress.
"I would have filled the entire dress so I decided to stick with women who are no longer with us because that would have made it really impossible to have even one dress if I had everyone on it I admired," she said.
Here are the American women she admired.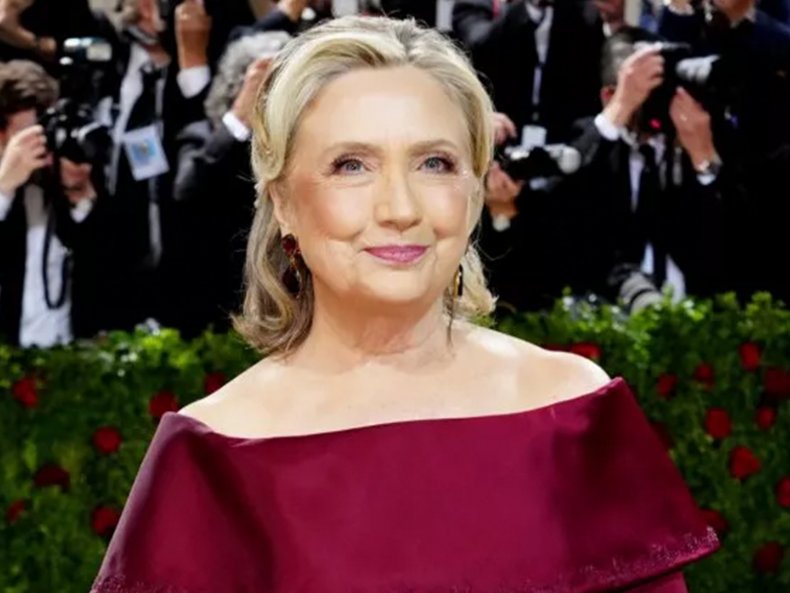 "We have everyone from Abigail Adams to Sacajawea, Harriet Tubman to Eleanor Roosevelt to Shirley Chisolm to Madeleine Albright, who we just lost," Clinton said. "I thought it would be historic to wear a dress like that and really keeping with the evening."
Clinton said the embroidery of names around her dress reminded Altuzarra of "friendship quilts that women used to embroider sayings or phrases or the names of family and friends."
This video clip shows a behind-the-scenes look at Altuzarra's making of her specially-made dress.
"Oh my God, wow, this is so fabulous," as Clinton and Altuzarra softly ran their fingers around the Bordeaux-colored dress. Clinton went on to tell the designer he'd "transformed this dress into an historic, living thing."
The Met Gala is a ritzy, annual fundraising event for the museum. It typically has a red carpet-style entrance for politicians, celebrities and other famous guests from sports to business and other well-known people like musicians and social media stars.
The first Met Gala was held in 1948, and now it's usually held on the first Monday in May. It wasn't held in 2020 because of the COVID-19 pandemic.
The headline music performer this year was Lenny Kravitz.