Hillary Clinton's Warnings About Threat to Abortion Rights Resurface
Past warnings by Hillary Clinton about abortions rights in the U.S. being curtailed by a GOP-shaped Supreme Court have re-emerged amid the ongoing threat to Roe v. Wade.
Twitter users are discussing comments by the former secretary of state and 2016 Democratic presidential contender half a decade ago about what a Republican administration would do to abortion rights in the U.S.
These comments have resurfaced after the 6-3 conservative majority court seemed poised to uphold a 2018 Mississippi law that seeks to ban abortion after 15 weeks of pregnancy. This is nine weeks before bans are allowed under current law.
Following oral arguments on Wednesday, it is unclear whether there is a court majority to threaten the landmark 1973 decision that guaranteed the constitutional right to abortion.
However, the prospect that it could be left up to states to decide on terminations has added to alarm among those fearing this would end abortion rights in large parts of the South and the Midwest.
The Supreme Court decision over terminations in Mississippi also shows the lasting influence of ex-President Donald Trump, whose three appointees sit on the court, consolidated most recently by Amy Coney Barrett.
Writer Ashton Pittman shared a tweet by Clinton from December 22, 2015 that predicted a threat to abortion rights. It said: "A Republican president could nominate as many as 4 Supreme Court justices. Why that should terrify you."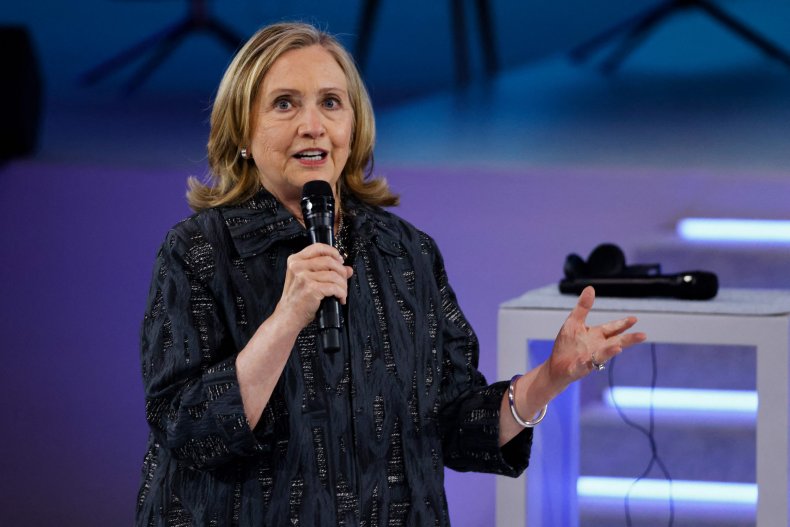 Pittman wrote: "Six years ago this month, Hillary Clinton tweeted that "A Republican president could nominate as many as 4 Supreme Court justices" & linked a warning that it could lead to the end of Roe v. Wade."
"Her replies were filled with left-wingers accusing her of 'fear mongering,'" he added, with a screengrab of those social media users criticizing Clinton.
BrooklynDad_Defiant tweeted to his more than 918,00 followers: "If more people had listened to Hillary, we wouldn't be in this situation with Roe v Wade. She was right."
The journalist and commentator Eric Boehlert shared a Washington Post op-ed from September 2021 that followed the Supreme Court's 5-to-4 decision allowing a law in Texas, in effect prohibiting abortions after six weeks of pregnancy to take effect.
The op-ed referred to how in June 2016, after the Supreme Court decided to reject two restrictive provisions in a Texas House bill regulating abortion, Clinton had said the fight for abortion rights was "far from over."
Boehlert tweeted: "lots of folks couldn't be bothered with things like policy during the 2016 campaign. a woman was running (a Clinton!) and people lost their minds. She warned us over and over 5 yrs ago that choice would be made illegal.
Meanwhile, the user THEE 2RawTooReal tweeted: "I don't want to hear about anyone WYT complaining about women's right to choose y'all made your choice by not listening to Hillary Clinton.
The writer David Marcus tweeted: "If Hillary Clinton had won in 2016 Roe would have been safe for at least half a century."