Hillary Clinton to Benghazi Committee: 'I Took Responsibility'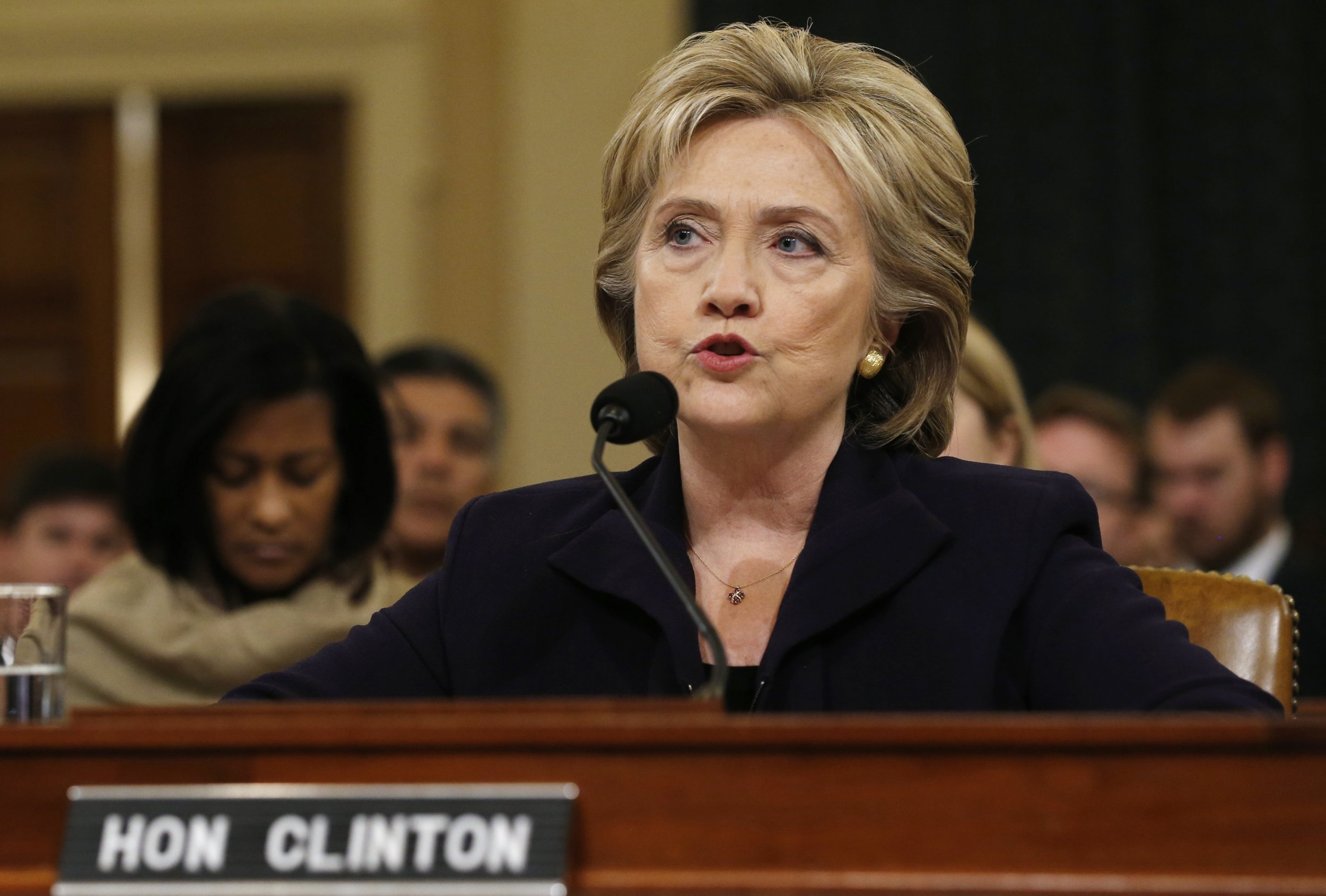 As members of the GOP-led House Select Committee on Benghazi grilled former Secretary of State Hillary Clinton with questions related to the 2012 attack in Libya, the Democratic presidential candidate remained calm in her responses at the hearing on Thursday.
Clinton seemed to be speaking as much to voters as to Congress. Her campaign staff tweeted from Clinton's account as she responded on Capitol Hill.
Clinton was secretary of state when dozens of militants attacked a U.S. diplomatic mission in Benghazi, Libya, on September 11, 2012. Four Americans died, including Ambassador Chris Stevens, Information Officer Sean Smith and two CIA operatives, Glen Doherty and Tyrone Woods.
"I'm here to honor the service of those four men, the courage of the diplomatic security agency and the CIA officers who risked their lives that night, and the work their colleagues do every single day all over the world," Clinton said Thursday in her opening remarks. She later added that she has lost more sleep over their deaths than all committee members combined.
After the incident, questions arose about how it happened under Clinton's watch. She already testified about the attack in front of Congress in 2013.
"I took responsibility, and as part of that, before I left office, I launched reforms to better protect our people in the field and help reduce the chance of another tragedy happening in the future," she said.
In her opening remarks, she offered three observations: the continued presence of diplomats in dangerous places around the world where there are no other boots on the ground and safety is not guaranteed; the need for leaders to fulfill a responsibility in providing diplomats with the necessary resources and support to fulfill their jobs as safely and successfully as possible; and for leaders to match leadership at home to leadership abroad that puts national security ahead of politics and ideology.
"We inevitably must accept a level of risk to protect our country and advance our interests and values," she said. "We have learned the hard way that when America is absent, especially from unstable places, there are consequences."
Clinton said she challenged the committee to "be worthy of the trust the American people have bestowed upon us."
"They expect us to lead, to learn the right lessons, to rise above partisanship and to reach for statesmanship," she added.
At least two GOP lawmakers recently have suggested the mission of the Benghazi Committee is to harm Clinton's 2016 presidential campaign. She generally is viewed as the front-runner in the Democratic race.
House Benghazi Committee Chairman Trey Gowdy, a Republican U.S. representative from South Carolina, began his opening statements at 10 a.m. ET. Before taking her seat for the testimony, which could last for eight hours, Clinton shook hands with members of the committee.
In recent months, Clinton has faced widespread criticism for using her personal email address to conduct business during her tenure as secretary of state from 2009 to 2013. She asked the State Department to release 55,000 pages of emails that she had selected to be turned over to the government, after The New York Times in March disclosed that she had used her personal account while serving in a government role.
Gowdy mentioned Clinton's use of her personal email in his opening remarks at the hearing.
House Select Committee on Benghazi ranking member Elijah Cummings, a Democratic U.S. representative from Maryland, spoke after Gowdy. He defended Clinton and criticized Republicans on the committee.
He said Republicans have made "reckless accusations that are demonstrably false" against Clinton.
"Everyone on this panel knows these accusations are baseless," he added.
Susan Brooks, a GOP member of the committee, pointed to a pile of what she said were 795 emails from 2011, hourly and daily updates sent to Clinton from her staff about Benghazi. Then she pointed to a pile of what she said were 67 emails from 2012 before the September attack. Brooks called the smaller pile a "lack of interest in 2012."
In response, Clinton outlined her daily schedule as secretary of state, saying that, each morning, she had a one-on-one briefing to learn about the highest level of classified information she needed to be aware of. She also had a meeting with top State Department officials every day she was in Washington, D.C., and a weekly meeting with all officials to be brought up to date on any issue they were concerned about. She said she received hundreds of pages of memos, some classified and some so top secret they arrived in a locked suitcase and had to be returned immediately to the courier.
"There was a lot going on during every day. I did not email during the day, except on rare occasions when I was able to. I didn't conduct the business that I did primarily on email," she said.
Later in the hearing, Clinton told House member and U.S. Representative Lynn Westmoreland of Georgia that she was "briefed and aware of the increasingly dangerous upsurge in militant activity in Libya."
Committee member and U.S. Representative Mike Pompeo of Kansas questioned Clinton about why she didn't fire staff members from their roles after the incident and why requests for increased security seemingly were ignored.
"I know a number of requests were fulfilled and some were not. But from my perspective, again, these were handled by the people that were assigned the task of evaluating them," Clinton said. "Although there were problems and deficiencies discovered by the Accountability Review Board, the general approach to have security professionals handle security requests I think still stands."
This is a developing story and will be updated as more information becomes available.