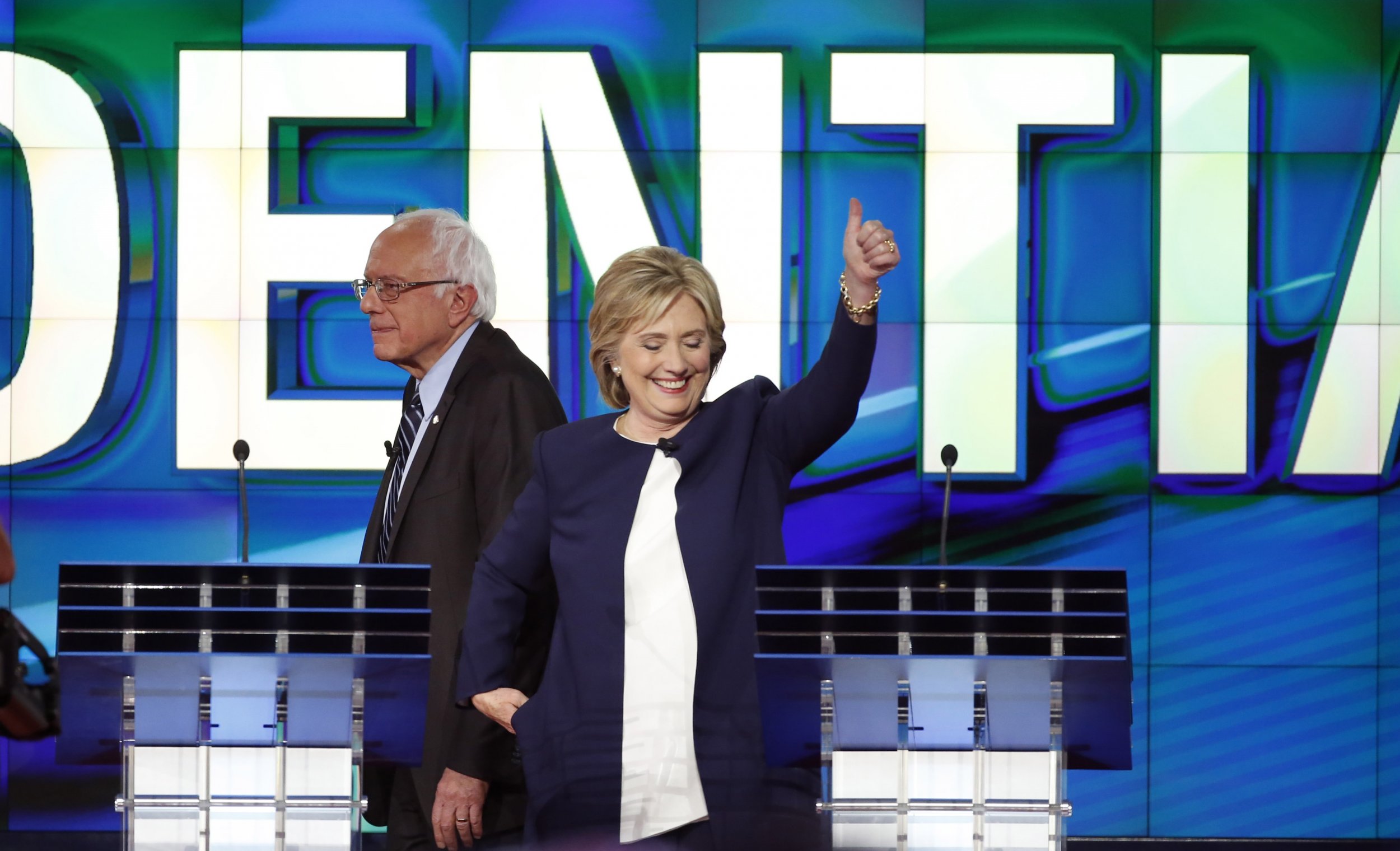 Updated | Democratic presidential candidate Hillary Clinton has returned to the No. 1 spot in New Hampshire, according to a new WBUR poll released Wednesday.
The former secretary of state is now leading former U.S. Senator Bernie Sanders of Vermont by four percentage points, with 38 percent of support from primary Democratic voters in the Granite State. Her favorability now is 7 percentage points higher than in September.
Many pollsters credit her gain to her strong performance in last week's first Democratic presidential debate and the uncertainty of whether Vice President Joe Biden would run against her. Just hours after the poll was released, Biden announced his decision not to seek the Democratic nomination.
Clinton generally has been viewed as the Democratic front-runner since launching her campaign. But by mid-September, liberal firebrand Sanders had taken the lead in the early primary states of Iowa and New Hampshire. The first votes of the campaign will be cast in Iowa on February 1, followed by the primary in New Hampshire on February 9.
WBUR is a National Public Radio station in the Boston area. The poll was conducted between October 15 and 18 among 401 likely voters in the New Hampshire Democratic primary. The margin of error was plus or minus 4.9 percent.
More than half—60 percent—of Democratic voters in New Hampshire said they think Clinton is most likely to win the primary nationally, compared with 13 percent who believe Sanders will be victorious. Eighteen percent said they are undecided, or refused to answer.
In August, a poll by Franklin Pierce University and the Boston Herald showed that, while most New Hampshire Democrats preferred Sanders, they thought Clinton would be their party's nominee.
Biden, who on Wednesday said he won't run for president, earned 9 percent of favorability in the new poll, down from 14 percent in September. Former Maryland Governor Martin O'Malley had 1 percent, and former Rhode Island Governor Lincoln Chafee had less than 1 percent.
Former Virginia Senator Jim Webb dropped out of the Democratic race on Tuesday. There is speculation he might run as an independent candidate.
Meanwhile, top Republican candidates Donald Trump and Ben Carson remain close in dominating the 15-person GOP field, according to a CNN/ORC poll published Tuesday.
This story has been updated to include Biden's decision not to run for president.