Joe Biden Is Not Running for President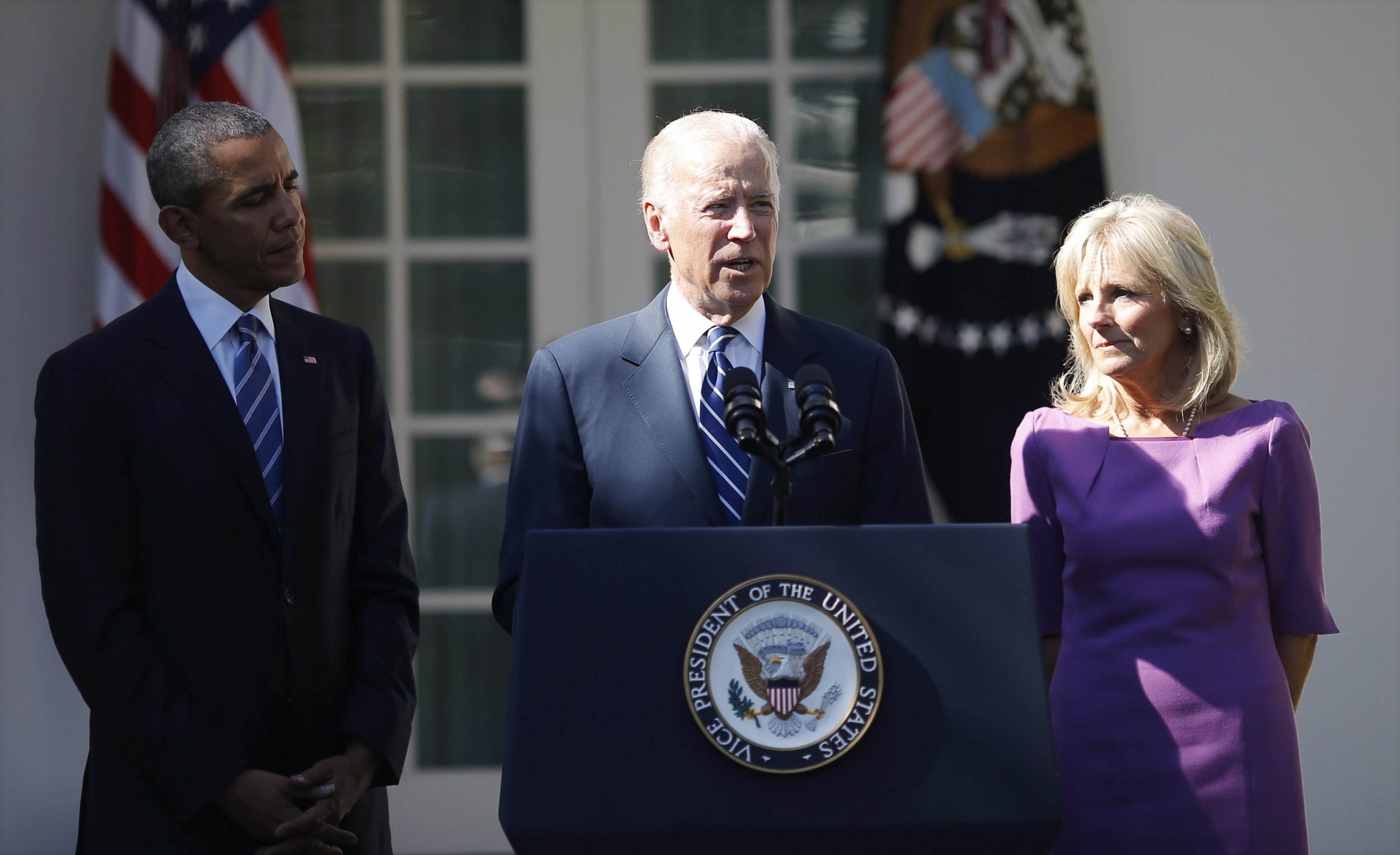 Vice President Joe Biden will not run for president in next year's election, he said in an address to the country on Wednesday afternoon.
"I couldn't do this if the family wasn't ready," Biden said from the Rose Garden at the White House.
His decision follows weeks of speculation among voters about whether he would join four other Democrats on the campaign trail to the White House. Biden, 72, repeatedly said he wouldn't run in the election unless he had the energy and full emotional support from his family. His son, Beau, died in May from brain cancer.
"Unfortunately, I believe we're out of time, the time necessary to mount a winning campaign for the nomination," he said, adding that his family continues to grieve his son's death.
With President Barack Obama and his wife, Jill Biden, at his side, he added that, while he will not be the Democratic candidate for president, he will not be silent.
"I intend to speak out clearly and forcefully," he said. "This party, our nation, will be making a tragic mistake if we walk away or attempt to undo the Obama legacy. The American people have worked too hard and we've come too far for that."
In his speech, Biden also urged Americans to make a commitment to college education, and asked his fellow Democrats to view Republicans as opposition, not as enemies.
Recent polls found Biden as a leading choice for the next leader of the United States among Democrats. A national Bloomberg Politics poll released late last month found that 47 percent of those polled said they wanted Biden in the race. A Quinnipiac University poll published in August found that he would outperform former Secretary of State Hillary Clinton, who is viewed as the general front-runner, in a general election against real estate mogul Donald Trump and other Republican hopefuls.
In June 1987, Biden formally declared his first presidential candidacy for the Democratic nomination. But three months later, he withdrew from the race and continued with his work as a U.S. senator. Twenty years later, he launched a second bid for his party's nomination, but soon dropped out after securing only 1 percent of the delegates in the Iowa Democratic caucuses. In August 2008, now-President Barack Obama announced that Biden would be his running mate as vice president.
In the most recent WBUR poll released earlier on Wednesday, Democratic candidate Hillary Clinton had regained the lead in New Hampshire over U.S. Senator Bernie Sanders from Vermont. She generally is seen as the leading contender in her party.