Hillary Clinton Is COVID Positive, Says She's 'Grateful' for Vaccines
Former Secretary of State Hillary Clinton announced Tuesday that she has tested positive for COVID-19.
"I've got some mild cold symptoms but am feeling fine," Clinton said on Twitter.
Her husband, former President Bill Clinton, tested negative but will be quarantined as well until their "household is fully in the clear."
"I'm more grateful than ever for the protection vaccines can provide against serious illness," Clinton said, urging others to get vaccinated and boosted for the virus.
While quarantined, Clinton says she's open to movie suggestions.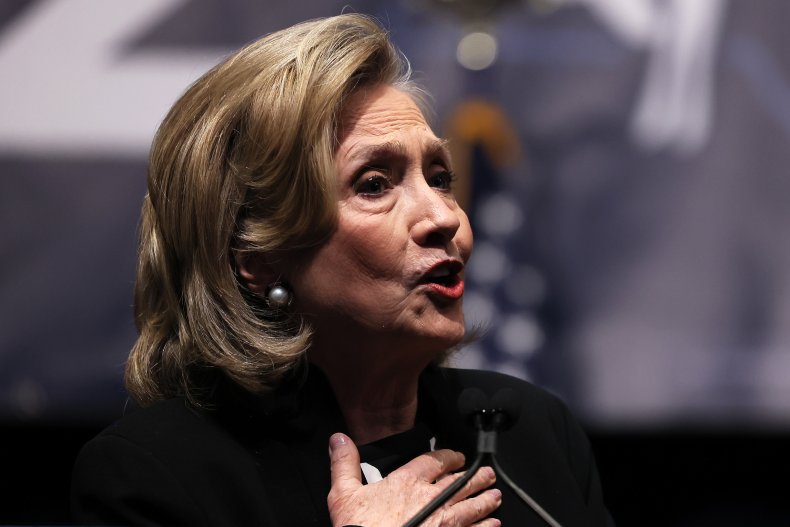 Clinton's diagnosis comes after a slew of politicians and Washington figures report cases, as well.
Earlier, White House press secretary Jen Psaki said she also tested positive for COVID-19.
"Today, in preparation for travel to Europe, I took a PCR test this morning. That test came back positive, which means I will be adhering to [Centers for Disease Control and Prevention (CDC)] guidance and no longer be traveling on the President's trip to Europe," Psaki said in a statement.
The White House no longer requires individuals to wear masks, in accordance with CDC and Washington, D.C., guidelines.
COVID-19 cases continue to dwindle nationwide, as well as hospitalizations being at the lowest mark since the beginning of the pandemic.
As of March 16, the current seven-day moving average of daily new cases dipped to 30,040, a decrease of 16.6 percent compared with the 36,010 reported last week.
According to CDC's COVID Data Tracker, as of March 16, 76.7 percent of the total U.S. population had received at least one dose of a COVID-19 vaccine, and 65.3 percent had completed their primary series. However, only about half of booster-eligible people have received a dose.
The current weekly average of hospitalizations sits at 2,298, a 27.7 percent decrease from last week.
Second gentleman Doug Emhoff tested positive for COVID-19 last Tuesday, according to White House spokesperson Sabrina Singh. Vice President Kamala Harris has tested negative since then.
Former President Barack Obama also tested positive last week. "I've had a scratchy throat for a couple days, but am feeling fine otherwise," Obama tweeted. "Michelle and I are grateful to be vaccinated and boosted, and she has tested negative."
Current CDC guidelines suggest patients quarantine for at least five days after COVID-19 exposure. After quarantine, individuals should watch for symptoms until 10 days after close contact with someone who tested positive.
Masks are still recommended indoors in public, regardless of vaccination status.
Newsweek reached out to Hillary Clinton for comment.